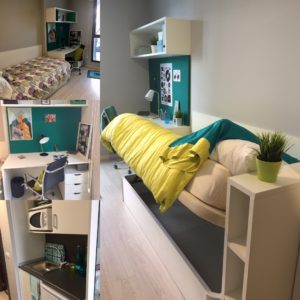 New for summer and fall 2017, Syracuse University Abroad will offer a residence hall housing option for students participating in the SU Madrid program. Pending the Board of Trustee's approval, SU Madrid will reserve a block of rooms with two occupants per room. You will be assigned to rooms based on information provided on the Housing Request form (among the post-acceptance forms in your application). If there is more demand than space, we will conduct a lottery to assign spots.
The residence hall, Colegio Mayor El Faro, is situated in the Moncloa neighborhood of downtown Madrid and is a 25-minute walk to the SU Madrid Center. The rooms are furnished, including a small kitchen with a sink, mini-fridge, and microwave. Bed linens and bath towels are provided and laundered weekly by the cleaning staff. Three meals a day in the El Faro cafeteria are included in this option.
"We are excited about this new residence opportunity, which provides game and exercise rooms as well as social and sports activities, and a chance to get to know Spanish and other European students," said Margaret Himley, Associate Provost for International Education and Engagement.
Interested students are encouraged to submit their applications to SU Abroad for housing at Colegio Mayor El Faro as soon as possible due to the limited availability of space. Although unlikely, if this arrangement does not work out, SU Abroad will provide a homestay for all students in the program.
All students who are placed in the residence hall will need to pay a $300 deposit and sign a housing agreement form to confirm their placement in El Faro.