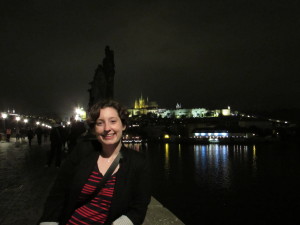 Katelyn Olsen
Biology and political science major
Participated in program in 2014
"In no other program will you be so fully immersed in the history, culture, and politics of Central Europe. No matter your knowledge of the region prior to the start of the semester, you will emerge from this program with a deep appreciation for the events that occurred there. Picking this program opened up my eyes to a whole new perspective on the world. You truly learn to embody the life of a global citizen. I never imagined that I would be capable of learning so much in such a short amount of time. By the end of our traveling seminar I felt as if I had already gained an entire semester's worth of insight and knowledge.
When I began this program, I was a Biology major taking a semester off from my major studies to explore a topic and region I have always found interesting. As I immersed myself in my studies and traveled throughout Central Europe, I began to fall in love with the study of Political Science and International Relations. I learned to question everything, and to think critically about any and all information presented to me. Upon returning to the US, I realized that a life strictly in biological research was no longer for me and added a second major in Political Science. As I currently delve into my new major, I find myself forever grateful to this program for opening my eyes to the world and the opportunities available to me."
---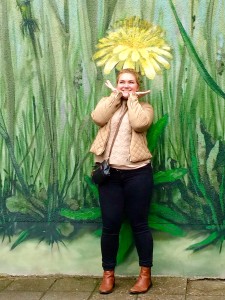 Kara McGrane
International relations
Participated in program in 2014
"During the Exploring Central Europe program I realized exactly what I want to study. From the beginning I was puzzled like our entire study abroad group with the amnesia shown by some Central and Eastern European countries, like that of Lithuania. The difference between the minuscule index-card-sized sign of Vilnius' Jewish Museum to the magnitude of Berlin's Jewish Museum was astounding. I was consumed with the study of memorialization of something that is traumatic to remember. I took this bewilderedness back to Syracuse and wrote my capstone paper on a comparative study of memorialization in Hungary and Germany; I received an intern position in the Mandel Center for Advanced Holocaust Studies at the United States Holocaust Memorial Museum and used its resources to study memorials more; I received an undergraduate research assistantship in the International Relations office because of my background thanks to this program; and most recently I decided to apply for a Fulbright to Hungary to study Holocaust memorialization for 2016. The topic has wholeheartedly captivated me and now I know what I want to spend my career studying"
---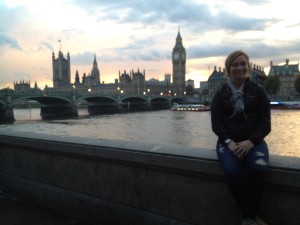 Victoria Russo
Magazine and international relations major
Participated in program in 2014
"The Exploring Central Europe program introduced me to issues that I never realized existed. During the semester, I studied the history and transformation of Central Europe in the 20th century in the most appropriate cities for a program of this type: Wrocław, Berlin, Vilnius and Sejny, among many others. I met experts and activists in each of these locations who explained the struggles of identity and memory in this region today. Together their stories and motivations created a framework for complex discussions about topics like the xenophobia and nationalism that exist in these countries. This exposure made these conflicts feel tangible and the firsthand experiences, like visiting Paneriai Forest in Lithuania, were incredibly powerful and moving. A year later, I find the perspectives and knowledge I gained on this program still influence the way I interpret every day information, from news articles to class readings, but they also inspire me to think critically about myself and my identity, culture and society
One of my favorite memories from the semester was visiting Berlin for the 25th anniversary of the Fall of the Wall. Because we traveled there a few weeks prior as part of the program, I had a solid foundation for understanding the events that happened over that weekend. As I walked along the lighted-balloons that marked the wall between East and West Germany, I remembered the stories we heard on our class trip about the families it tore apart and I thought about the social and political implications the wall had on the entire world. I still can't believe that I stood beside thousands of visitors in the heart of Germany and watched Merkel and Gorbachev deliver speeches in front of the Brandenburg Gate. It was an amazing weekend that was enriched by the academic context provided by this program.
I have so much appreciation for the time and effort that Hana and Juliet spent identifying appropriate sources, site visits and assignments for the Exploring Central Europe program. I would have never gone to Sejny, Poland and learned about the Borderlands Foundation, or heard the Lithuanian's untold story about Paneriai Forest. Their passion for these places and dedication to exposing us to new perspectives and issues are translated into our own analyses and opinions found as blog posts on this site. It's beneficial to have these published, academic clips to share when applying for internships and jobs. Being able to formulate complete thoughts about complex issues is an important and relevant skill for any student studying any subject."
---
Megan Newell
Neuroscience and political science major
Participated in program in 2014
"When I leave the stage and move on from college to the next step in my life it won't be my degrees that will serve me the most; it will be my experiences abroad, the opportunities afforded to me to meet people and visit the places I have. The Central Europe Program is typically centered around humanities, specifically 20th century conflict, but the director, Hana, is more than happy to accommodate anyone who has specific class requirements to fulfill. I requested (late I might add, oops) to take General Chemistry I while abroad and she was quickly able to set me up with the best college science class, bar none. It was a one on one hands on class with a Professor at the University of Natural Sciences in Wroclaw and we sat, drank tea, had Skype lessons and went in and learned chemistry in the best way possible. I met Polish students in lab and was able to laugh with them, be silly, learn about cool trends, all while mixing solutions and, well, doing chemistry.  I came out of that class fully prepared for Chemistry II on main campus and with the added bonus of a one of a kind experience. Oh, not to mention the fact that the director of the Chemistry department and my Professor took me out for pirogi—which if you don't know, are a godsend staple food of Poland that you will learn to love, if you don't already—to conclude the semester.
Regarding the program itself, I couldn't be more blessed. I mean, no, the Wroclaw program is not a bikini, club ready, all-nighter followed by a hungover you stumbling to class sort of deal. It is, instead, what I hope for every college student to be able to take away from their years at university. It is a crying me staring at places where so many stories ended, so unfinished, in Ponary. It was Ula (our life line) graciously providing us with the war and peace- sized stack of readings for the semester as we walked in to our hotel room. It was the 11 of us sitting on the peer in Krasnogruda quickly reading through the pages due before dinner that night, glancing up occasionally to see the still water, the house across the way, the smell of trees and tranquility. It was us sweating head to toe after our traveling seminar as Ula dragged us around towns, over bridges, across worlds until we finally reached our loft in Wroclaw, exhausted and awe struck by our new little home. I know most people don't immediately think of Poland as their study abroad destination of choice (or maybe even at all), but I swear by this program and by the life altering experiences it affords. I am not the same person I was prior and I would never wish to be—I have learned so much about people and culture, the land, humility, and the course of history from this program that I could never even dream of what my life would be without it. If you want to climb atop a hill, overlooking an entire town and for once, feel small, unaware and look down to find the graves of fallen soldiers and truly begin to understand, go to Wroclaw. The partly cloudy sky, the towering twin statues, the grass protruding through the carefully placed gravestones and the forest of many below, all of it, was and is, indescribably humbling. I've taken history before, humanities, you read it, you understand, but you seldom comprehend. In Ponary I read a story about a little girl whose story ended so soon, and I stood right there, on top of so much history, my feet planted in the dirt still very much alive and seeping with sorrow. The Wroclaw Poland is what I hope to get out of my life in its entirety; a sense of understanding and an active willingness and desire to provoke change and I whole-heartedly recommend any and all who want the same to apply"