In the fall of 1959, the Villa Rossa opened its doors to a group of thirty students from Syracuse University. Since then, it has hosted thousands of students who have come to study in Florence. One of the first and foremost fundamental challenges every one of these students has had to face is that of creating a sense of place and belonging in the city. Ultimately, each student forges a uniquely personal amalgamation of people, places, and things that gives meaning and substance to the experience of being in Florence. One of the places, however, that figures largely in the common experience of all the students is the Villa Rossa itself, which day in and day out serves as a unifying point of reference.
As is often the case with things that become so familiar, it is easy to see only the immediate manifestations of the present and overlook the signs that give witness to the past. One of the most rewarding aspects of living in Florence is learning how to open one's eyes to history. Thus was born the idea to create an archive to bring to light the history of the Villa Rossa, Syracuse University's home away from home, and the home of the family of Count Mario Gigliucci, who designed and built the house.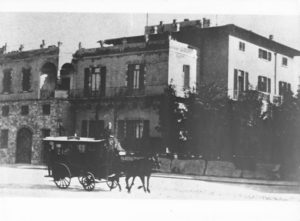 At the direction of Dr. Sasha Perugini, Director of Syracuse University Florence, this archive was created in 2012 to serve as a tribute to the Gigliucci family and their unique Villa which, through the years, has become the emblem of our program. The purpose of The Villa Rossa Archive is twofold: to preserve many valuable historical documents of the Villa and the prestigious Florentine family, and at the same time to narrate how the experience of Syracuse Abroad became a reality and how it has changed over the decades.
Many people have contributed to this small archive through the years and we trust that the work of conservation, celebration, and appreciation will continue.
SU Florence Program Directors 1959-present
John Adams and Stephen Koff, Founding Directors (Fall 1959; Spring 1960)
William Fleming (Fall 1960; Spring 1961)
Frederick Jackson (Fall 1962; Spring 1963)
Abraham Veiness (Fall 1963)
John Adams (Spring 1964 through Fall 1965)
Stephen Koff (Spring 1966 through Spring 1967)
Ted Denise (Fall 1967; Spring 1968)
Harold Vaughn (Fall 1969; Spring 1970)
Jack Halkett (Fall 1979; Spring 1980)
Thomas McKay (Fall 1980; Spring 1981)
Don Mills (Fall 1981; Spring 1982)
Marshall Segal (Fall 1982; Spring 1983)
Irving Swerdlow (Fall 1983; Spring 1984)
Michael Calo (Fall 1984 through Spring 1987)
Peter Marsh (Fall 1987; Spring 1988)
Lou Roberts (Fall 1988; Spring 1989)
Randall Korman (Fall 1989; Spring 1990)
Michael Good (Fall 1990 through Spring 1996)
Michael Calo (Fall 1996 through Fall 1997)
Alick McLean (Spring 1998 through Spring 2000)
Barbara Deimling (Fall 2000; Spring 2001)
Don Cortese, Interim Director (Fall 2001)
Barbara Deimling (Spring 2002 through Fall 2009)
Michael Calo, Interim Director (Spring 2010 through Spring 2011)
Sasha Perugini (Spring 2011 to present)