The Villa Rossa, designed by Count Mario Gigliucci himself, became the family's private residence at the time of its completion in 1892. In 1937, the villa was left to Mario's three children, Nerina, Donatello, and Bona, and 25 years later was sold to Syracuse University, where it has been home to the Syracuse University in Florence program ever since.
19 September 1815: Count Giovanni Battista Gigliucci (1815-1893), Mario's father, was born in Fermo, Italy. Due to the premature death of both his parents, Count Gigliucci was orphaned at the age of nineteen months. By the time he was twenty years old, Giovanni had obtained a sovereign decree declaring him of age to manage his own estates.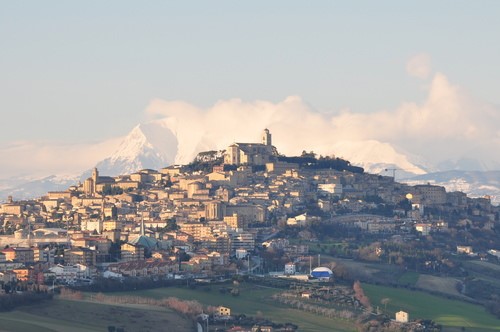 Political life: In addition to managing the family's properties, Giovanni studied law at university, and it was here that he developed his great passion for politics. Influenced by the Risorgimento movement – a strong proponent of a unified Italy free from foreign domination – Giovanni established himself at the local and regional levels of government, reaching the title of senator, which he held until his death in 1893.

10 June 1818: Clara Anastasia Novello (1818-1908), Mario's mother, was born in London, England. A highly talented soprano singer, it was said that her sweet voice 'stirred such emotions…to move even the toughest souls.' At the age of eleven, Clara began studying at the Institution Royale de Musique classique et regligieuse in Paris, France.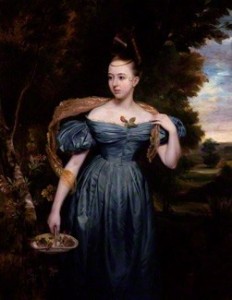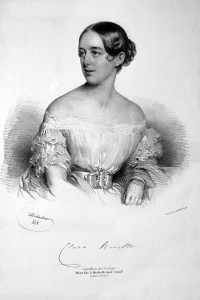 1830s: Due to the Revolution of 1830, her studies were cut short, and she returned to England where she earned considerable fame and fortune from her singing (The Musical Quarterly referred to her as "one of the greatest singers of her day."). Her career led to a series of tours, one that brought her to Bologna where she met her husband, Giovanni Battista Gigliucci.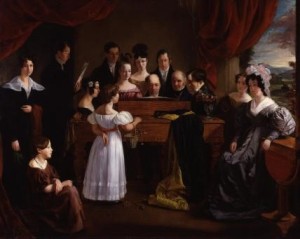 22 November, 1843: Giovanni Battista Gigliucci and Clara Anastasia Novello were married in London, England. Clara set aside her musical career and the couple moved to the Gigliucci family estate in Fermo, Italy. Between 1844 and 1849, the couple had four children: Giovanni, Mario, Porzia, and Valeria.
18 November 1844: Giovanni Gigliucci was born to Giovanni Battista and Clara Gigliucci in Fermo, Italy.
In 1845, Giovanni and Clara's second child, Porzia was born.
19 November 1847, Mario Gigliucci (1847-1937) was born to Giovanni and Clara in Fermo, Italy.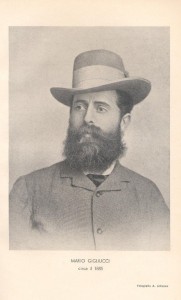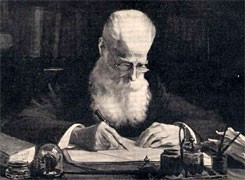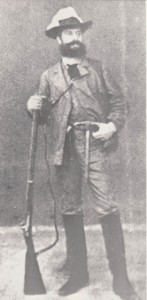 In 1849, the couple's fourth and last child, Valeria, was born.
November 1849: When Mario was two years old, Giovanni and Clara left the family estate in Fermo after it was confiscated by French troops who had taken control of Rome and the Papal States. For the next eleven years, the Gigliucci family moved throughout Europe living on the earnings of Clara's revived musical career.

1860s: In 1860, most of Italy was united under the rule of King Victor Emanuel II. After many years of living in exile, Giovanni and Clara returned with their children to Fermo and Giovanni saw his dream of a liberated and unified Italy realized. His sons, Giovanni and Mario, attended military colleges in Turin and Milan.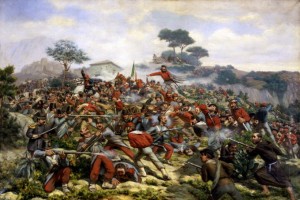 1866: In 1866 Mario cut his studies short to join Garibaldi's 'Red Shirts' in battle against the Austrians (a great adventure, as Mario recalled in his memoirs). He later went on to study at the University of Bologna.
1867: Mario was invited to his in-laws' household in England, where he met his future wife, Edith Margaret Mozley.
1873-1875: Mario worked as a mining engineer in Sardinia for a Genoese company.
July 1875: Mario Gigliucci and Edith Mozely married in Kensington, London.
1875-1878: Mario and Edith lived in Stresa (Piedmont), Italy, where Mario continued his work as a mining engineer.
16 December 1878: Nerina Gigliucci (1878-1963) was born to Mario and Edith in London, England, while the couple was living there.
1879: Mario, Edith, and baby Nerina moved to Florence where they rented an apartment in Palazzo Gherardesca with Mario's older brother Giovanni and his wife Charlotte Sophia Mozley (Edith's sister). After a few months, Mario and his family moved to a different apartment, this time on Via Garibaldi, and a year later they moved again to an apartment on Via Cherubini where they lived from 1881 to 1886.
10 May 1883: Donatello Gigliucci (1883-1975) was born in Florence, Italy.
1885: Bona Gigliucci (1885-1982) was born in Florence, Italy.
1886: Mario and Edith moved their family from Via Cherubini to Villa Romana (today a German art and culture institute) in Via Senese. Mario began designs for the construction of a new family home to be built on a plot of land in Piazza Savonarola.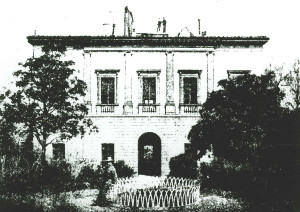 1892: Construction of Villa Rossa was completed and the family left Villa Romana to settle in their new home just outside the city walls in Piazza Savonarola.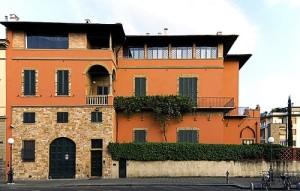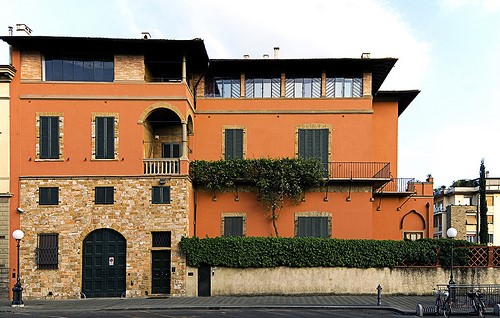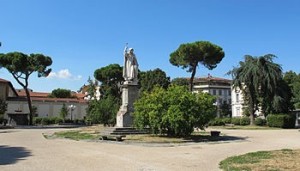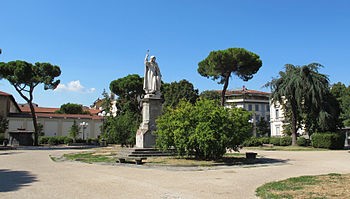 1906: Mario's father, Count Giovanni Gigliucci, died and was buried in the nearby English Cemetery in Piazzale Donatello next to his wife Clara.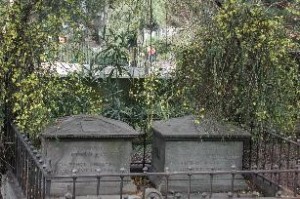 1909: Edith Margaret Mozley, the wife of Mario Gigliucci, passes away and buried in the English Cemetery of Florence.
1937: Mario Gigliucci passed away. Nerina and Donatello left Villa Rossa when they each got married, but Bona, who never married, continued to live in the Villa Rossa until her death in 1981. Pietro Landi (Sergio Landi's father) is the Gigliucci family's gardener. Beginning in the 1950s, Sergio helps his father with the gardening.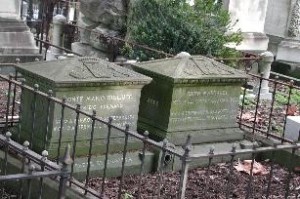 1959: In the spring of 1959, John Clark Adams, former labor attaché to the US Embassy in Italy and, at the time, a professor at the Maxwell School of Citizenship at Syracuse University, traveled to Italy to work out the logistics of establishing a study abroad program in Florence, Italy. In September 1959, Villa Rossa opened its doors to the first group of 30 students from Syracuse University. The Gigliucci family rents the first two floors of Villa Rossa to Syracuse University for its newly founded Syracuse Semester in Italy program.
1963: Nerina Gigliucci dies. Her sister, Countess Bona, the last surviving member of the family, sells Villa Rossa to Syracuse University on the condition that she may continue to occupy the top floor and mezzanine level for the remainder of her life.
1964: The SU Fine Arts Graduate Program in Florence is created.
November 4, 1966: The Great Flood of Florence. The city is submerged by up to 22 feet of water after the most devastating flood of its history. Syracuse students participate actively in the arduous task of cleaning up the city and salvaging its damaged treasures.
1979: Studio Arts and photography programs are created under Piero Colacicchi.
1980: The Syracuse University School of Architecture Florence program is created under Randall Korman. The first class consists of 12 students. Studios are located in the Villa Rossa and on Via Santo Spirito, 27.
1981: Countess Bona Gigliucci dies. Syracuse University becomes sole owner and occupant of the Villa Rossa.
Architecture studios move to Donatello, 21.
Art studios move to Fortman Studios.
Elia Landi replaces Augusto at the Villa Rossa cappuccino bar.
1982: The top floor of Villa Rossa is converted into classroom space.
1983: Architecture studios move to Via della Robbia, 46.
1984-87: The Architecture program moves to Via Buonvicini, 15.
Administrative offices occupy the mezzanine level of Villa Rossa.
Art studios move to Donatello, 21.
1988: Studio Arts uses studio space in Santa Reparata.
1990: The Library moves from the basement of Villa Rossa to Via della Robbia, 99.
The Italian department moves from the Villa Rossa to Piazza Savonarola, 10.
Photography moves to Piazza Savonarola, 10.
Classrooms and a "bookshop" are set up in the basement of Villa Rossa.
---