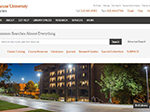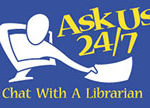 ---
The Syracuse Florence Library offers a great place to study and provides easy access to a constantly growing collection of over 13,000 books and DVDs in English and Italian that span the disciplines of all courses offered at the Florence center and beyond. The library is unique in breadth and depth among American study abroad programs in Florence, yet students' access to academic resources does not end there. All students, regardless of home institution, also have 24-hour access to the online journals, databases, e-books, and other electronic media and services offered through Syracuse University. See what's available, and feel free to ask the Florence Library Coordinator for help!
---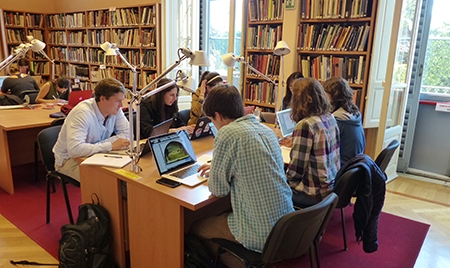 The Syracuse Florence Library is housed in the elegant 19th-century Villino, located  just across the garden from the center's main building, the Villa Rossa.
With its high ceilings and tall windows, natural light is abundant. Six reading rooms and assorted alcoves provide plenty of study space, even during exam periods.
---
Course Reserves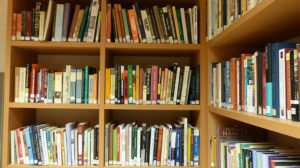 A copy of every textbook is available for 2-hour consultation periods, while additional copies may be available for semester-long circulation on a first-come, first-served basis. Please check with the Library Coordinator about extra copies.
Unless extra library copies are available, students are advised to purchase their own textbooks at Paperback Exchange as indicated in the course syllabi, as the availability of course reserves cannot be guaranteed at any given time, reserves are available for limited consultation periods, and they may not be taken out of the library. It is the student's responsibility to make sure all required readings have been completed by the start of class.
For more information about purchasing textbooks and course packs, click here.
---
Computers and printers
Over twenty networked desktop computers are available to undergraduate students in the computer lab of the Villa Rossa (basement level) during library hours. Wifi hotspots are available throughout the campus for the use of mobile devices. Beginning fall 2017, students will be able to print not only from the desktop computers located in the computer lab, but also via wifi from mobile devices to a printer in the library, computer lab, and architecture building. Instructions for installing printer driver software will be provided during orientation.
---
Lockers
Over 60 lockers are available on the ground and basement levels of the library for storing books, laptops, and backpacks. Lockers are signed out at the circulation desk on a first-come, first-served basis with a fully refundable 10-euro deposit.
---
Contact us
For more information about the library, or for user assistance, please contact Sylvia Hetzel, library coordinator.