---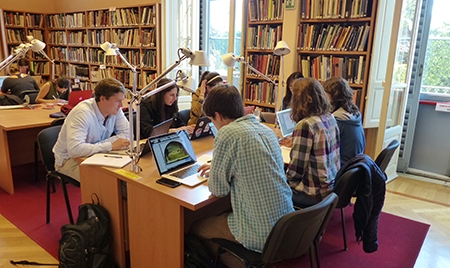 The Syracuse Florence Library is housed in the elegant 19th-century Villino building across the garden from the Villa Rossa. With its high ceilings and tall windows, natural light is abundant.
---
The Liberty Online Catalog can be accessed from any device with Internet service or via the dedicated PC on the ground floor. Books are categorized in the Library of Congress Classification (LOC) system and, unless in the reserve stacks, are retrievable by library users:
N – Visual Arts (Sala Artemisia, ground floor)
NA-NX – Architecture, Sculpture, Drawing, Painting, Arts in general (Sala Brunelleschi, ground floor)
A-D – Religion, Ancient Civilization, Archealogy, History (Sala Virgilio, lower level)
E-M – Anthropology, Social Sciences, Political Science, Law, Education, Music (Sala Machiavelli, lower level)
P-Z – Literature, Science, Medicine, Agriculture, Technology (Sala Dante, lower level)
---
Course Reserves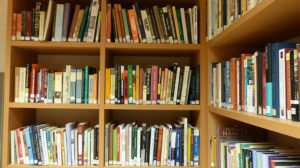 A copy of every textbook (except those for Italian language courses) is available on reserve in the Library Office for 2-hour consultations. Additional copies may be available for semester-long circulation on a first-come, first-served basis. Please check with the Library Coordinator about extra copies.
Unless extra library copies are available, students should purchase their own copies of textbooks at the Paperback Exchange bookshop (La Feltrinelli bookshop for Italian language books), since the availability of course reserves is limited.
For more information about textbooks and coursepacks, click here.
---
Computers and printers
Over twenty networked desktop computers and two printers are available to students in the computer lab of the Villa Rossa (basement level). Wifi hotspots are available throughout the campus for the use of mobile devices. Beginning fall 2017, students will also be able to print wirelessly from mobile devices in the library, computer lab, and architecture building. Instructions for installing printer driver software will be provided during orientation.
---
Lockers
Over 60 lockers are available on the ground and basement levels of the library for storing books, laptops, and backpacks. Lockers are signed out at the circulation desk on a first-come, first-served basis with a fully refundable 10-euro deposit.
---
Contact us
For more information about the library, or for user assistance, please contact Sylvia Hetzel, library coordinator.