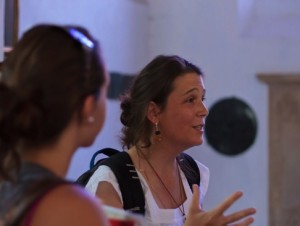 Congratulations to Juliet Golden, Center Director of Syracuse Abroad's Central Europe program for receiving the Teaching Recognition Award. The Teaching Recognition Award is sponsored by the Meredith Professors to benefit non-tenured faculty members. It recognizes excellence in teaching and fosters a culture of collegial mentoring among faculty members.
Juleit's work on the Exploring Central Europe program combines scholarly texts and first-hand sources with engaged research work from students. She works tirelessly to stress the important of local histories and memories of Europe's past and present – which ultimately shape the future. Juliet's unique teaching style allows students to understand the importance of the historical sites, and encourages them to ask critically important questions as global citizens of the world.
Margaret Himley, Director of LGBT Studies, notes Juliet's accomplishments as Center Director for Syracuse Abroad:
"Juliet has always brought such a deep commitment to nurturing students as learners, as activists, as persons with unique hopes and goals and challenges. It's inspiring to read what students have accomplished after being in this amazing abroad program, and who they have become."
With a master's in International Affairs and a Ph.D. in International Education, Professor Juliet Golden has designed and taught innovative courses about Central Europe for more than 10 years. Her deep interest in the history of Central Europe developed through research and her journalistic work in the region. Her interests include politics of memory, the Holocaust, urban spaces and architecture as well as photography. Exploring Central Europe is a fall-only semester program in which students travel to various locations throughout the semester, with their home base located in Wroclaw, Poland. Students investigate sites tied to WWII, the Holocaust, and Soviet totalitarian rule and learn about the complexity of issues related to history and social justice in comparative ways.
Syracuse University announced its 2020 One University Awards on May 8, honoring members of the University community for their scholarship, teaching, academic achievement, leadership and service.
This year's awards include the Chancellor's Citations for Excellence, 50 Years of Service Awards, Annual Milestone Years of Service Recognition, the Teaching Recognition Award, the Teaching Recognition Continuing Excellence Award, the Chancellor's Award for Public Engagement and Scholarship and the Student-Athlete Award.
For more Award recipients read: One University Awards