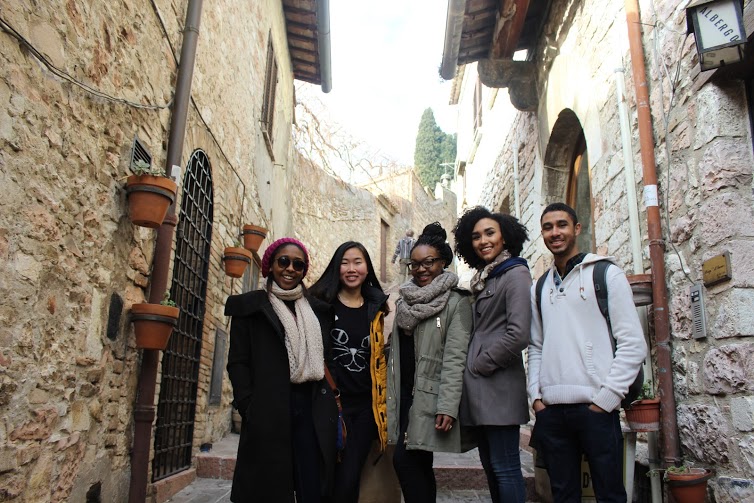 Get ready for your semester in Florence!
Your fall 2021 semester abroad will be filled with enriching coursework and stimulating cultural activities, engaging teachers, strong student support, exciting educational field trips within Italy, and a myriad of opportunities to challenge yourself in ways you can't yet imagine. See below for up-to-date program details.
---
Syracuse Abroad Virtual Take-Off
August 30 – September 14: Pre-Arrival Program

Orientation begins online and will continue after arrival in Florence

All academic courses begin online. Get a jumpstart!  Meet your classmates and professors and review syllabi plus foundational material for each course before travel to Florence

Under the guidance of a dedicated professor, begin your exploration of Italy through the required 1-credit "Mapping Italy" course
---
Welcome to Florence: In-Person Program Dates
September 15: Arrival in Florence 

September 15-17: Orientation

September 20: Classes begin

October 28 – November 1: Mid-semester mini-break; lots of fun activities will be planned for those who don't choose to travel independently

November 30: Program end date

December 11: Program end date for students participating on the optional Signature Seminar.
---
Program Highlights
Travelling seminar:

An optional 3-credit Signature Seminar

Empires of Exchange

will be offered at the end of the semester, November 30-December 11.  Additional program fee will apply. Please note: Additional Signature Seminar offerings will not be offered in fall 2021.

B. Davis, Venice

Program Travel: Italy Dive!

Discover Italy like no tourist can through faculty and staff led themed trips based on your interests: #culturalheritage, #inclusivity&diversity, #foodie, #nature, #wellbeing and more!
Once in Florence, 'Dive into Italy' by signing up for trips to island destinations (Sicily and Sardinia), classic must-see places (Venice, Pisa, Rome, Milan) or unique locations off the beaten path (Pitigliano and Bolgheri) – with costs covered by your program fee. These experiential learning trips will perfectly complement your semester in Florence.

Program activities: Immerse yourself in Florentine culture by exploring the city and visiting museums, local markets or workshops. Enjoy extracurricular activities at the Center including cooking classes, tastings, lecture series and more.
Housing:

In addition to homestays and apartments, we continue to offer single and double rooms at "The Student Hotel." This trendy hotel provides students with a fully furnished room and private bathroom, shared kitchen, on-site laundry, pool, and many more amenities. Students will be asked to rank their housing preferences in late spring. After a careful review, final placements will be assigned by the Florence Housing Coordinator to ensure the best fit for a meaningful semester.

The Syracuse Florence Internship Program:

Virtual, in-person, and hybrid opportunities can be arranged

Course Availability:

A wide variety of

courses

across the disciplines are available to students allowing you to take a full-time course load.  Due to the condensed nature of the semester, students are strongly advised to plan for no more than 17 credits during the regular semester. Taking the post-semester optional Signature Seminar is a great way to earn up to 19 credits.
---
Program Requirements
Independent Travel:

Due to international health and safety regulations, students must limit their independent travel to within Italy.  The Syracuse Florence staff will give their expert travel advice on both well-known destinations and hidden gems within the country. 

Visas

: The duration of the program, inclusive of the optional Signature Seminar, will be under 90 days, therefore, U.S. citizens will not be required to obtain a student visa.  Students without a visa will need to depart from Italy no later than December 13, 2021.

All international students requiring a student visa will work closely with our Florence visa coordinator.

Fees

:

Due to the shorter duration of the program, the program fee has been reduced from $7,500 to $5,900 for the host family housing option. The program fee for students staying at The Student Hotel is $6,400.
---
Questions about Covid-19 procedures or health and safety abroad?