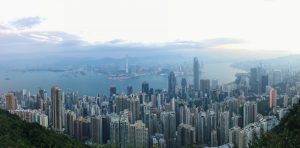 Welcome to Syracuse Hong Kong!
Due to political developments in the region and ongoing travel restrictions, the Syracuse Hong Kong Center program and options affiliated with the City University of Hong Kong have been suspended as of Fall 2020.
We encourage students to explore Syracuse Abroad's many other opportunities for global learning and engagement, including Center, summer or short-term programs. Syracuse students specifically interested in studying in the region are encouraged to explore World Partner programs in Asia.
---
Syracuse Hong Kong takes full advantage of its connections with leading education institutions, organizations, and businesses across the region. This translates into opportunities for you, both inside and beyond the classroom. Through extended travel seminars, field study, and guided research projects or internships, you will meet and interact with local students and scholars, community and business leaders, journalists, politicians, artists, and entrepreneurs. Though daily life in Hong Kong is distinctly fast-paced, there is another dimension you will discover: the deep cultural connections that center on family, friends, celebration, and tradition.
---
NOTE: The Syracuse Hong Kong programs have a "rolling admissions" policy, which means applications are reviewed as they are completed, prior to the deadline.  To ensure full consideration, students are strongly encouraged to apply as soon as possible due to limited space.  Students will be placed on a waitlist once the program has reached maximum enrollment.  Date of application does not guarantee acceptance.
The Hong Kong Center program allows students to complete 12–19 credit hours of coursework in a wide range of subjects, including economics, political science, history, religion, Chinese language (Mandarin or Cantonese), and business. Field study and intensive internships or independent research are key components of the program.
(Limited enrollment) This option is for students who want to enroll as full-time semester students at the City University of Hong Kong, where courses will be taught in English and taken alongside Chinese students.  The spring semester deadline for this program is September 10.
---
Talk to recent Syracuse Hong Kong students!
The best way to understand what to expect in Hong Kong is to talk to someone who has already participated in the program. Our Hong Kong global ambassadors had intensive internship experiences, experienced the excitement of Chinese New Year, and met students from all over the world – ask them about Hong Kong!
"I went to a country in a region I have never been to without knowing anyone and I made a connection for life to Hong Kong and the other students in the program. I look back on my experience every day and miss it more than anything."

-Brian Bauer '21

Hong Kong Center, Fall 2019
---
Syracuse Hong Kong Viewbook
An overview of the Syracuse Hong Kong program is available in our viewbook. Request a copy of your own by filling out this form to have one mailed to you!