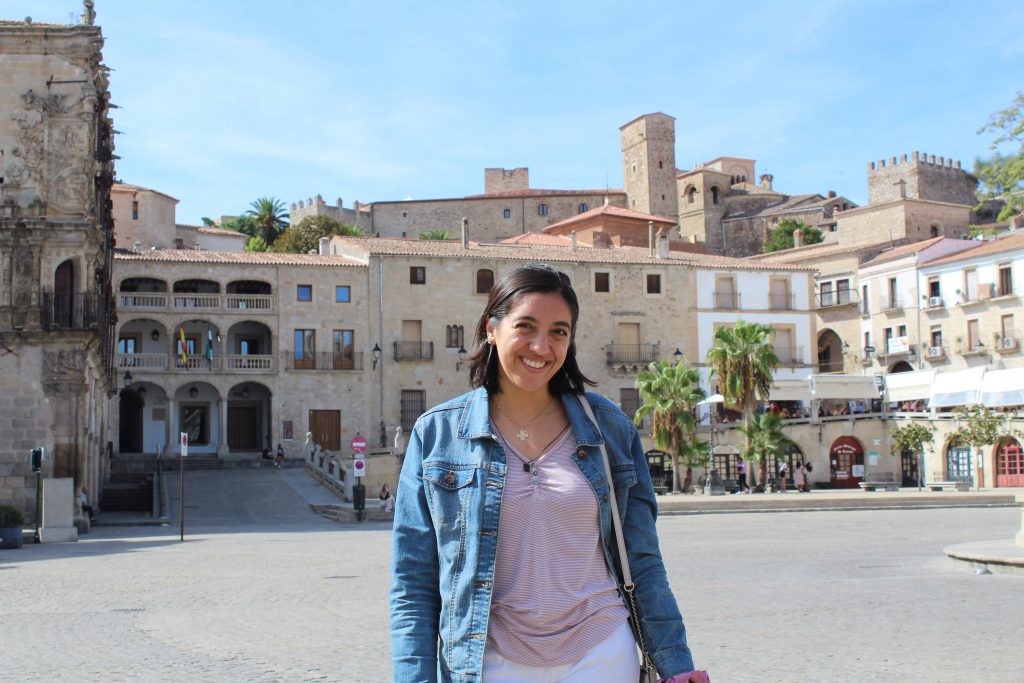 Get ready for your semester in Madrid!
Your spring 2022 semester abroad will be filled with enriching coursework and stimulating cultural activities, engaging teachers, strong student support, exciting educational field trips within Spain, and a myriad of opportunities to challenge yourself in ways you can't yet imagine. See below for up-to-date program details.
---
Program Dates
Syracuse Abroad Virtual Take-Off
January 31 – February 5: Online pre-arrival orientation 
Welcome to Madrid: In-Person Program Dates
Students arrive in Madrid: February 7

Orientation: February 8

Classes begin

Madrid Center: February 9

Universidad Autónoma de Madrid (UAM): TBD 
Program end date

Madrid Center: May 5

Universidad Autónoma de Madrid (UAM): TBD

Optional

Signature Seminar: May 6 – 16 

Mid-semester break: April 8 – 18
---
Program Highlights
Bullet Train through Spain!

  All students will be able to choose up to three program-sponsored weekend trips at no additional cost.  Options will include the following destinations: Barcelona, Valencia, Alicante, Granada, Córdoba, Sevilla, Málaga.  The trips will start on Fridays and students will have the options to stay two days, returning back to Madrid on Sunday. Some trips include: Málaga: Picasso's Birthplace; Granada: The Eighth Wonder of the World; Alicante: Unsustainable Tourist Urbanism; Córdoba: Muslim Spain.

Program Travel:

Enjoy other local activities and day-long bus trips to regional destinations during the week.

Center Activities

: Diversity & Inclusion Steering Committee, Student Life events, cooking workshops and more!

Global learning opportunities and course activities take you out into the city to experience and learn: museum tours, walking tours, and visits to the Spanish Senate and Parliament

MadWorld Passport Program immerses you in Spanish culture through events, day trips, discussions and lectures throughout your study abroad experience

Travelling seminar:

Three

optional

3-credit Signature Seminars will be offered at the end of the semester, May 6 – May 16. 

Additional program fee will apply. 

Please note: The Imperium Signature Seminar will not be offered in spring 2022.

Housing

– Students have the option to live in a homestay or a residence hall (El Faro and Hubr). Students will be asked to rank their housing preferences in early fall.  After a careful review, placements will be assigned by the Madrid Housing Coordinator to ensure the best fit for a meaningful semester.  Please note we have limited capacity in the residence halls.

Course Availability: A wide variety of courses across the disciplines are available to students allowing you to take a full-time course load.  Due to the condensed nature of the semester, students are strongly advised to plan for no more than 17 credits during the regular semester.  Taking an optional Signature Seminar is a great way to earn up to 19 credits. 
---
Program Requirements
Independent Travel:

Due to international health and safety regulations, students must limit their independent travels to within Spain.  The Syracuse Madrid staff will share their expert advice for both well-known destinations and hidden gems throughout Spain's eight historical regions.  We are hopeful that conditions will improve enough to allow for fewer travel restrictions by the start of the spring 2022 semester.
Visas: The duration of the program will be under 90 days, therefore, U.S. citizens will not be required to obtain a student visa.  Students without a visa will need to depart from Spain no later than May 7, 2022.

Non-U.S. Citizens, all students pursuing an optional Signature Seminar, and students participating in the UAM program will need to obtain a student visa.

 

Fees:

The program fee has not yet been determined but is projected to be similar to the fall 2021 semester due to the shorter duration of the program.
---
Questions about Covid-19 procedures or health and safety abroad?