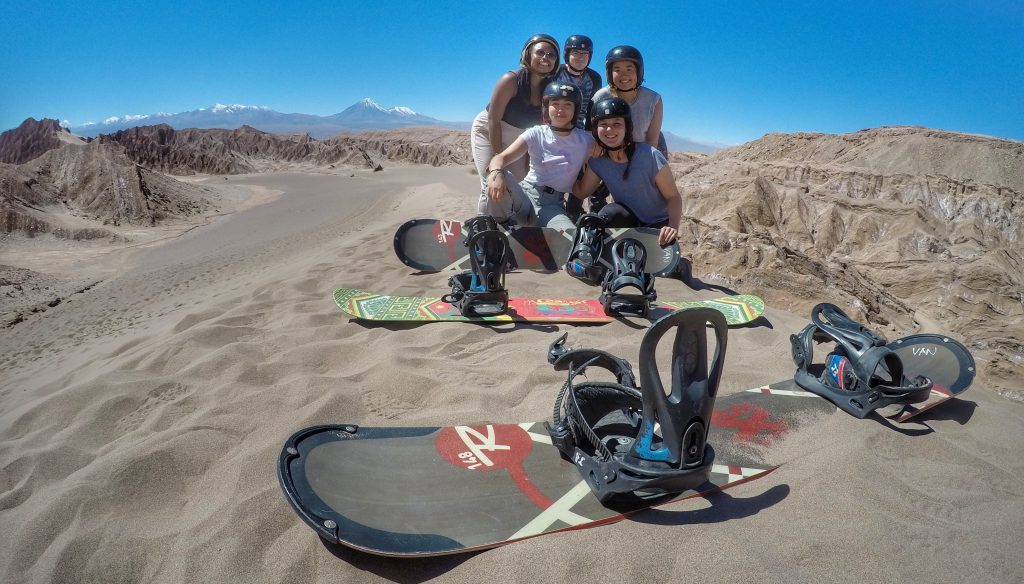 As of July 13, 2021, the Fall 2021 Syracuse Santiago program has been cancelled due to the continued extension of the Chilean border closure. If you are currently enrolled in this program, please reach out to syrsantiago@syr.edu to make alternate arrangements for your semester.
Get ready for your semester in Santiago!
Your fall 2021 semester abroad will be filled with enriching coursework, stimulating cultural activities, engaging teachers, strong student support, exciting educational field trips within Chile, and a myriad of opportunities to challenge yourself in ways you can't yet imagine. See below for up-to-date program details.
---
Syracuse Abroad Virtual Take-Off
The Cuenca, Ecuador Immersion will be replaced by an optional 3-credit intensive hybrid language immersion course that will run from June 21 to August 9. Students will complete the first portion online from the U.S., from June 21 to July 9. The second portion will be completed online in Chile from July 14th to July 24th, during the government-mandated quarantine that will apply upon arrival.  The final portion, from July 26th to August 6th, will be held in person. The course will be available to all students on the Syracuse Santiago program with no additional fee. It will be highly interactive and has been designed to prepare students for their transition to life in Chile and to Chilean university classrooms.  More details regarding this course to follow.
---
Welcome to Santiago: In-Person Program Dates
June 21 – July 9:

Optional online

3-credit intensive language immersion course begins; taught in collaboration with Pontificia Universidad Catolica; orientation begins

July 13: Students arrive in Santiago and move in with homestay family 

July 14 – August 6: The

Contemporary Issues in Chile and Latin America

Signature Seminar takes place within Chile and will include the following locations and sites: San Pedro de Atacama, Valparaíso, Patagonia and various outings within Santiago.

August 9 – Classes begin

November (exact date TBD): Field trip to Patagonia, Chile

November 26 – Classes end

December 10 – Program ends; students depart for home
---
Program Highlights
M. Higgins, Patagonia

Program Travel: An exciting array of field trips will give you an insider's view of Chile and Chilean society. These trips include but are not limited to: Valparaíso, a visit to an indigenous Mapuche community center, and various cultural events.

Engage with your Center:

Lifting the Layers excursions: Academic outings around Santiago to explore hidden layers of cultural meaning
Fun workshops and group activities with your cohort and Center staff

Global Learning Opportunities:

Living with a Chilean host family, understanding of Chilean history, society and culture through coursework and field learning

Housing

: Students live with host families and receive three home-cooked meals every day.
The Syracuse Santiago Internship Program

: A limited number of hybrid internships in a variety of fields will be available.

Course Availability:

A wide variety of courses across the disciplines are available to students, allowing you to take a full-time course load.
---
Program Requirements
Independent Travel:

Due to international health and safety regulations, students must limit their independent travels while in Chile.  The Syracuse Santiago staff will give their expert travel advice on both well-known destinations and hidden gems within this country which, at 2,600 miles, is the longest in the world. 
Fees:

Reduction in program fee from $5,935 to $4,100.
---
Questions about Covid-19 procedures or health and safety abroad?