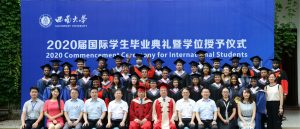 For students in Mainland China who are not able to return to Syracuse for the spring 2021 semester, we are pleased to offer a new program, Syracuse at Southwest University in Chongqing.
In-Person Program dates: February 26 – July 10, 2021
Program Overview
Syracuse University is excited to offer a program option through our partnership with Southwest University (SWU) in Chongqing, China. Ranked Top 50  in China and one of the "211 project" "Double First-Class" universities, SWU hosts over 50,000 undergraduate and graduate students, and over 2,000 international students from over 90 countries. Chongqing is one of China's largest cities, home to more than 30 million people and many cultural, historical and natural attractions. SWU is known for its reputable programs in Biology, Education, Psychology and Agriculture.
While at at SWU, you will study alongside Syracuse and other students from SWU and other international universities. You will take 1 to 2 in-person course electives taught by SWU faculty, while also registering for 3 to 4 courses online with Syracuse University faculty. You will receive Syracuse University credit for all coursework completed.
Course offerings will be determined in the next several weeks. Many classes will be held at the Overseas Learning Center (OLC) on Southwest University's modern downtown campus, while others may also be held at SWU's main campus. The OLC has been designated for students of universities outside of China who were unable to travel abroad, and it holds university classrooms and other necessary facilities.
Through this partnership program with Southwest University's Overseas Learning Center (OLC), you will have the opportunity to:
Study and live alongside other Syracuse University students.
Complete in-person and online courses that will count towards your academic degree.
Have access to SWU campus student services/support and campus facilities, including libraries, cafeterias, study areas, sports/gym facilities, etc.
Participate in SWU academic seminars and salons on campus.
Spend the semester in a limited risk campus environment with COVID-19 protocols in place.
Meet and socialize with Chinese students from other international universities who are participating in similar programs.
Engage with Syracuse University students and faculty on main campus via virtual events and a peer mentorship program.
All program details are contingent upon enrollment numbers and subject to change based on public health guidance issued by officials in China in response to the COVID-19 pandemic
If you are interested in this program, complete our interest form to receive more information and application details in the coming weeks.
Program Restrictions:
The following restrictions are in place for this program. Students who are not eligible for admission on this program will be withdrawn and will need to pursue a different program option available to them. This program is open for undergraduate students only.
Architecture – Closed to all levels of students
College of Engineering and Computer Science: Closed to all levels of students
Whitman School of Management – Only open to First-Year students
---
Program Dates
| | |
| --- | --- |
| SWU Interest Form deadline | Monday, November 9, 2020 |
| SWU enrollment deadline | To be determined |
| Syracuse Main Campus: First Day of Online Classes | Monday, January 25, 2021 |
| Arrive at SWU | February 26, 2021 |
| First Day of In-Person Classes | March 1, 2021 |
| Main Campus: Online Final Exams | Monday, May 3-Thursday, May 6, 2021 |
| In-Person Final Exams | July 5-10, 2021 |
Academics
During the semester, most students will take one to two in-person elective courses offered through Southwest University (with in-person classes likely commencing in late February/early March) and three to four online courses taught by Syracuse University professors (which will start January 25th following the main campus academic calendar).
You will be able to select among a limited portfolio of courses in a range of academic disciplines including Psychology, Math, Philosophy, Management and History.  The pre-approved list of courses for Syracuse University credit will be shared prior to registration. Students should plan to take all required courses to fulfill their major/minor requirements through Syracuse University online offerings, and only consider SWU offerings to fulfill any elective requirements.
Please note: In-person course offerings will be limited, so academic flexibility will be key at the time of registration.
SWU OLC classes will be taught in English and main campus classes will be taught in Chinese. Class size is generally 40 to 50 students.
You will receive Syracuse University credit for all coursework completed and the courses will meet Syracuse University's academic standards. During your time at SWU, you will receive academic support for your online and in-person courses from both Southwest University and Syracuse University faculty and staff. Please discuss your academic needs and requirements with your academic advisor prior to registration.
---
Housing
You may choose from either the list of housing options provided below or you can choose to find your own housing  Please note that if you choose this independent housing option, you will be responsible for finding your own housing and covering all costs individually. Syracuse University will not be involved in independent housing arrangements.
 SWU campus housing options
SWU main campus housing in Beibei, Chongqing:

A limited number of 2-person standard rooms will be available, each with a hotel style kitchenette and shared bathroom, study desk, TV and mini refrigerator. Only 40 beds are available.

SWU Overseas Learning Center housing (downtown campus):

4-person rooms available with shared bathroom, located area near the downtown of Chongqing city, newly developed with teaching facilities, student dorms, dining hall, library, sports field and smart classrooms. The OLC is a 45 minute commute by subway to the main campus.

The cost for SWU campus housing will range between $500 and $2700, depending on the location, amenities and number of students per room.
Students will transfer housing fees directly to the SWU Overseas Learning Center.
Students are responsible for their own food expenses. In both locations, meals readily available from campus cafeteria or small restaurants outside of the campus.
Specific program details are subject to change based on public health guidance issued by officials in China in response to the COVID-19 pandemic.
---
Student Life & Support
Students will have access to SWU facilities including library, cafeteria, and gym. Students can eat at the University cafeteria and/or restaurants near both housing facilities within walking distance.
SWU main campus is roughly 45 minutes away from SWU OLC by subway. Both campuses are within walking distance of the subway station.
SWU will host an orientation for students in February.
Syracuse University students will have access to SWU OLC residential student affairs staff for help and support. SWU OLC has designed activities for students who live and study at OLC including sports games, movie nights, etc. SWU staff will be available to organize a selection of extra field trips and other activities for Syracuse students. Students who choose to participate in these field trips will pay a fee for each trip.
---
Tuition and Fees
The cost of attendance is an estimate of what it will cost for you to attend Syracuse at SWU for the Spring 2021 semester. The cost is very comparable to studying on main campus for the Spring 2021 semester.
The Syracuse at SWU program follows the same payment deadlines as main campus. For now, students should pay what they've already been billed for through Syracuse University. Unless you are on the payment plan, the bill due date is to be determined.  More information will be available soon.
Direct (Billable) Costs
Syracuse University Tuition (12 – 19 credit hours): $27,135

Estimated Program Fee: TBD

Housing Fee: Campus housing will range from $500-$2700 (depending on location, amenities and number of students per room)

Total Direct (Billable) Costs: $27,135 (plus program fee and housing)

Non-Billable Costs (These are estimated personal expenses and vary according to individual spending habits)
Meals: $1,100
Books/Supplies: $50
Personal Expenses and Travel: $1,500
Subtotal: $2,650
Estimated Total Program Cost
TBD (Direct Costs plus Non-Billable Costs)
Independent Housing
To be paid directly to housing provider