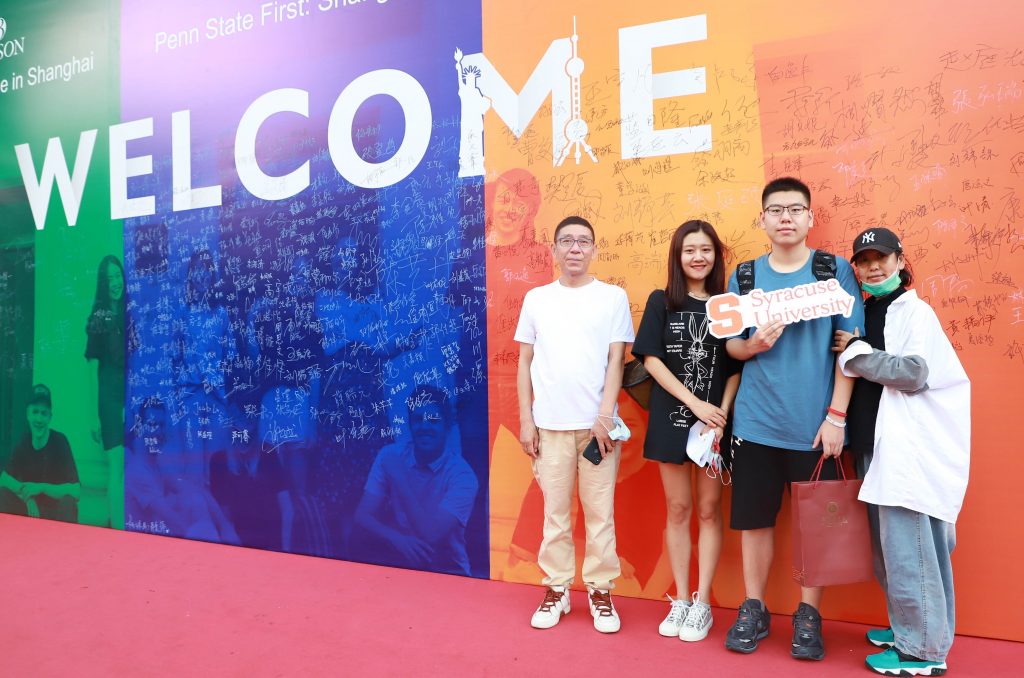 For students in Mainland China who are not able to make it to Syracuse for the fall 2021 semester*, we are pleased to offer the Syracuse in Shanghai program option.
In-Person Program dates: September 6 – December 12, 2021
Through this U.S.-style higher education program, you will have the opportunity to:
Study and live alongside other first-year Syracuse University students.
Complete in-person and online courses that will count towards your academic degree.
Participate in a comprehensive one-day orientation
Join local study tours and activities to help you build connections with Syracuse University students and alumni.
Engage with Syracuse University students and faculty on main campus via virtual events and a peer mentorship program.
Spend the semester in a limited risk environment with COVID-19 protocols in place.
Meet and socialize with hundreds of other Chinese students from other U.S. universities who are participating in similar programs in Shanghai.
All program details are subject to change based on enrollment numbers and on public health guidance issued by officials in China in response to the COVID-19 pandemic.
The Syracuse in Shanghai program will be offered in partnership with the Council on International Education Exchange (CIEE), with which Syracuse University has a strong relationship. CIEE is one of the largest study abroad providers in the world and has a long-standing presence in Shanghai at East China Normal University (ECNU).
Program Restrictions
The following restrictions are in place for this program. Students who are not eligible for admission on this program will be withdrawn and will need to pursue an alternate program option available to them. This program is open only for undergraduate students who are unable to return to campus.
Architecture – Closed to all levels of students.
---
Program Dates and Deadlines
| | |
| --- | --- |
| Deadline to submit Syracuse Abroad Application* | Wednesday, June 16, 2021, at 11:59pm Syracuse time/Thursday, June 17, 11:59am Beijing time |
| Online Pre-Arrival Orientation | Wednesday, August 4, 2021, at 9:00am Beijing time |
| Main Campus: First day of Online Classes | Monday, August 30, 2021 |
| Onsite Orientation | Monday, September 6, 2021 |
| First Day of In-Person Classes | Tuesday, September 7, 2021 |
| Syracuse University: Online Final Exams | Monday, December 13-Friday, December 17, 2021 |
| In-Person Final Exams | TBD |
Program Location: Updated June 28, 2021
Due to the stability of the Covid-19 situation in China and the reduced program size, we are pleased to announce that East China Normal University (ECNU) has given our partner CIEE permission to operate out of ECNU's Putuo campus. The program will no longer be based at the ECNU Boashan Academic Center.
The location of the ECNU Putuo campus is 3663 North Zhongshan Road, Putuo District, Shanghai 20062.
Syracuse in Shanghai facilities include Student Services office, student library, student computer lab, and classrooms. Students will have access to campus for classes and extra-curricular activities using their student ID cards. It is possible some classes may be held off-campus nearby. Please also note that access to some campus facilities and resources is restricted, and access is subject to change without notice due to the COVID-19 pandemic.
---
Academics
During your 15-week semester, most students will take 2 in-person courses taught by CIEE-hired faculty and 3 online courses taught by Syracuse University professors. Students in the College of Engineering and Computer Science and certain academic programs at VPA will only be taking 1 in-person course. All students must confirm their course selections with their academic advisor.
You will be able to select among a limited portfolio of courses in a range of academic disciplines in management, social sciences and the humanities.  While the final number and list of courses will depend on student interest in the program and on student academic need, we expect to offer some or all of the following courses:
AAA380 Chinese Film & Society
PSC/AAA380 China's International Relations
BUA380 Changing Nature of Business in China
BUA380 Managing Sustainability in Transnational Business
GEO180 Global Change and the Environment
PSC380/IRP480 U.S. – China's Relations: Tangled Titans
All courses will be taught in English and you will receive Syracuse University credit for all coursework completed. The courses will meet Syracuse University's academic standards and will be designed to assist you with your transition to the Syracuse campus in the Spring 2022 semester. Please discuss your academic needs and requirements with your academic advisor prior to registration.
Please note that classes will be taught at the ECNU Global Education Center-Baoshan Academic Center in Shanghai. You will not be enrolled in ECNU courses and are not considered ECNU students. All courses will be CIEE or Syracuse University courses, and students will earn Syracuse credit for all courses. If you select this program you will, however, have access to ECNU facilities and be bound by ECNU student conduct and other policies, subject to ECNU health protocols.
This program is not open to Architecture students.
Orientation and Training for Participants
Syracuse in Shanghai will begin with a comprehensive orientation to the city, university, and the program. This will include a session on staying safe during your program.  In addition, the center director will share with you local emergency contact information.
---
Student Life
You can look forward to staying active during your semester in Shanghai. There will be many opportunities to engage with your fellow Syracuse University classmates:
Three (3) site visits and activities throughout the semester. Examples include:

Organized joint activities with ECNU international students
Syracuse alumni events and employer visits
Visit to the Shanghai Exchange
Site visit to Bao Steel, a state-owned enterprise
Visit to the Shanghai Urban Planning Museum
Basketball and Badminton competition

A peer mentorship program connecting you with a Syracuse University upper class student who will help you get accustomed to life on campus and get prepared to start on main campus.
Events with your fellow Syracuse classmates to connect you socially before arriving on main campus. Planned activities include football watch parties, movie and game nights and group dinners.
Students participating in Syracuse in Shanghai will be governed by the Syracuse University code of student conduct.
Student Representative Council: Regular meetings will be held between Syracuse student representatives, CIEE staff, and Syracuse on-site program staff (if applicable). This is an additional forum where students can report on academic issues on behalf of the entire group, organize social, cultural events, workshops and activities for the cohort. A meeting of the Syracuse Community Council will be held in the first two weeks and at least monthly thereafter.
---
Housing and Student Services
Syracuse in Shanghai students may arrange their own housing for the semester. Students may choose to live with their families in Shanghai or make other arrangements that are suitable for their circumstances. Students are responsible for booking all housing options directly. Please contact Syracuse Abroad for a list of housing recommendations.
Support Services
Although you will not be studying on the main Syracuse University campus, you will still have access to our academic and immigration support services, including:
Academic advisors in your home college
---
Health and Safety
At CIEE and Syracuse University, the safety of our students is our primary concern. You will have 24/7 emergency and health, safety, and security support. CIEE conducts annual training of its staff in Health, Safety and Security and employs specific protocols for managing incidents involving our participants. Students will be provided with detailed information on health and safety protocols and recommendations for living/studying in Shanghai upon arrival.
Please note: All participating students are required to have cell phones that function in China, and which do not rely solely on Wi-Fi connections for communications.
CIEE will also provide:
Program Coordinator: CIEE will assign a full-time dedicated CIEE staff Program Coordinator to oversee the program and accompany students on site visits and excursions. The Program Coordinator will work with Syracuse University staff to enforce program policies and expectations.

Emergency Support: CIEE Resident Staff Members will provide 24/7 emergency support via phone throughout the duration of the Program. CIEE staff members are available to help with emergency medical and security incidents.
COVID-19 Protocol: Updated June 28, 2021
As COVID-19 continues to affect life around the globe in unprecedented ways, the safety of our students remains our highest priority. Syracuse University will work with CIEE's Health, Safety, and Security team to actively monitor the health landscape in Shanghai and surrounding areas. CIEE and Syracuse University will directly communicate timely, relevant updates to students and families as needed.
Vaccination Information: Syracuse University requires a COVID-19 vaccine (or an exemption for medical reasons or sincerely held religious beliefs) for students, faculty and staff. This policy applies to all students enrolled in Syracuse Abroad programs during the fall 2021 semester.
ECNU has a similar policy, and students must be vaccinated to access ECNU's Putuo campus.  The only exception will be for medical reasons. Students must follow CIEE's instructions for providing proof of vaccination or to request a medical exemption.
---
Tuition and Fees
The cost of attendance is an estimate of what it will cost for you to attend the Syracuse in Shanghai program for the fall 2021 semester. The cost is comparable to studying on main campus for the fall 2021 semester.
The Syracuse in Shanghai program follows the same payment deadlines as main campus.  The fall 2021 invoice will be emailed to your Syracuse email address on June 14th.  If your invoice does not yet reflect your Syracuse in Shanghai charges, your account will be updated soon.  You can view your updated account in MySlice, where you can also make payment.  Unless you are on the payment plan, the bill due date is July 23, 2021.
Direct (Billable) Costs

Syracuse University Tuition (12 – 19 credit hours): $27,960

Estimated Program Fee: $2,600

Total Direct (Billable) Costs: $30,560

Non-Billable Costs (These are estimated personal expenses and vary according to individual spending habits)

Meals: $1,100

Books/Supplies: $50

Personal Expenses and Travel: $1,500

Subtotal: $2,650

Independent Housing Cost

To be paid directly to housing provider

Estimated Program Cost

$33,210 plus  Housing
IMPORTANT: Students who withdraw from Syracuse in Shanghai after June 23 will be responsible for any non-recoverable costs.
Program Fee
Pre-program orientation in conjunction with CIEE

Access to ECNU/CIEE Global Education Center in Baoshan

At least 3 local site visits/excursions with dedicated Program Coordinator

24/7 emergency and health, safety, and security support

Access to computer labs, libraries, athletic facilities, cafeterias, and common areas at the ECNU Global Education Center-Baoshan Academic Center

ECNU ID
Note about Courses:
Two CIEE courses taught in English plus three online courses offered via main campus in Syracuse

Charges for tuition and program fee are fixed and billed through the Syracuse University bursar system. Other expenses are estimated based on current information and are subject to change due to inflation and fluctuating exchange rates.
Cancellation Fees
A student who withdraws from the program after June 23, 2021 will be responsible for any unrecoverable costs, which will increase as the program start date approaches and could be as high as the total amount owed for the program fee.
---
*Important Note about Spring 2022: Fall 2021 will be the last semester the Syracuse in Shanghai program will be offered. For Spring 2022, you will be expected to travel to Syracuse for a fully in-person experience and you should not delay in making appropriate arrangements such as applying for your visa.