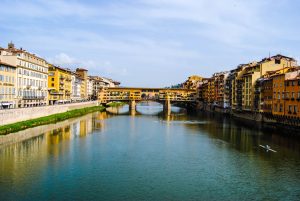 Photo: C. Fallon
Syracuse in Florence for First-year International Students
Program Dates: August 24 – November 30
For international students not able to make it to Syracuse in time for the fall 2020 semester, we are pleased to offer the opportunity to study at the Syracuse University Florence Center. This option allows you to take residential classes at the Syracuse University Florence Center, plus at least two Syracuse University classes online.
Our experienced Syracuse Florence staff will guide you through all aspects of your semester, including a comprehensive orientation, strong student support services, and expert guidance as you transition back to main campus. Students will live in single rooms in a student hotel within walking distance of the Syracuse Florence campus. All coursework is in English.
Please note: Please note: Based on the information we have gathered, Syracuse University is confident that you will be able to successfully apply for and obtain your U.S. student visa while residing in Italy.  In some cases, a student may need to apply for their visa after the program ends by returning to their home country.
Program Dates and Deadlines
Deadline to submit Commitment Form*: Monday, July 13, 2020

Deadline to submit Syracuse Abroad Application*: Wednesday, July 22, 2020

Pre-arrival online coursework begins: Monday, August 24

Arrival in Florence and orientation: Thursday, September 17

Mandatory quarantine**: Thursday, September 17 – Thursday October 1

First day of SU Florence online classes: Monday, September 21

First day of in-person classes: Thursday, October 1

Last day of classes: Friday, November 27

Program end date: Monday, November 30
*Students were emailed the Commitment Form on July 8. Once submitted, students will receive a brief Syracuse Abroad application to complete.
**Please Note: If at the time of arrival, preventative quarantine measures are in place, all students (regardless of citizenship) will be required to quarantine in the student residence for 14 days upon arrival on September 17 until October 1.  During this time, you will be able to settle into your regularly assigned student housing, where you will be comfortably supported by local staff, and have three meals delivered each day. Orientation activities will start on the night of arrival with a quick introduction. Courses will be started online on September 21, until October 1, after which you will commence with your residential program on the beautiful Syracuse Florence Villa Rossa campus.
The deadline to withdraw without financial penalty is Wednesday, July 29. After August 1, students will be responsible for the full amount of the housing fee. The deadline to sign-up for online classes is August 1.
Life in Florence
As a first-year student living in Florence, you will enjoy a wide range of services comparable to Syracuse Main Campus first-class student service support, exciting co-curricular activities and an experienced staff. As COVID-19 gradually continues to disappear in Italy,  you will have the opportunity to witness the city of Florence free of its typical mass tourism.
Academics
You will take a combination of residential classes taught by Syracuse University Florence instructors and virtual classes offered by faculty on Syracuse main campus. All courses will be taught in English.
Orientation
A comprehensive orientation led by experienced staff will educate you on a variety of topics including cultural adjustment, health and safety, banking guidance and use of local transportation.
Support Services
At Syracuse University, the safety of our students is our primary concern. While in Florence you will have access to 24/7 emergency and health, safety, and security support. Syracuse Florence has put in place proactive safety measures, including social distancing and other COVID-prevention measures, in line with best practices, Syracuse University SAFE and local Italian guidelines.
While at the Florence center you will be able to participate in weekly extracurricular activities and student-led initiatives, have access to a school café while utilizing additional lounge and study areas, as well as visit the center Library with over 16.000 volumes and enjoy the beautiful Villa Rossa a Donatello gardens.
Housing
While living in Florence, you will be housed in a residential facility equipped with many of the same comforts available on home campus, such as an on-site gym with a stunning view overlooking the center of Florence, lounges and study rooms, entertainment areas for games and movies, and even a seasonally-available rooftop swimming pool.
For more information, please contact suabroad@syr.edu.