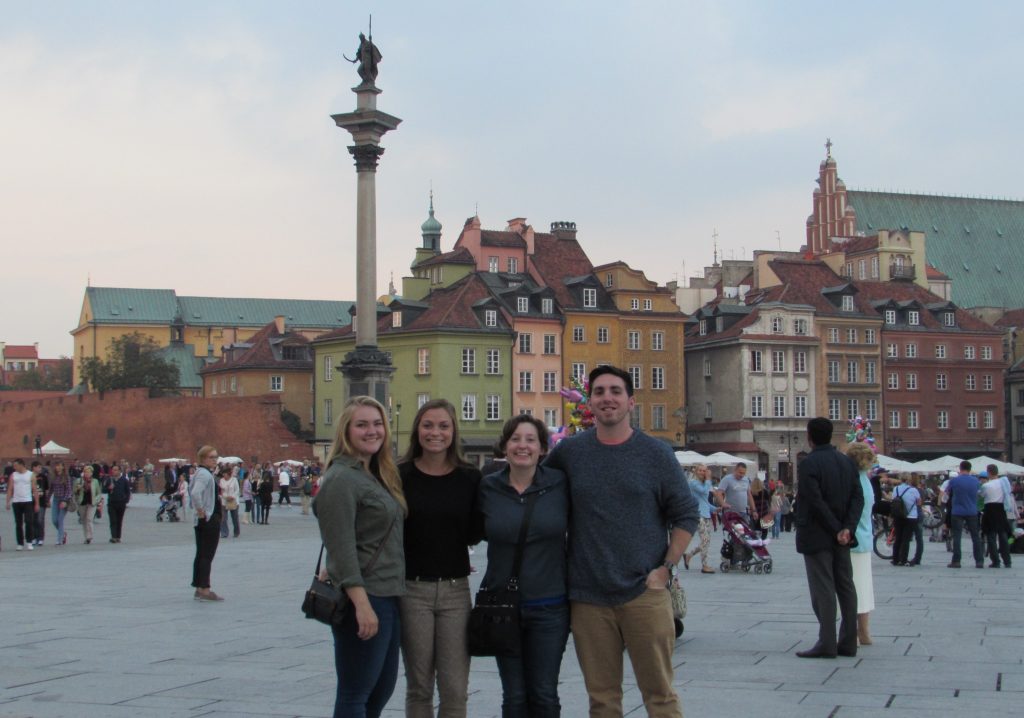 Get ready for your semester in Central Europe!
Your fall 2021 semester abroad will be filled with enriching coursework and stimulating cultural activities, engaging teachers, strong student support, exciting educational field trips throughout Central Europe, and a myriad of opportunities to challenge yourself in ways you can't yet imagine. See below for up-to-date program details.
---
Welcome to Wroclaw: In-Person Program Dates
Fall 2021 Program Dates: September 10 – December 7

Your arrival location is Wroclaw, Poland

September 21 – October 5: The Signature Seminar

Negotiating Identities

takes place within Poland and will include the following cities and sites: Gdansk, Sejny, Lublin, Krakow, Wieliczka Salt Mines, Auschwitz-Birkenau, Oswiecim. These study locations take you along the Polish borders with Russia, Lithuania, Belarus, Ukraine, Czech Republic, and Germany.

October 14 – 17: Weekend study tour to Warsaw, Poland

October 21 – 24: Lower Silesia Rural Weekend study tour 

November 11 – 14: Weekend study tour to Berlin, Germany
---
Program Highlights
C. Simon

Wroclaw, Poland will be your base in Central Europe

Your Signature Seminar: Your initial travel seminar in Poland involves a 15-day exploration of major cities and sites off the beaten path. Your seminar will be infused with Central Europe perspectives through exploration of border regions with Russia, Lithuania, Belarus, Ukraine, Czech Republic and Germany.
Your semester in Central Europe: During your semester travels, your group will visit at least seven sites listed on UNESCO's World Heritage list. Weekend study tours include trips to Warsaw, Berlin and a rural retreat in Southwest Poland.
Housing

: In Wroclaw, students will live in a

renovated 19th century building

in the historic center of the city, which has excellent access to the city's public transportation network. All students will live in single rooms with a private bathroom and shared kitchen.

Your original research can be published on

Urban Labs Central Europe

You'll have the opportunity to intern or gain volunteer experience at local establishments in Wroclaw.
Course availability

: A variety of 

courses

are available to students allowing for a full-time course load.
---
Program Requirements
Independent Travel:

Due to international health and safety regulations, students must limit their independent travel to within Poland. The Syracuse Central Europe staff will give their expert advice on both well-known destinations and hidden gems.

Visas:

The duration of the program will be under 90 days, so students with a US passport do not need to apply for a Polish student visa.

Students without a visa will need to depart from Poland no later than December 8, 2021.

Fees:

Based on the new program duration, the program fee has been reduced from $3,300 to $3,200. 
---
Questions about Covid-19 procedures or health and safety abroad?