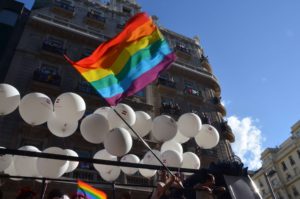 LGBTQ rights and experiences vary significantly around the world, and study abroad provides you with an opportunity to have essential conversations about diverse queer experiences. LGBTQ identities abroad are important topics to research when deciding where to travel and study abroad. If you identify as LGBTQ, Syracuse Abroad encourages you to learn about the cultural differences, including norms, stereotypes and colloquialisms, in your host country, city and every subsequent place you choose to explore.
Use these resources to get started:
Rainbow Sig: This organization provides resources for students studying abroad who identify as lesbian, gay, bisexual, transgender, or queer (LGBTQ+).
ILGA- Maps of Sexual Orientation Laws: "A useful tool for LGB human rights defenders, these images expose the arbitrariness of persecutory laws, and indicate the absence of positive law in most parts of the world."
National Center for Transgender Equality: This center provides resources on traveling abroad for transgender students.
Women Travelers: Learn more about some obstacles women might face when traveling abroad, including health and security.
LGBTQ Resource Center: This organization provides community building, outreach and visibility, and intellectual and leadership development that centers the experience of people with marginalized sexualities and genders.