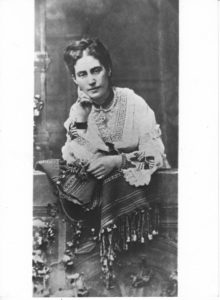 Edith Margaret Mozley was born on August 26, 1847, in Lancashire, England, to Fanny Joseph and Lewin Barned Mozley. Her father passed away in January 1858 when Edith was net yet 11 years old; her mother passed away 15 years later in 1873.
In 1867, Edith met Mario Gigliucci at the home of Mario's Novello relatives in London, England. Edith and Mario were 20 years old at the time. Seven years later, in July 1875, the two were married in Kensington, London, and lived for the first two years of their marriage in Stresa (Piedmont), Italy, where Mario was working as a mining engineer. In 1878, the couple lived for a brief period in London, and it was here that their first child, Nerina, was born.
In 1879, Mario, Edith, and baby Nerina moved to Florence where they lived in a rented apartment in Palazzo Gherardesca with Mario's older brother Giovanni and his wife Charlotte Sophia Mozley (Edith's sister). After a few months, Mario and his family moved to an apartment on Via Garibaldi, and a year later they moved again to an apartment on Via Cherubini where their second child, Donatello, was born in 1883 and their third child, Bona was born in 1885. In 1886, the family moved to Villa Romana on the southern side of the city. In 1892, they moved for the last time to their newly completed "Villino" in Piazza Savonarola.
Edith died on November 16, 1909 in Florence at the age of 62. She is buried in the English Cemetery in Piazzale Donatello in Florence.