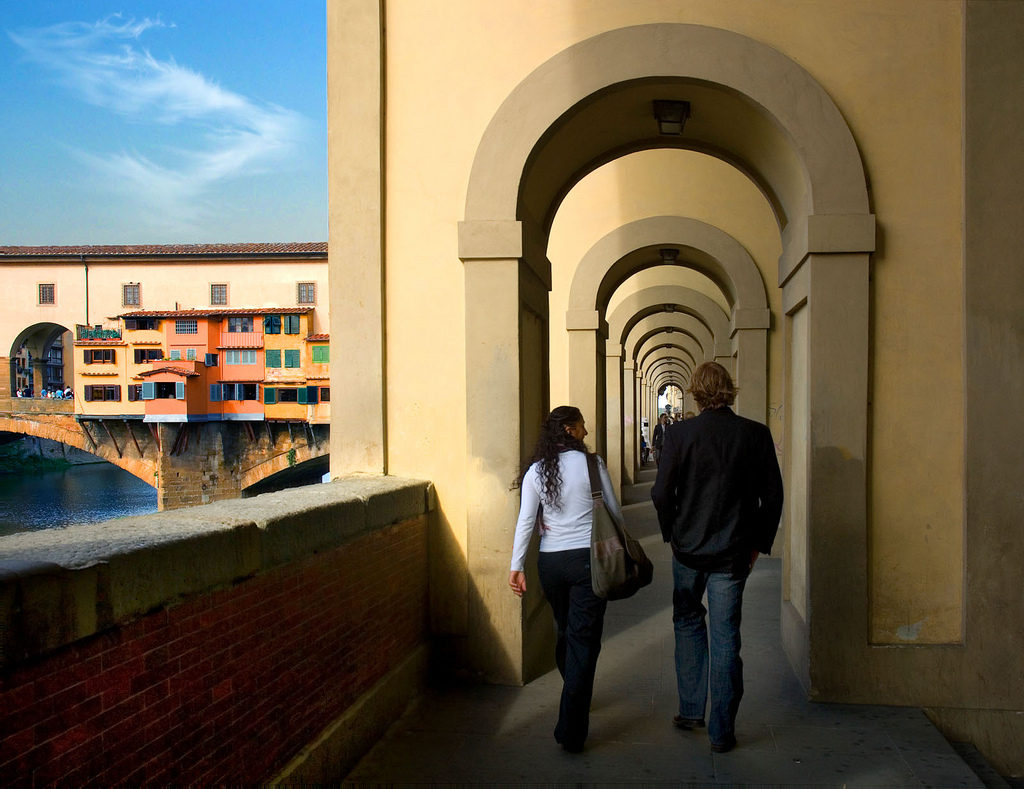 Getting around Florence can be very confusing at first, but don't worry; it will eventually become second nature. Just remember to find a reference point in the city (like the Duomo) so you can always orient yourself. It's also OK to get lost every now and then (if time permits) because getting un-lost is one of the best ways to learn your way around the city!
---
On Foot
The best way to see Florence is on foot! The narrow twisting medieval streets and Roman grid-plan of the historical city-center make it ideal for exploring the city on foot. Street names sometimes change from corner to corner even though it might not be apparent (Borgo San Lorenzo becomes Via Ginori which becomes Via San Gallo) so it is always a good idea to carry a good map, preferably one with a street index. Free city maps are available from ATAF or you can purchase one at the tourist information office (APT) on Via Cavour, but you might want to invest in a sturdier map (maps in the Streetwise series are both plastic coated and include a street index) from a local bookshop or newspaper stand.
Street names are located on marble or granite plaques attached to the sides of buildings and there are two street numbering systems – one black, for private residences, one red, for businesses. Good walking shoes are important, as you will soon notice the uneven cobble-stoned streets and narrow sidewalks that are characteristic of most Italian cities. A word of caution: Be sure to watch out for traffic, as it is not uncommon for bikers, motor scooters and even the occasional car to be found going the wrong way down a one-way street. Try to cross streets at designated crosswalks (white striped areas) but don't assume that vehicles will automatically stop for you!
---
By Bus
Should you want to explore further afield to the surrounding suburban areas and other local townships (the Cascine park, Bagno a Ripoli, the Altrarno area, etc.) you can do so on Florence's extensive bus system. City buses, operated by ATAF , are orange in color or white/black and either run in a loop (like the #12 and #13 that lead up to Piazzale Michelangelo) or back and forth between two capolinee, or major departure points. Buses can only be taken from an established stop, fermata, designated by an orange sign with the number and name of the route.
The black dot and arrow pointing towards upcoming bus stops is a helpful indication of the direction the bus is going. As your bus is approaching the fermata, hold out your hand to signal to the driver to stop, otherwise he might assume you're waiting for a different number and keep going.
You can download route timetables and other information (in English) from ATAF. Bus maps are available in the ATAF Sala Servizo Clienti (Customer Service Office) in Piazza stazione.
Get directions using Google Maps. It provides step-by-step instructions, schedules, and calculates travel time. You can conveniently print the map and to take with you, just in case you get lost. TIP: Insert exact addresses. It takes just one word to completely change the address.
Before boarding, you can purchase an ATAF ticket at any authorized vendor including Tabacchi shops, bars, newspaper stands and the ATAF office at the central train station. For a higher price, you may also buy tickets on board with cash only. Tickets need to be validated upon boarding the bus by using the machines located in either the front or back of the bus. Tickets and are good for 90 minutes of ride time – no matter how many transfers you make. The chart on the next page outlines the different types of tickets.
Be aware of the following:
Riding the bus without a properly validated ticket is illegal and you will incur a hefty fine is a controller asks for your ticket (see below).
Student discounted unlimited monthly bus passes are only available to EU students. DO NOT PURCHASE THE STUDENT DISCOUNTED UNLIMITED MONTHLY BUS PASS. Authorized ticket counters, including 'Tabbachi' shops will try to sell you the discounted pass, as they are not aware that non-EU students cannot get these discounted passes. If you purchase this type of pass, be aware that you will be fined by the ATAF ticket controllers regardless of who sold you the pass.
Tickets are randomly checked by plain-clothed ATAF employees who will require you to provide accurate identification (a photocopy of your passport or your student ID card will work) as well as a properly validated bus ticket. The fine usually must be paid on the spot to the controller or within 5 working days of the issuance of the ticket at the ATAF office at the central train station.
While the ATAF bus system provides comprehensive coverage of the city by day, there are only a few bus routes that operate late at night, and these run rather infrequently. Plan accordingly.
---
By Taxi
Taxis in Florence are fairly quick and reliable, but they can be quite expensive. You will need to call a taxi through one of the company switchboards (see phone numbers below) or get one at a designated taxi stand (see below). You cannot hail a cab on the street. If calling a cab company, simply provide the operator with the address from which you need to be picked up. You will be given a city name and number that corresponds to the designated taxi (i.e., Roma 23) along with the expected arrival wait time – usually 3-5 minutes. The name and number of the cab (Roma 23) will be written on the side of the car.
Once you are in the taxi, give the driver the address to which you are traveling. You may reserve a taxi only within 24 hours of the pickup time. If you need to use a credit card, you must specify as much when making the reservation.
Fare rates are posted inside the cab, but there are various surcharges that may be added to the base fare: a service charge for phone requests, traveling on Sundays, holidays and late at night; the transport of baggage; and trips outside of the urban center. During the day, you should expect to pay between 8 and 12 Euros for a city-wide journey, while at night this will cost between 9 and 16 Euros. There is a 10% discount for single females traveling alone between 10 p.m. and 2 a.m., but you must ask the driver as soon as you get in the car.
Taxi Numbers:
055-4390
055-4242
055-4798
Taxi Stands:
Piazza del Duomo
Piazza Beccaria
Piazza delle Cure
Piazzale Donatello
Viale Mazzini
Piazza San Marco
Piazza della Repubblica
Piazza Ferrucci
Piazzale Porta Romana
Piazza Alberti
Stazione Santa Maria Novella
---
By Bike
If you are cautious and ride defensively, a bike is a great way to move around Florence. The city is relatively flat and there are bike lanes surrounding the entire historical center. Follow basic safety rules: wear a helmet, ride on the right-hand side of the road, follow traffic and obey traffic signals and signs. Be sure to invest in a sturdy lock–two sturdy locks are even better–as bike theft is rampant in Florence!
Mobike Bike-Sharing
A popular way of getting around the city is with bike-sharing. After downloading the Mobike App, look for one of the many bright orange bikes parked throughout the city and use it on an as-needed basis.
Purchasing a Used Bike
Another option is to purchase a used bike and then sell it back to the store (for a portion of what you originally paid) at the end of the semester. Below is a list of bicycle vendors students have recommended in the past.
Florence by Bike (Near Piazza Independenza)
Via San Zanobi, 120-122r
055-480 814
La bottega della Bici (near SU Florence campus)
Via Fra' Bartolommeo, 2r
334-8015492
New and used bikes.
Ciclicitta' (Piazza Ravenna area)
Via G.P. Orsini, 4/a
055-680 0069
Berti Fernando Eredi (Campo di Marte area)
Via Volturno, 1/r
055-587 196
Cooperativa Ulisse (Hospital San Salvi, near Campo Marte)
Via San Salvi, 12
055-650 5295
Used/refurbished bike sales on Friday mornings 9:00-1:00