The Spark card is a re-loadable, pre-paid MasterCard where you'll find money to top up your transportation card.
Your Spark MasterCard has been activated for you. Please find your PIN and web password in the envelope. Once you have memorized your PIN and password please destroy it. We have compiled some useful information below:
How do I get in touch with SPARK?
Customer service hours are Monday – Friday, 9 a.m. to 6 p.m. (except national holidays):
Telephone: +34 91 29 39 789
E-mail: info@tarjetaspark.es
What is my Card ID number?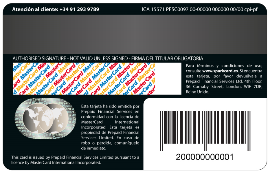 The card ID number is a number at the back of your card that starts with 20000… This number is like an "account number" and you will need it to talk to Spark customer service or if you want to reload your card through banks or authorized retailers.
How can I see my balance, transactions, etc.?
You can log into your account by going to tarjetaspark.es/en and clicking on "MY CARD." You will have to enter your card number and your web password. You will be able to see your balance, transaction history, block/unblock your card, remember your PIN (if you forgot), etc.
What should I do if I lose my Spark MasterCard or see unauthorized transactions?
Log into "MY CARD" at tarjetaspark.es/en and block your card to prevent anyone else from using your Spark card
Notify us immediately at info@tarjetaspark.es so we can make sure your card is blocked, prepare a new card for you, and transfer any remaining balance onto your new card.
A replacement card will cost the student 5€
Where can I use the Spark MasterCard?
You can use it anywhere just like any MasterCard, whether it is in Spain or abroad. You can use it at physical stores, ATMs, or online.
Can I load additional funds to my Spark MasterCard?
Yes! You can load up to 2.500€ by any of the reload methods offered:
Bank Deposit
Bank Transfer
35,000 authorized points of sale
Debit/Credit Card
Note: Your card is currently at level ONE. For more options, you can upgrade to the premium level.
List of Fees:
CARD PRICE
Card price: Free (covered by Syracuse)
Replacement card (if lost or stolen): 5€
RELOAD METHODS AND FEES
Bank deposit (Bankia, Santander, Caixa): 2% of loaded amount
Bank transfer (Bankia, Santander, Caixa): 2% of loaded amount
Authorized retailers (35,000 retailers): 5% of loaded amount
Debit/Credit Card: 5% of loaded amount
Spark to Spark: 1% of loaded amount
MONTHLY FEE
Monthly fee: 1.20€ per month (only if there is balance)
Note: Syracuse University has covered your monthly fees for your current semester. If you continue to use the card afterwards, the monthly fee will be charged on the balance of the card.  Monthly fees do not accumulate and are not retroactive.
TRANSACTION COSTS
Card Purchases in Spain: Free
Card Purchases Abroad: Free
Card Purchases on the Internet: Free
ATM withdrawal: 1.00€
Decline for lack of funds: 0.20€
MORE BENEFITS:
Go to www.priceless.com and have access to exclusive offers to restaurants, exhibitions, shows and concerts.