At Syracuse Madrid, we understand and celebrate that diversity is the norm, and we strive to appreciate the diversity inherent in our students. As such, we're committed to supporting students with historically excluded & underrepresented identities studying abroad.
Spain, and Madrid in particular, is welcoming; however, Black students, students of color, and/or members of the LGBTQIA+ community may experience challenges and/or microaggressions abroad. Our staff is here to provide you with support.
We'd love to hear from you! Don't hesitate to contact Student Life to propose new initiatives or discuss any current topics you might be interested in regarding the identities reflected below and the innumerable identities that make up our Syracuse Madrid community.
---
The Syracuse Madrid Diversity & Inclusion Steering Committee (DISC)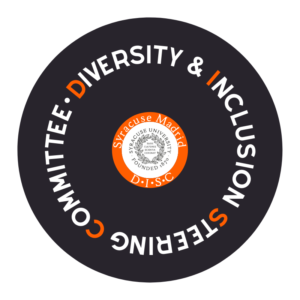 In the spring of 2019, Syracuse Madrid established a student Diversity and Inclusion Steering Committee: a demographically diverse group of students whose focus is to help optimize diversity and inclusion efforts in our Madrid center.
Each semester, a new group of students is self-selected to form the committee and work together throughout the semester. Meetings are held once a week and are organized around the schedules of those involved. In the meetings, students work on further developing projects started in the previous semester, as well as propose projects and initiatives for semesters to follow. Those who participate in this committee help create a lasting and meaningful impact on Syracuse Madrid and on all students to come.
If you have any questions regarding the student DISC or are interested in participating during your semester in Madrid, contact Cat Braza at cmbraza@syr.edu.
---
Resources in Madrid
BIPOC Students
SOS Racismo Madrid is a non-profit organization that seeks to combat all forms of discrimination and segregation due to skin color, national origin, or religious or cultural motives.
The Afropean is an online multimedia, multidisciplinary journal exploring the social, cultural, and aesthetic interplay of Black and European cultures, as well as the synergy of styles and ideas brought about as a result of this union.
Africanidad is an online newspaper for Spanish-speaking people of African descent in Spain.
Melanin Madrid: "Melanin Madrid is a network of people of color in Madrid. We help POC relocate through community, consulting and digital resources." They host events, have a blog with resources around the city, and have a YouTube channel where they feature their new "Black in Madrid" series that aired in 2021.
Conciencia-Afro: The Conciencia-Afro team is made up of African and Afro-descendant people from different areas that make up a multidisciplinary and choral team. They work on a variety of projects and host discussion groups and an annual festival.
Blacexpats in Spain, hosted by Jeanette Edmead, is an up-and-coming vlog (YouTube username: @jeanetteedmead3459) and podcast series (available on Spotify, Apple Podcasts, and other platforms) that shares the stories of Black expats in Spain. You can also get in touch with Jeanette if you are interested in sharing your story.
BIPOC Women Students
Flourish in the Foreign is an award-winning podcast that celebrates, elevates and affirms the voices and stories of Black women living and thriving abroad while exploring living abroad as a pathway to wellness (available on Apple Podcasts, Spotify, and other platforms). The website includes additional resources and readings, and you can follow the page's Instagram here.
Master Your Move Abroad (formerly known as Las Morenas de España) is an online platform and blog where Black women and women of color share their experiences abroad and learn from others. Their mission is "to not just share empowering stories but to now teach others how to take the leap and build the life of their dreams."
Afroféminas is an online community for Spanish-speaking women of African descent.
"Ethnic Maintenance in Madrid: Shea Butter, Oils, Hair, and So On": This article from Melanin Madrid has a list of recommended places for eyebrow threading, hair care products, hair salons, and more.
LGBTQIA2+ Students
Syracuse University has been ranked by the Huffington Post as one of the top 10 queer-friendly campuses in the United States. Syracuse Madrid aims to continue to provide support to our LGBTQIA2+ student community abroad, and Madrid has a wealth of resources for the community.
Activities
Oficina de Diversidad Sexual e Identidad de Género: UCMentiende is the Universidad Complutense de Madrid's diversity office.
COGAM: LGBTQIA+ Association of Madrid has weekly activities where newcomers are welcome. For more information, or to get in touch with their welcome committee in English, contact educacion@cogam.org.
Activities geared towards lesbians every Friday evening
Groups on Saturday afternoons for people 30 years old and younger
La Mala Mujer is a warm and welcoming meeting point for local feminists that meets every Wednesday and holds language exchanges every Thursday. Contact Cristina at lamalamujerfeminista@gmail.com for more information.
La Batucada que Entiende is a percussion school that doubles as a meeting point for women whether they identify as queer or heterosexual. For more information, contact Mili at batucadaquentiende@gmail.com.
Sports
GMadrid Sports is a sports club mainly, but not exclusively, attended by people who identify as queer.
Madrid Titanes is a rugby club that aims for inclusivity for men regardless of sexual orientation.
Support
Programa Madrileño de Información y Atención LGTBI: Free psychological, social, and legal support for the LGBTQIA+ community – sponsored by the Comunidad de Madrid. For appointments: +34 917 01 07 88
C/ Carretas, nº 14 planta 2ª
Observatorio madrileño contra la homofobia, transfobia y bifobia: Support against hate crimes.
Crismhom: Christian-based support for the LGBTQIA+ community.
---
Other organizations that foster inclusion efforts in Madrid
Madrid for Refugees is "a non-profit, 100% volunteer-run organization dedicated to helping and empowering those in the local community who are: individuals who find themselves in the status of being a refugee, asylum seekers, stateless, and migrants in need of international protection and/or at risk of social exclusion."  They organize fundraising events in Madrid such as trivia nights, cooking classes, poetry readings, and more.
---
Syracuse Campus Resources
Stop Bias is "a University-wide initiative that educates the campus community about bias and provides resources to report and receive support for bias-related incidents." If you have experienced or witnessed a bias-related incident, you can report it through Stop Bias.