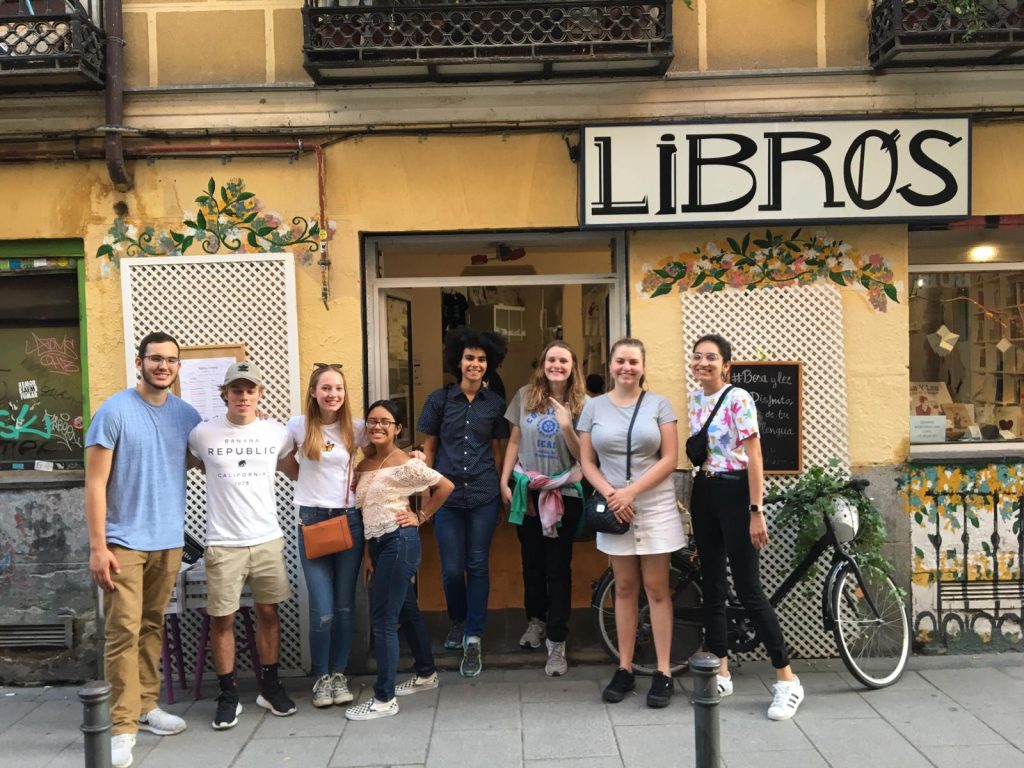 Discover Madrid, a city that never ceases to surprise. With the cosmopolitan and cultural flair of a European capital and the approachability of a cozy town, you're sure to find your place in Madrid.
We have prepared a dynamic program that includes enriching coursework, stimulating cultural activities, engaging teachers, strong student support, and exciting field trips within Spain.
As part of a small group of highly motivated first-year students, you'll be starting off your college career with an exceptional experience and a solid academic base.
You're on the cusp of a memorable semester. So get ready to discover Madrid… and get ready to discover all that you are capable of achieving!
Learn more about Discovery Madrid Engineering and Computer Science!
---
Program Details
Welcome to Madrid: In-Person Program Dates
Students arrive in Madrid: August 28
Mapping Madrid seminar: August 28 – August 31
On-site orientation: September 1-3
On-site classes begin: September 4
Mid-semester break: November 1-5
Program ends: December 15
Housing
Discovery students live with a Spanish host family conveniently located within a 40-minute commute to the Syracuse Madrid Center. Homestays include breakfast and dinner daily. Practice your emerging Spanish language skills over homemade meals and make lasting friendships with your new family! Learn more about living with a host family.
---
Program Highlights
The Discovery Madrid curriculum will keep you on track with all your first-year requirements. The 1-credit First-Year Seminar not only guides you through the challenges and adventures of being a new college student but also keeps you connected with the main campus and your eventual transition to Syracuse.
Discovery students enjoy local outings and activities designed exclusively for your cohort, such as day trips to Alcalá de Henares (birthplace of Cervantes) and El monasterio de El Escorial (the historical residence of the King of Spain).
Program Travel
MadWorld Passport Program Day Trips: program sponsored day trips to Toledo, El Escorial, Segovia and more!

Enjoy other local activities and day-long bus trips to regional destinations during the week.
Engage with your city
Center Activities

: Diversity & Inclusion Steering Committee, Student Life events, cooking workshops and more!

Global learning opportunities and course activities take you out into the city to experience and learn: museum tours, walking tours, and visits to the Spanish Senate and Parliament

MadWorld Passport Program immerses you in Spanish culture through events, day trips, discussions, and lectures throughout your study abroad experience
---
Program Requirements
Independent Travel: For European countries, some form of Covid vaccination and/or testing documentation may be required. For more information, view Covid-19 Plans & FAQ.
Passports & Visas: All students will need a passport and visa to study in Madrid. If you do not have a passport or yours will soon expire, please apply or renew as soon as possible. All students will also be required to apply for and obtain a student visa. Your program advisor will assist you by providing detailed instructions and working closely with you during the visa application process. Learn more.
Fees: View program cost details on our Discovery Madrid budget sheet