A Semester to Remember!
Current students, host families, staff, and faculty join together to celebrate the fall 2017 semester at Syracuse Florence with the festa finale, student art + architecture show, and I Giullari di Syracuse theatrical performance: "Long Live the Liar(?)" See below for details.
---
Welcome to Syracuse Florence
Celebrating over 50 years of existence, Syracuse Florence is one of the oldest and most reputable study abroad programs in Italy. Since 1959, when the first 30 students came by ship to study at what was then called the Syracuse Semester in Italy, the Syracuse Florence program has grown to an average of 250 students per semester. The heart of the campus is still the lovely Villa Rossa, the 19th-century family estate of Conte Mario Gigliucci in Piazza Savonarola, and its beautiful garden.
In addition to the art, architecture, history, fashion, and food for which Florence has long been known, you'll find a city that's fast becoming an international hub for European politics, business, narrative medicine, and international education. You will be an active participant in city life, as community engagement is a hallmark of Syracuse Florence. Earn credits and add international experience to your résumé by interning with one of Syracuse Florence's 50 partners. Use the city's museums, churches, and piazzas as your open-air classrooms and find your place in Florence.
---
James Hughes Kauffman (1949-2017)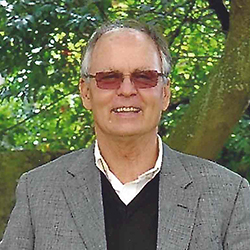 James (Jim) Kauffman was employed with SUF for 20 plus years, having started his collaboration with us teaching an extra- curricular creative writing course and then being hired shortly thereafter as Assistant Director for Student Life. Jim poured his heart into his job; he loved the students and always had in mind what is in their best interest above anything else. He proudly brought our soccer team to many champion wins and dedicated much time outside of work to coaching the team and taking them (and other interested students) to Fiorentina soccer games—and what a tifoso he was! Jim, along with Roberta Mugelli, have been responsible for creating the large pool of wonderful host families for SUF—our trademark–and have dedicated their attention to helping the families understand our students culturally, and vice versa, a part of the students' host family cultural immersion experience.
Jim brought much joy and lightness to the office; his positive outlook on life, his kind words of encouragement and praise to so many and his infectious singing and laughing will be dearly missed. Jim was a friend to all of us and to SUF.