---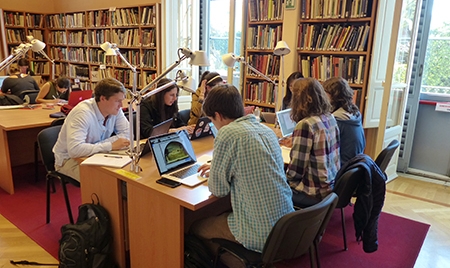 Collections
With over 13,000 books and 500 DVDs covering the full range of disciplines offered at the Florence center and beyond, the Syracuse Florence Library has one of the largest collections of English-language books and DVDs of any study abroad program in Italy.
Seven reading rooms are located on the ground and basement levels of the library. The rooms have a total capacity of 60 study spaces for use with mobile devices. Desktop computers and printers are located in the Computer Lab (in the Villa Rossa). Users are encouraged to familiarize themselves with Library and Computer Lab Hours as well as Library Policies and Procedures early in the semester.
---
The SU Florence Search Catalog
The SU Florence Search Catalog can be accessed from any device with Internet service or via the dedicated PC on the ground floor of the library. Books are classified using the Library of Congress Classification (LOC) system and, unless kept on course reserve in the Library Office (identified by "RES" preceding the call number), are retrievable by library users in the following locations:
N – Visual Arts (Sala Artemisia, ground floor)
NA-NX – Architecture, Sculpture, Drawing, Painting, Arts in general (Sala Brunelleschi, ground floor)
A-D – Religion, Ancient Civilization, Archeology, History (Sala Virgilio, lower level)
E-M – Anthropology, Social Sciences, Political Science, Law, Education, Music (Sala Machiavelli, lower level)
P-Z – Literature, Science, Medicine, Agriculture, Technology (Sala Dante, lower level)
Any book leaving the library must be checked out at the Circulation Desk.
---
Course Reserves
A copy of every required textbook and most recommended texts is kept on course reserve in the Library Office for 2-hour consultations. Extra copies of some textbooks may be available for semester-long circulation. You may want to check with the Library Coordinator about the availability of extra copies before buying course texts.
Unless extra library copies are available for semester loan, students should purchase their non-language textbooks at the Paperback Exchange bookshop and their Italian-language textbooks at La Feltrinelli bookshop, as the availability of course reserves is limited and cannot be guaranteed when needed.
More about textbooks and coursepacks.
---
SU Libraries Online Resources
All Syracuse Florence students, regardless of home institution, have 24/7 access to online scholarly databases and journals through SU Libraries using their NetID and associated password.
In addition, to assist students and faculty in their research, a comprehensive set of Research Guides, organized by discipline, has been created to provide suggested resources as a starting point for research.
---
Lockers
Over 60 lockers are available on the ground and basement levels of the library for storing books, laptops, and backpacks. Lockers are signed out at the circulation desk on a first-come, first-served basis with a fully refundable 10-euro deposit.
---
Contact us
For more information about the library, or for user assistance, please contact Sylvia Hetzel, library coordinator.