Double click on the disciplines below to see faculty for the respective areas.
Arts & Sciences

Simone Anselmi
MBA, Universita' Scuola Direzionale Aziendale Bocconi
Email: sanselmi@syr.edu
Laurea in Economics, Università di Firenze; Certificate in Marketing, New York University. Certified trainer with NLP (Neuro Linguistic Programming). Simone Anselmi has extensive experience training, consulting and teaching Entrepreneurship, Marketing, Human Resource Management, Personal Development and Coaching for organizations like Pirelli, Unicoop Tirreno, McArthurGlen, Intesa San Paolo, Monte dei Paschi , BNL, Electrolux, Whirlpool, Telecom Italia,  BMW, Tod's, Stefanel,  Ikea, API – IP, ABB, Valtur, and Zegna. He also has executive-level market research and advertising experience with international organizations. He has been a member of the ICF (International Coach Federation) and of the ICF Italian Chapter organizing committee and is the author of numerous training manuals and check-up analyses. Anselmi teaches classes in Global Management, Made in Italy and luxury excellence, and Entrepreneurship at Syracuse Florence.
---

Dorothea Barrett
PhD in English, Cambridge University
Email: llbarret@syr.edu
Dorothea Barrett (PhD Cambridge 1987) has taught at Beijing Normal University (China), Glasgow University (Scotland), and the University of Florence (Italy). She is the author of Vocation and Desire: George Eliot's Heroines (London: Routledge, 1989) and the editor of the George Eliot's Romola (London: Penguin Classics, 1996). She has published a variety of essays on nineteenth- and twentieth-century British and American literature and edited volumes of Oscar Wilde, E. M. Forster, James Joyce, Katherine Mansfield, and others. At Syracuse Florence she teaches "Sex, Politics, and Religion in Italian Literature" and "A World of Difference: Literature and Exclusion from 1900 to the Present." Her research interests are Victorian, modern, and postmodern fiction and the representation of gender, sexuality, politics, religion, and imperialism in literature.
---
Paulus Blokker
PhD in Social and Political Sciences, European University Institute
Email: pablokke@syr.edu
Website: paulusblokker.wordpress.com.
Paulus Blokker is currently teaching Italian Politics: Laboratory of Populism at Syracuse Florence where he has been teaching since 2007. He is Associate Professor at the Department of Sociology and Business Law, University of Bologna and a research fellow at the Institute of Sociological Studies, Charles University, Prague. His publications include the volume (co-edited with M. Anselmi), Multiple Populisms: Italy as a Democracy's Mirror, Routledge, 2019; "Political and Constitutional Imaginaries", in S. Adams and J. Smith (eds), Social Imaginaries: Critical Interventions in a Paradigm-in-the-Making, Rowman and Littlefield, 2019; "Populism as a constitutional project", International Journal of Constitutional Law 17/2, 2019;  "Varieties of Populist Constitutionalism: The Transnational Dimension", in a special issue on "Populist Constitutionalism: Varieties, Complexities, and Contradictions", co-edited with Bojan Bugaric and Gábor Halmai, German Law Journal, 20/3, 2019; the edited volume (co-edited with M. Anselmi and N. Urbinati), Populismo di Lotta e di Governo, Feltrinelli 2018; "Populist Constitutionalism", in Carlos de la Torre (ed.), Routledge Handbook of Global Populism, Routledge, pp. 113-127, 2018; and "Constitutional Mobilization and Contestation in the Transnational Sphere", Journal of Law and Society, 45:S1, 2018.
---
Molly Bourne
PhD in Art History, Harvard University
Email: mhbourne@syr.edu
A specialist in the cultural history of Renaissance Mantua and the network of princely courts in early modern Italy, Molly Bourne has published numerous articles on artistic patronage, villa design, costume history, the domestic interior, cartography, and the history of sexuality at the Gonzaga court. Her books include Francesco II Gonzaga: The Soldier-Prince as Patron (2008) and, as co-editor, Encountering the Renaissance: Celebrating Gary M. Radke and 50 Years of the Syracuse University Graduate Program in Renaissance Art (2016). Bourne also serves as art history advisor for the open-source digital humanities project, Isabella d'Este Archive (IDEA). She has received fellowships from the Harvard University Center for Italian Renaissance Studies at Villa I Tatti and from the British Library, as well as the Harvard University Derek Bok Award for Excellence in Teaching. In addition to teaching classes for both graduates and undergraduates at Syracuse Florence, Bourne also coordinates the graduate program in Italian Renaissance art history.
---
Sandro Conticelli
PhD in Mineralogy and Petrology, Universities of Florence and Perugia Consortium
Email: scontice@syr.edu
Since receiving his PhD in 1989, Sandro Conticelli has carried out post-doctoral research at the University of Western Ontario (London, Canada), the National Center for Research in Mineralogy and Geochemistry (CNR, Florence, Italy), and the Max-Planck-Institut für Chemie (Mainz, Germany). He has taught at the University of Basilicata (Potenza, Italy) and the University of Florence, where he is currently Professor of Igneous and Metamorphic Petrology and the dean of both the undergraduate program for geological sciences and the graduate program for geological sciences and technology. His research focuses on isotope geochemistry in rocks and minerals applied to geodynamics, volcanology, and food science. Conticelli teaches an introductory class in geology at Syracuse Florence.
---
Olivier de Maret
PhD in History, Free University Brussels (V.U.B.)
Email: odemaret@syr.edu
Olivier de Maret is a social and cultural historian specialized in food studies. His research interests focus on alternative food systems, Italian food history, and the relationship between food, migration, and identity. He has published articles on Italian food and migrants in Brussels prior to World War I and a book based on his doctorate entitled Of Migrants and Meanings. Italians and Their Food Businesses in Brussels, 1876-1914 (Peter Lang, 2016). Following the organization of an international symposium on the relationship between taste and home, he co-edited the proceedings for the journal Food & Foodways (Tastes of Homes, 2015). He has taken part in international conferences and is a member of the research group FOST (Social & Cultural Food Studies) of the Vrije Universiteit Brussel and of the Comité belge pour l'histoire du Risorgimento. He is also project editor for the journal Food & History. At Syracuse University Florence, de Maret teaches Farm to Fork and Feeding the City: Urban Food Systems.
---
Matteo Duni
PhD in History and Civilization, European University Institute
Email: mduni@syr.edu
Laurea in Early Modern History from the University of Florence. Matteo Duni is the author of Tra religione e magia: Storia del prete modenese Guglielmo Campana (1460?-1541), (Firenze, Olschki, 1999), and Under the Devil's Spell: Witches, Sorcerers, and the Inquisition in Renaissance Italy, Syracuse University in Florence, 2007 (Villa Rossa Series). Other publications include articles in scholarly journals such as Archivio Storico Italiano, Mélanges de l'École française de Rome, and Studies in Church History; as well as entries in reference works such as The Encyclopedia of Witchcraft: The Western Tradition (Santa Barbara, CA, ABC-Clio, 2006), and Dizionario storico dell'Inquisizione (Pisa, Edizioni della Normale, 2011). With Dinora Corsi, he organized the international conference "Thou Shalt not Suffer a Witch to Live. Witches in Treatises and Trials (XIV-XVII centuries)". He co-edited the proceedings Non lasciar vivere la malefica: Le streghe nei trattati e nei processi (secc. XIV-XVII), Firenze University Press in 2008 and (with Mario Biagioni and Lucia Felici) Fratelli d'Italia. Riformatori italiani del Cinquecento (Torino, Claudiana, 2011). With Guido Dall'Olio (Università di Urbino), Duni organized the international conference "Prescritto e proscritto: Religione e società nell'Italia moderna" (2013), and co-edited the proceedings (with Andrea Cicerchia and Guido Dall'Olio) Prescritto e proscritto. Religione e società nell'Italia moderna (XVI-XIX secolo (Roma, Carocci, 2015). Duni teaches classes on Italian Renaissance history and the history of witchcraft at Syracuse Florence.
---
Peter Fischer
PhD in History and Civilization, European University Institute
Email: pfischer@syr.edu
'Magister Artium' in Philosophy, Sociology and Art History, RWTH Aachen University. Peter Fischer has extensive professional experience with sustainability education having developed and managed several programs, initiatives and courses at American universities in Florence, Bologna, and Perugia. His major research interests are in the areas of sustainability in higher education, Mediterranean food history, and modern Italian politics and history. He is currently writing a textbook on "Food and Culture in the Mediterranean World" for use in sustainability curricula. His earlier published works include "Atomenergie und staatliches Interesse: Die Anfänge der Atompolitik in der Bundes-republik Deutschland 1949-1955," Baden-Baden: Nomos 1994; "The Origins of the Federal Republic of Germany's Space Policy 1959-1965 – European and National Dimensions," Report ESA HSR-4 (Noordwijk: ESA, January 1994);  and "West German Rearmament and the Nuclear Challenge," in Francis F. Heller, John Gillingham (ed), NATO: The Founding of the Atlantic Alliance and the Integration of Europe, New York: St. Martin's Press, 1991. He has also published numerous articles on Italian food culture. Fischer teaches a course on the Mediterranean diet at Syracuse Florence.
---
Antonella Francini
PhD in English Literature, Drew University
Email: afrancin@syr.edu
Laurea in Modern Languages and Literatures, University of Florence; M.A., Drew University. Antonella Francini is the author of numerous publications on 20th-century American and Italian literature. Her essays on contemporary poetry and fiction, translation, travel literature, African-American culture, and modernism have appeared in various academic journals. Francini's many published translations from American poetry include anthologies of the works of Charles Wright, Yusef Komunyakaa, and Jorie Graham, a volume of Mina Loy's poems, and poetry selections from 20th-century and contemporary authors. She has edited Antologia della Poesia Americana (2004), and co-edited Lezioni di poesia (2000), Altri futurismi (2011), and Le riscritture di Dante / Rewriting Dante (2007). Her recent publications include "Transferring Dante: Robert Rauschenberg's 34 Illustrations for the Inferno", in Metamorphosing Dante: Appropriations, Manipulations and Rewriting in the Twenty-first Century (2010), "The Brandeis Papers: Irma, Leo Ferrero e Eugenio Montale", in Le Occasioni di Eugenio Montale: 1928-1939" (2014), and two chapters on American poetry in La letteratura degli Stati Uniti. Dal Rinascimento americano ai nostri giorni (Carocci 2017). She is a freelance journalist and writes about literature for Italian newspapers and magazines. At Syracuse Florence, in addition to teaching courses on Italian literature, she also coordinates Syracuse programs at the University of Florence. She is a Faculty Associate of S.U.N.Y.  Her research focuses on poetry, translation, visual arts, modern and postmodern fiction, and the representation of cultural identity in literature.
---

Carla Fronteddu
PhD in Political and Juridical Philosophy, University of Salerno
Email: cfronted@syr.edu
Master's Degree in Sociology; Master's Degree in Gender Equality and Diversity Management. Carla Fronteddu's research interests are rooted in the fields of governmentality and neoliberalism, feminism and subjectivity, all examined with a multidisciplinary approach. She has been deeply interested in gender issues for many years. Between 2009 and 2012, she worked as a journalist for Delt@, the first press agency in Italy devoted to gender issues, from 2014 to 2015 she collaborated as a gender specialist with the European NGO Time for Equality. Currently, she is president of the Associazione Fiesolana2b, a feminist organization in Florence devoted to the promotion of women's culture. These experiences, which have combined her intellectual background with first-hand experience in women's issues, national, and international activism, have shaped her teaching style. Fronteddu teaches a class on family and gender in contemporary Italy at Syracuse Florence.
---

Amy Kleine
MA in Counseling Psychology, Seton Hall University; MA in Italian Language and Culture, Middlebury College
Email: askleine@syr.edu
Amy Kleine is a certified mental health counselor in Italy through the Assocounseling Association. In addition she is a member of the American Psychological Association, the American Counseling Association, and the American College Counseling Association. In addition to teaching a class on cross-cultural psychology at Syracuse Florence, she is also the Assistant Director for Health and Wellness and the Coordinator for the First Year Discovery Florence Program.
---
Carlotta Fonzi Kliemann
MA in History of Drama, University of Bologna
Email: cklieman@syr.edu
Carlotta Fonzi Kliemann has published several essays of criticism (including "L'amore inconfessabile: l'incesto nel cinema," Parte prima Psicologia Contemporanea 31. 190 e Parte seconda 31. 191 (2005); "Years of the Bullet on Screen: The Representation of Leftist Terrorism in Italian Films 1980–1996," Italian History & Culture 4 (1998): 93–111); and numerous articles on Italian film, international political flim, and women's films. She is also the co-author of the book Abbasso i bulli (Ponte alle Grazie, 2012). She has served on the jury for documentary films in competition at SguardiAltrove Film Festival (Milan, 2009) and for the feature films at the Balkan Florence Express (Florence, 2012). She has also participated in round tables on film in Turin, Florence, Milan, and Rome. She has been a regular collaborator with the Mediateca Regionale Toscana for many years and since 2008 is Vice President of the Associazione Chicca Richelmy, which promotes audio-visual culture and awards a prize at the Torino Film Festival. Kliemann teaches courses in contemporary and Italian film at Syracuse Florence.
---
Baret Magarian
Baret Magarian currently runs the Writing Center at Syracuse and is available for one-on-one consultation with students who need help with the structure and style of their writing. He obtained his BA in English literature at the University of London and his PhD on Shelley at the University of Durham, parts of which were published in the Keats-Shelley Review. He was a freelance journalist in London and reviewed and wrote features for The Times, The Observer, The Guardian, The Daily Telegraph, and The Independent. He has recently had poetry published in Italian translation in the Florentine anthology Collectivo R. He has also had fiction published in Panurge magazine in the UK, and he has recorded an EP of rock. In addition to teaching academic and creative writing at American universities in Florence, Magarian has acted in Italian film trailers and directed fringe theatre in London. He recently completed a collection of 14 short stories which draw on genres as diverse as melodrama, science fiction, the Gothic novel, poetic dreamscape, noir, and social satire. Two of these stories appear in the Darker Times anthology.
---
Jonathan Nelson
PhD in Art History, New York University
Email: jnelso03@syr.edu
Website: syr.academia.edu/JonathanNelson
Jonathan Nelson has published extensively on Italian painting and sculpture in the late-fifteenth and early-sixteenth centuries, with specific interests in patronage and the representation of women. His books include The Patron's Payoff: Economic Frameworks for Conspicuous Commissions in Renaissance Italy (2008), monographic studies on Filippino Lippi (Electa, 2004), Leonardo da Vinci (2007), and Plautilla Nelli (2008, 2000). He also co-curated exhibition catalogs on Robert Mapplethorpe: Perfection in Form (2009), Botticelli and Filippino (2004), and Venus and Cupid: Michelangelo and the New Ideal of Beauty (2002). He is currently writing a monograph on Filippino Lippi: Problem Solving in Renaissance Art for Reaktion Books, and co-organizing a workshop on "Bad Reception: Negative Reactions to Italian Renaissance Art" at the Kunsthistorisches Institut in Florenz.
---
Sean Nelson
PhD in Art History, University of Southern California
Sean Nelson's research and teaching interests focus on cross-cultural dialogue between Early Modern Florence and the Islamic lands, predominantly the Mamluk Sultanate and the Ottoman Empire. He has received research fellowships and grants from the Kunsthistorisches Institute in Florence; the Max-Planck Institute for the History of Science in Berlin; the Getty Foundation, Los Angeles as a fellow of "Connecting Art Histories"; the USC-Early Modern Studies Institute at the Huntington Library, San Marino; the Research Center for Anatolian Civilizations, Koç University, Istanbul, co-sponsored by the Harvard Center for Renaissance Studies, Villa I Tatti, Florence; and the Centre for Research in the Arts, Social Societies, and Humanities at the University of Cambridge (CRASSH). He has published essays on the collection of Islamic spoils in The Grand Ducal Medici and the Levant: Interlacing Cultures from Florence to the Eastern Mediterranean (1532-1743) (Brepols, 2016) and the forthcoming Pisa: The Eccentric City (ETS Editrice). He is also a contributor to the Marie Curie sponsored project Reading the Inventory: The Possessions of the Portuguese Merchant-Banker Emmanuel Ximenez (1562-1632) in Antwerp to be accompanied by a forthcoming book (University of Chicago Press).
---
Eric Nicholson
PhD in Renaissance Studies, Yale University
Email: eanichol@syr.edu
MA, Warwick University; BA, University of California, Berkeley. Since 1998, Eric Nicholson has been an active member of the Thespis Society (Università di Verona), and the international research collaborative "Theater Without Borders." With Robert Henke, he edited the volumes Transnational Exchange in Early Modern Theater (Ashgate, 2008) and Transnational Mobilities in Early Modern Theater (Ashgate, 2014). His most recent publications include the chapter on "Sexuality and Gender" for Volume Three of A Cultural History of Theatre (Bloomsbury Press, 2017). At Syracuse Florence and elsewhere he has directed productions of plays by Shakespeare, Molière, Pirandello, and others. He is also a professional actor and voice artist who has appeared several times on stage in Italy and has worked on several audio guides and animated cartoons. His current research projects focus on women as theatrical performers in early modern Europe. Nicholson teaches classes in theater history for Syracuse Florence.
---
Sasha Perugini
PhD in Theater History, Tufts University
Email: perugini@syr.edu
Laurea Magistrale in English and Russian Literatures and Languages, University of Siena. Sasha Perugini has developed her multilingual and cross-cultural competencies through exposure, for personal and professional reasons, to various nations (Italy, USA, UK, Germany, Former-Yugoslavia, Australia). Since 1994, she has worked in teaching and managerial roles in international academic institutions and study abroad programs within American, Italian, and Australian universities in both the US and Italy. She has worked in international education since the mid-1990s, first at Colorado College, then at International Education for Students in Rome, and then at Monash University in Prato. Since 2011 she has been the director of the Syracuse University Florence program where she also teaches a course on cross-cultural management. She presents regularly at international conferences on international education and is often invited to talk about women's leadership. She has published five non-fiction books and has blogged for The Huffington Post Italia. Her research interests focus on internationalization and cross-cultural communication in working environments.
---
Natalia Piombino
PhD in Italian History, University of London
Email: npiombin@syr.edu
MA, Italian Studies, University College London; Laurea, Political Science, University of Florence. Natalia Piombino completed postgraduate studies in modern and contemporary Italy and problems and methods of historical research at the University of Florence. She has received research grants from the Central Research Fund of the University of London and her publications include Focus on the Family: Germi's Cinema as a Map of a Country in Transition (forthcoming); and Il Sud di Rossellini (forthcoming). She teaches courses in Italian history and society at Syracuse Florence.
---
Debora Spini (on leave for spring 2021 until June 30)
PhD in History of Political Thought, Scuola Superiore di Studi Universitari e di Perfezionamento, University of Pisa
Email: dspini@syr.edu
Debora Spini has published essays in English and Italian on democracy and globalization, human rights, and European identity. Her publications include La Società civile post nazionale, Meltemi ed., Roma, 2006, and Le parole del mondo globale (co-editor with Andrea Giuntini and Piero Meucci). Numerous essays and book chapters include: "Of Leviathan and other animals: Notes on European Identity," in L. Leonardi, ed.; "Sociology of Europe," Firenze University Press, 2008; "Lobbying for Values. La società civile e la governance europea," in Imago Europae, Dec 2007; "European Civil Society, Identity and Legitimacy" in F. Cerutti, S.Lucarelli, eds.; "European Union: Identity and Legitimacy," London: Routledge, 2008; and "Fra Valori e Interessi: la società civile in un mondo post nazionale," in Iride, 2008, n. 1. Her early research interests focused on the history of Protestant theology and early contractualist political thought. On these topics she has published the monograph "Diritti di Dio, diritti dei popoli: Perre Jurieu e il problema della sovranita 1681-1691", Torino: Claudiana, 1997. Her more recent research focuses on political and social philosophy. At Syracuse Florence she teaches courses on European politics, citizenship, and identity.
---

Lorenza Tromboni
PhD in Medieval Literature and Philology, University of Salento
Email: ltrombon@syr.edu
Laurea in Philosophy, University of Florence. Lorenza Tromboni has worked as a postdoctoral researcher at the University of Florence, the University of Erlangen-Nurnberg and the University of Strasbourg with a Marie Sklodowska-Curie fellowship, funded by the EU (project title INSPIrE). She has broad experience with digital tools for the arts and humanities and is actively involved sharing academic research with the general public (through blogs, websites, videos and articles). Tromboni is the author of Inter omnes Plato et Aristoteles. Gli appunti filosofici di Girolamo Savonarola (Porto, FIDEM, 2012) and co-edited Lenten Sermons: Fast of the Body, Banquet of the Soul (Firenze, Nerbini, 2017) with P. Delcorno and E. Lombardo. Other publications include articles in journals such as Rinascimento, Studi Danteschi, Bulletin de philosophie médiévale, Medieval Sermon Studies, as well as entries in reference works such as Encyclopedia of Renaissance Philosophy, ed. by M. Sgarbi (Springer International publishing Switzerland, 2014-) and Encyclopedia of Medieval Chronicles, ed. by C. Bratu and G. Dunphy (Brill's Medieval Reference Library online, 2016). Tromboni recently organized the international conference The Making of Political Thought: Ruptures, Trends and Patterns between Henry VII and Louis the Bavarian (Strasbourg, 2018) and Inspire4Children "What is politics?" with an Italian primary school. Tromboni teaches a course on fake news and online communication at Syracuse Florence.
---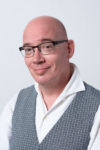 Bob Vallier
Ph.D. in Philosophy, DePaul University
Emai: rvallier@syr.edu
D.E.A., Université de Paris. In addition to serving as the Assistant Director of the Honors Program for DePaul University, Bob Vallier has worked for several international programs in Paris where he taught courses in philosophy and the humanities at the Institut d'Etudes Politiques (Sciences-Po), the Sorbonne, and Columbia University. In addition to teaching a course on philosophy at Syracuse Florence, he is also the Assistant Director for Teaching and Learning, which includes overseeing all operations of the academic offices.
---
Jane Zaloga
MA in Art History, Syracuse University
Email: jlzaloga@syr.edu
Jane Zaloga is a Fulbright Fellow and teaches art and architectural history courses for Syracuse University Florence.
---
Cecilia Lundbäck
Master of Science in Architecture, KTH Royal Institute of Technology, Stockholm
Email: clundbac@syr.edu
Cecilia Lundbäck is an architect, educator, and researcher. In addition to her degree from the KTH School of Architecture she also studied at the Bergen School of Architecture in Norway. Lundbäck has taught architecture in design studios and representation courses to undergraduate and graduate students at KTH since 2015 and has been a recurrent guest teacher at Konstfack – University of Arts, Crafts and Design. She is a founding partner of the Stockholm-based architecture and design practice Brrum with architects Ulrika Karlsson and Veronica Skeppe. Brrum often considers the intersection between material processes, technology, and work through projects ranging from speculative plans, to public art, to exhibition design, to private commissions, to competitions. Lundbäck also conducts architectural research and is currently part of the ongoing, collective, practice-based research project Interiors Matter: A Live Interior, which investigates domestic interiors using laser scanning, representation, and data materialization.
---
Irene Peano
PhD in Social Anthropology, University of Cambridge
Email: ipeano@syr.edu
Irene Peano currently works as a researcher at the Institute of Social Sciences, University of Lisbon. She previously held positions at the University of Bologna and the University of Bucharest. Her main research areas include migration and labor (particularly sex work and farm labor) in relation to patterns of resistance, containment, and exploitation in their various (architectural, spatial, material, discursive, legal, intersubjective, affective) dimensions. Besides engaging in participatory research, she also investigates these processes through genealogical, historical, and archival methods.
---
Luca Miles Ponsi
Master of Science in Architecture, Accademia di Architettura di Mendrisio (AAM)
Email: lponsi@syr.edu
Luca Miles Ponsi is co-founder of Studio Ponsi – Architettura e Design and has worked in the United States, Switzerland, Portugal and Italy. For his Master of Science in architecture he worked with Elia Zenghelis, founder of OMA, as his thesis advisor. During his studies, he was awarded with a Fondazione Maletti Scholarship and an Erasmus Programme grant to study at the Universidade Luisiada in Lisbon. Ponsi has worked for Mark Mack Architects in Los Angeles and Moretti Costruzioni Spa in Italy to develop a pre-fabricated concrete housing system, now in production by the company. In 2013 his work was selected and exhibited at the Lisbon Architecture Triennale, both in Florence and in Lisbon. From 2010 to 2015 Ponsi taught interior design and analytical drawing at the Florence Institute of Design International. Since 2011 he has been teaching courses in architectural design, analysis and representation at the Syracuse Florence School of Architecture, as well as covering the role of Architecture Field Studies Coordinator. He is a licensed architect in Switzerland and Italy.
---

Daniele Profeta
Daniele Profeta is an Italian architect and designer. He is currently the Director of the Architecture Program of Syracuse University in Florence. He has previously taught at the Yale School of Architecture and at the Souther California Institute of Architecture (SCI-Arc).
Daniele is a partner at A/P Practice, a collaborative partnership with Maya Alam. Their projects combine everyday digital habits, contemporary imaging technologies and traditional craftsmanship to surpass an introverted conversation and open up novel forms of practice. Past work ranges from small scale public installations to sites of speculative re-use.
Daniele holds a Master of Architecture from Princeton University and completed his undergraduate studies between La Sapienza University in Rome and KTH School of Architecture in Stockholm, where he graduated with Honors.
---
Engineering
Luca Bisconti
PhD in Mathematics, Universita' degli Studi di Roma "Tor Vergata"
Email: lbiscont@syr.edu
Luca Bisconti is a PhD Researcher in the field of Mathematical Analysis at the Department of Mathematics and Informatics "U. Dini", University of Florence. His research concerns Partial Differential Equations in Fluid Dynamics, Dynamical Systems, Nonlinear Ordinary Differential Equations, and Topological Methods in Mathematical Analysis. He currently teaches "Differential Equations & Matrix Algebra for Engineers" at Syracuse Florence (spring semester only).
---
Roberto Pacciani
PhD in Industrial Engineering, University of Bari
Email: rpaccian@syr.edu
After completing his doctoral degree in 1997, Roberto Pacciani started working at the Research and Development Department of GE Oil & Gas (formerly Nuovo Pignone) as a turbine and compressor aero-design specialist. Since 1999, he has been a member of the mechanical engineering faculty at the University of Florence. He is presently an Associate Professor at the Department of Industrial Engineering. At the School of Engineering of the University of Florence he teaches courses in Fluid Dynamics and Turbomachinery. His research involves the development of Computational Fluid Dynamics (CFD) methodologies with a special focus on turbomachinery design and analysis. He has contributed to the development of CFD codes which are currently used by several industries and research centers. Pacciani currently teaches a course in thermodynamics at Syracuse Florence (spring semester only).
---
Francesca Parotti
PhD in Science and Materials Technology, University of Florence
Email: fparotti@syr.edu
Francesca Parotti is a freelance engineer and professor of materials technology at the Florence Institute for the Industrial Arts (ISIA). Her research focuses mainly on material technologies for environmental sustainability, including developments in bamboo as a construction material. Parotti currently teaches a course in "Sustainability in Environmental and Engineering Systems" at Syracuse Florence (spring semester only).
---
Alessandro Ridolfi
PhD in Machine Theory and Robotics, University of Florence
Email: aridolfi@syr.edu
Alessandro Ridolfi is a PhD Researcher and Assistant Professor of Machine Theory and Robotics with the School of Engineering, Department of Industrial Engineering (DIEF) at the University of Florence (UNIFI), Italy. At the beginning of his PhD he worked on railway vehicle localization and wheel-rail adhesion modelling. His current research interests are underwater and industrial robotics, sensor-based navigation of vehicles, mechanical systems modelling, vehicle dynamics and bio-robotics. Ridolfi has worked as a Researcher and Assistant of the Coordinator within the FP7 European project ARROWS (ARchaeological RObot systems for the World's Seas, 2012-2015). He is Principal Investigator for the University of Florence for two European projects on Marine Robotics. He has co-authored over 100 scientific papers for international journals and conferences on robotics and mechatronic topics, with a focus on underwater robotics. Ridolfi currently teaches a course in "Dynamics" at Syracuse Florence (spring semester only).
---
Luca Salvatori
PhD in Risk Management on the Built Environment, University of Florence and Technical University of Braunschweig
Email: lsalvato@syr.edu
Luca Salvatori is Assistant Professor of Rehabilitation of Structures at the Department of Civil and Environmental Engineering, University of Florence. He is a consultant for structural engineering and computational-software development and is the designer of the computer-code SMARTmasonry. His scientific interests focus on the development and implementation of computational models. He has developed numerical schemes for bridge aerodynamics, dynamics of quasicrystals, concrete cracking, liquid-solid phase-transitions, optimization of shell structures, multiscale models, masonry structures, seismic analysis, cold-formed steel, computational geometry and topology, mesh generation. He currently teaches a course in "Mechanics of Solids" at Syracuse Florence (spring semester only).
---
Italian Language & Culture

Alessandra Adriani
Laurea in Humanities, University of Florence
Email: aadriani@syr.edu
Alessandra Adriani specialized in the methodology of teaching Italian as a second language at the Koiné School for Foreigners (1994); and in 1996, she held a six-month post-graduate position at the European Community in Brussels, Belgium. Before joining Syracuse Florence in 2006, Adriani taught at the University of Florence, Kent State, l'Accademia Italiana, and Pepperdine University in Florence. In addition to teaching Italian language and culture classes at Syracuse Florence, she teaches at the Società Dante Alighieri (2015) where she received her PLIDA Examiner certification. Adriani has also been a private language tutor in Latin and Italian for Italian high school students since 1990.
---
Antonella Battaglia
Laurea in Foreign Languages and Literature, University of Pisa
Antonella Battaglia received her DITALS (Didattica dell'Italiano a Stranieri) certification in the methodology of teaching Italian as a second language from the Università per Stranieri di Siena and studied methodologies in second-language instruction at the Istituto Francese di Firenze and the Università di Siena. Battaglia co-authored the Italian language textbook for beginners Dimmi! (Guerra Edizioni, 1999). She has taught Italian at the University of Santa Barbara in California, the Università per Stranieri di Siena, and the Istituto Universitario Europeo di Firenze. She has been teaching Italian language and culture courses at Syracuse Florence since 1996.
---
Francesca Bea
Laurea in Modern Languages and Literature, University of Florence
Email: fbea@syr.edu
Francesca Bea specialized in the methodology of teaching Italian as a second language and teaching Italian literature to foreigners at the Koinè School for Foreigners.She has been teaching Italian as a Second Language at Syracuse Florence since 2000 and is a faculty supervisor for the Syracuse Florence internship program. In the past, she has also taught at the Florence centers for the Università per Stranieri, Pepperdine University, the Accademia Italiana, and California State University. In addition to teaching Italian as a Second Language to foreigners, Francesca Bea has been a private language tutor in Greek and Latin for Italian high school students since 1995.
---
Giovanni del Giudice
Laurea in Film History and Criticism, University of Florence
Email: gdelgiud@syr.edu
Giovanni del Giudice has taught Italian as a foreign language in various capacities since 2010, including for political refugees. In 2015 he completed a course in the theory and methodology for teaching romance languages at the University of Carolina at Chapel Hill. Since 2007 he has taught U.S. college students both in the U.S. and in Italy, including at Pepperdine University in Florence since 2016. Del Giudice teaches courses in Italian language and culture at Syracuse Florence.
---

Luisa Demuru
Laurea in Modern Foreign Languages and Literature, University of Florence
Email: ldemuru@syr.edu
Luisa Demuru has been teaching Italian language and culture at all levels at Syracuse Florence since 2002. She has taught for other study abroad programs in Florence including New York University, the British Institute, Richmond College, and CEA Study Abroad Program. She has also collaborated on numerous occasions with the Folkeligt Oplysnings Forbund (Cultural Institution for Adult Education) in Denmark as a visiting teacher of Italian language and culture, and she has been a linguistic support teacher for non-Italophone students in local elementary and middle schools. Her laurea degree from the University of Florence focused on German language and literature and her thesis was entitled "The Jews in Berlin 1933-1939: Aspects of the Jewish Reaction to Nazi Persecution." She received a DITALS certificate to teach Italian as a foreign language from the University for Foreigners in Siena, Italy. Demuru's educational background also includes an exchange scholarship with the Deutscher Akademischer Austauschdienst (German academic exchange service) through which she attended the University of Potsdam for two terms. In addition to teaching, she has translated academic essays from German to Italian for the Giunti publishing house in Florence.
---
Elena Lucchetti
Laurea in Italian Literature, University of Florence
Email: elucchet@syr.edu
Elena Lucchetti graduated with honors in the Humanities and holds two post-graduate degrees in International Studies. She is fluent in several languages and has extensive international and cross-cultural experience. She has been teaching Italian language and culture at Syracuse Florence since 1998 and has taught for other American programs in Florence such as California State University, The Miami Dade College, and Florida State University. Lucchetti has also taught Italian language and culture at the graduate and doctoral levels, including courses at the European University Institute in Fiesole (Florence).
---
Isabella Pistolozzi
Laurea in Modern Languages and Literature, University of Florence
Email: ipistolo@syr.edu
Isabella Pistolozzi received her Master's degree in Education with honors from the University of Florence specializing in Psycholinguistics and Foreign Language Teaching. Her thesis was entitled "Neurolinguistics in Second-Language Learning in Adults: Teaching Italian Language Acquisition." She is a recipient of the National Certification in the Methodology of Teaching English as a Second Language and has taught Italian language courses at schools for foreigners throughout Florence. At the Hantarex S.p.A company in Florence, she developed and coordinated the company's English as a Second Language program for employees at all levels. She has been teaching Italian language and culture courses at Syracuse Florence since 1989.
---
Antonella Salvia
Laurea in Classics, University of Pisa
Email: asalvia@syr.edu
Antonella Salvia completed a post-graduate degree at the Università "Ca' Foscari", Venice, in Pedagogy and Didactics for teaching Italian language and culture to foreigners (Master in italiano come lingua straniera). Her thesis was entitled "From Television Talk Shows to Cinema: Four Didactic Proposals. The Audio-Visual in Teaching Italian to Foreign Students." She completed the DITALS (Didattica dell'italiano a stranieri) certification in the methodology of teaching Italian as a second language at the University for Foreigners of Siena. Salvia has been teaching Italian language courses since 2000, when she moved to Belgium to teach at the University of Brussels. After returning to Italy in 2001, she began teaching American students and since then has taught in several study abroad programs in Florence.
---
Loredana Tarini
Laurea in Foreign Languages and Literature, University of Pisa
Email: ltarini@syr.edu
Loredana Tarini has been coordinator of the Italian Language & Culture Department at Syracuse University in Florence since 1994 where she also teaches. She has been the recipient of the National Certification in the Methodology of Teaching English as a Second Language and has been a Visiting Professor at Syracuse University, New York. In addition to a career in teaching and department administration, Tarini has co-authored several language and culture books, including: Dimmi!, an Italian language textbook for beginners (Guerra Edizioni, 1999); Nuovo Dimmi…, an Italian language textbook for A1/A2 level language students (Guerra Edizioni, 2008); Praticamente Dimmi, a workbook with grammar notes for beginners for the acquisition of Italian language skills through functional and communicative activities (Guerra Edizioni, 2009); and Praticamente Dimmi: Grammar Notes and Glossary (Guerra Edizioni, 2009). Tarini's research interests include cross-cultural studies as well as the integration and incorporation of Italian life and culture into the process of language acquisition.
---
Vittoria Tettamanti
Laurea in Modern Languages and Literature, University of Florence
Email: vtettama@syr.edu
Vittoria Tettamanti has been teaching Italian language and culture from beginner's to advanced levels since 1986. Alongside teaching, Tettamanti is a faculty supervisor for the internship program with local elementary schools and has been the coordinator of the volunteer program organizing and supervising activities that range from storytelling in primary schools, rehabilitation through creativity, soup kitchen and food for thought. She received the National Certification in the Methodology of Teaching English as a Second Language for public schools. Tettamanti co-authored Foto Parlanti (Bonacci, 2003), a textbook which aims to enhance Italian vocabulary through the use of photos taken by Syracuse University students, and Parliamo con la pubblicità (Soleil, 2004), a textbook which uses popular Italian commercials to help students from beginner to advanced levels develop language skills. She is also the author of Margherita va in pensione e… inizia una nuova missione (2011) a book which illustrates Milano 25 Onlus activities. She is particularly interested in developing innovative audio-visual materials for teaching Italian as a second language and in integrating Italian life and culture into the process of language acquisition. She volunteers for Milano 25 Onlus as a coordinator of didactic activities in schools, Make A Wish Italia and she teaches Italian to refugees.
---
Studio Arts
Ezio Buzzegoli is Chief Painting Conservator at the Opificio delle Pietre Dure Laboratory in Florence where he has worked since 1969. He is specialized in the conservation of canvas and panel paintings and has been responsible for the restoration of works by artists including Michelangelo, Botticelli, Andrea del Sarto, Pontormo and Bronzino, as well as numerous research projects on new methods and materials for conservation. His many presentations and lectures at international conferences include the Fondazione Longhi and Villa I Tatti in Florence, the Courtauld Institute and the National Gallery in London. His research and restoration projects have been published in many catalogues and scientific journals, such as Studies in Conservation, and in technical bulletins including OPD Restauro and the London National Gallery's Studying Old Master Paintings. Buzzegoli has been teaching courses in easel painting restoration at the Opificio delle Pietre Dure training center since 1978, and painting techniques and history of conservation at Syracuse University Florence since 1988. His artistic activity centers on multimedia objects and the digital elaboration of drawings and paintings. Presented in various exhibitions, his works may be found in private collections in Europe and America.
---
Marco Klee Fallani
MFA, California College of Arts and Crafts
Email: mkfallan@syr.edu
Marco Klee Fallani attended the Istituto d'Arte di Porta Romana and the Accademia di Belle Arti in Florence before getting his MFA in 1993. Fallani has participated in numerous shows in painting and sculpture, winning awards such as the Premio della Pittura from the city of Lucca. He worked as a set designer for Luca Ronconi's production Lo Specchio, collaborated on the making of the monument to Joe Louis for the city of Detroit, and prepared the moulds and plaster casts of the Gugliemo pulpit for the Cathedral Works Museum of Pisa. His private works include a bronze portrait bust for a German government official, a series of paintings for Ron Dennis, and a large-scale painting, The Citation of the Mona Lisa, for the Gherardini Company. In 2005, Syracuse Florence commissioned him to sculpt a life-size figure in terracotta, The Huntress, for the Villa Rossa garden; and in 2006, he designed the set for the Syracuse University – Maggio Musicale operatic co-production of Maurice Sendak's Where the Wild Things Are. His paintings and sculptures have been exhibited in Italy, the U.S. and Netherlands. Fallani teaches sculpture, drawing and ceramics at Syracuse Florence.
---
Francesco Guazzelli
Photographer, Fortman Studios School of Fine Arts
Email: fguazzel@syr.edu
Francesco Guazzelli is a professional photographer, teacher of photography and graphics technician. His photographic work focuses primarily on Italian fashion. Since 1996 he has been the official press office photographer for Florence's Pitti Immagine and event photographer for the Stazione Leopolda exhibition center. Over the past 25 years Guazzelli has collaborated with numerous international fashion magazines including the Spanish Divos, the German Textil Wirtschaft and Textil Mitteilungen, the American Robb Report and the French Monsieur. His work has included the editorial page for the Italian magazine Benissimo and stage photography and set design for the theatrical company "Macchine di Bosco." Guazzelli has also taught photography at Fortman Studios from 1986 to 1990 and the "Art…è" School of Design from 1991 to 1994, both in Florence. In addition to teaching at Syracuse Florence, Guazzelli is also graphics technician for the photo lab.
---

Kathleen Knippel
MA in Textile Art, California State University
Email: kaknippe@syr.edu
Kathleen Knippel is co-owner of Art Studio Fuji, a school of jewelry making and textile design in Florence. She is a textile artist who combines her textile works with surface design, sewing and textile sculpture. In California she produced a life-size Volkswagen Bug in textile sculpture that is now in the collection of the VW Company. In Florence, Kathleen is inspired by the environment and produces works about the city, its buildings and piazzas. With a deep love for creating fantasy costumes, she produced pieces for two theatrical productions put on by Syracuse Florence in collaboration with the Maggio Muscicale Fiorentino: "Where the Wild Things Are" and "Snow White and the Seven Dwarfs." Kathleen also made the costumes for a private theater group's production of "Macbeth" performed at the Bargello Museum in Florence. Her textile works have been exhibited in Los Angeles, Florence, Antwerp and Yokahama and are featured in several textile books and magazines. Since living in Florence she has taught textile art courses for numerous university art programs such as Syracuse Florence where she has been teaching courses in fiber arts, batik, silkscreen printing, surface design, costume design and textile soft sculpture since 1977.
---
Swietlan Nicholas Kraczyna
MFA, Southern Illinois University; Carbondale, Illinois
Email: snkraczy@syr.edu
Website: www.kraczyna-swietlan.com
BFA, Rhode Island School of Design. Upon completion of his graduate degree in 1964, Swietlan (Nick) Kraczyna moved to Florence, Italy. Since 1962, Kraczyna has held over 150 solo exhibitions across five continents and his work is included in the Uffizi Gallery's Permanent Collection of Prints and Drawings. In 1967, Kraczyna received the Golden Florin of Florence for his award-winning photographs of the 1966 flood of Florence. In 1968, he began teaching and setting up printmaking departments in colleges and study abroad programs around Florence. From 1973 to 1980, while working as printmaking technician to Marino Marini, Kraczyna refined his particular technique for multi-plate color etching which characterizes his own work. In 1982, Kraczyna co-founded "Il Bisonte" International School of Advanced Printmaking in Florence where, for ten years, he was artistic director and taught color etching. From 1994-2015, he taught techniques in "Art on Paper" at Sarah Lawrence College Florence. In addition to teaching drawing and printmaking for the Syracuse Florence Studio Arts Program since 1998, he served as the coordinator of the program from 2008 to 2012.
---
Diane Kunzelman
MA in Renaissance Art History, Syracuse University
Email: dkunzelm@syr.edu
Diane Kunzelman is a professional easel painting conservator working since 1977 for the Italian Ministry of Cultural Property at the Opificio delle Pietre Dure Laboratory in Florence. After receiving her Masters from the Syracuse University Graduate Program in Renaissance Art in 1970 she completed an internship in the Florence conservation facilities as a Fulbright Fellow. She has restored numerous paintings on panel and canvas including works by Bronzino, Fra' Bartolomeo and Pontormo. Her special interests involve research on innovative methods of technical and scientific investigation for the treatment and documentation of artworks, and she has been responsible for overseeing conservation requirements for works of art exhibited in Italy and around the world. Kunzelman is the author of numerous conference presentations, lectures and publications. Her work has appeared in scientific journals such as Studies in Conservation and the Journal of the American Society for Conservation, as well as in the catalogues of many major exhibitions held in Florence and elsewhere. Since 1988 Kunzelman has taught a graduate seminar on the history of conservation and undergraduate courses on Renaissance painting techniques at Syracuse Florence.
---
Kirsten Stromberg
MFA in Arts and Consciousness Studies, John F. Kennedy University
Email: kstrombe@syr.edu
Website: www.kirstenstromberg.netKirsten Stromberg graduated a Senior Fellow from Dartmouth College in electro-acoustic music and studio art concentrating in sound sculpture, sound installation and painting. Her MFA thesis explored the intersections of post-structural feminism and Buddhist concepts of non-duality and inter-subjectivity in contemporary art practice. She has lectured and taught at several universities and art institutes throughout Italy, including Washington University in St Louis-Florence Campus and Florence University in the Arts. She has also studied for over 20 years with the artists Rose Shakinovsky and Claire Gavronsky (also known as 'rosenclaire') attending numerous workshops and residencies with them in both Italy and South Africa. Currently Stromberg teaches beginning, intermediate and advanced painting at Syracuse Florence and is supervisor for the Studio Art department in charge of exhibitions and the visiting artist lecture series.
---
Since 1980, Stefania Talini's work has mainly focused on the music and fashion industries. From 1985 to 2000, she was the official photographer for Florence's Pitti Immagine. She has made record covers for companies such as RCA, EMI, Cramps, and Indies, has collaborated with the RAI Italian television network and has worked on stage installations and video clips. Her photographs have been published in leading national and international magazines, her independent projects have been exhibited internationally and her work is included in several public and private photographic collections. In 2003, Talini co-authored Foto Parlanti (Bonacci Ed.), a photographic collaboration with American students on Italian culture. Her personal research in photography concerns the use of diverse techniques and supports in black & white, Polaroid and digital photography. In addition to Syracuse Florence, Talini's teaching experience has included courses and workshops for the American Institute for Foreign Studies, Blith & Co., Nasson College and several private schools in Florence. Her intense didactic activity concentrates primarily on the expressive and cultural content of photography together with an accurate technical preparation. Since 1989 Talini has been teaching photography at Syracuse Florence, where she was also coordinator of the art department from 2006 to 2009.