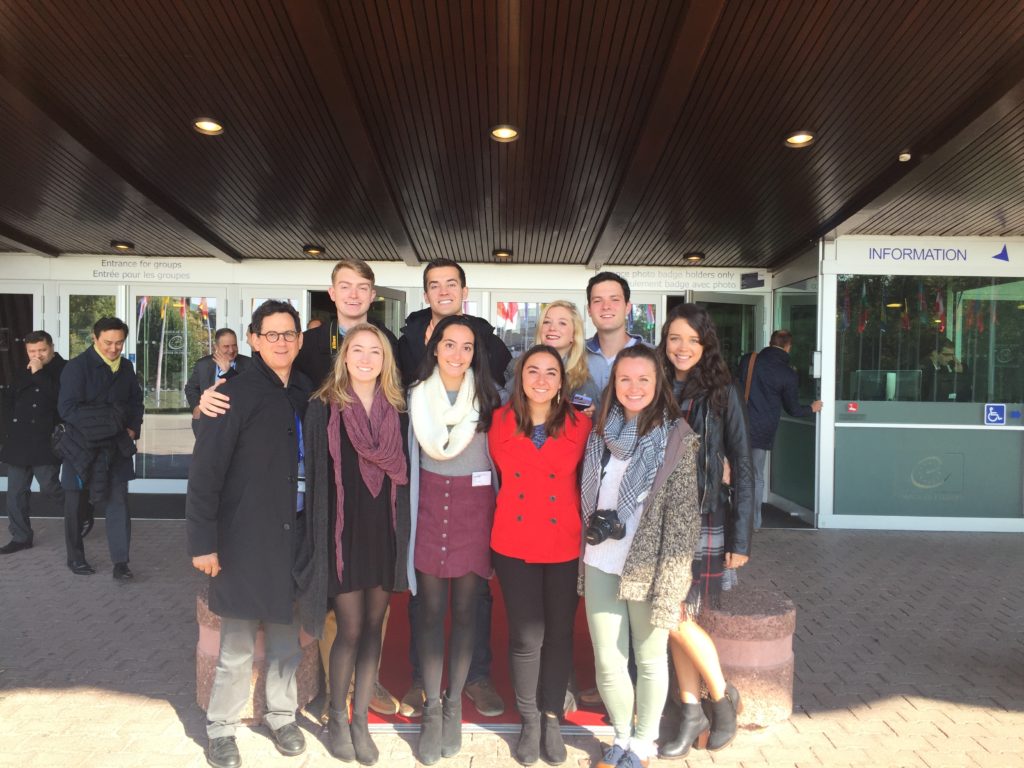 By Emily Alek
Through extensive travel and immersion in new cultures, studying abroad allows students to grow and become citizens of the world. Students of the SU Strasbourg program take full advantage of this opportunity for growth as they delve deeper into European affairs through internships and event attendance at the Council of Europe.
Headquartered in Strasbourg, France, the Council of Europe is an international organization dedicated to upholding democracy, human rights, and the European rule of law. SU Strasbourg students have the chance to interview for a variety of internships at the Council in the fields of international relations, policy development, communications, and more.
Senior Shoshana Kranish is just one of several SU Strasbourg students interning at the Council of Europe this semester. At her internship, she assists the staff of the Pompidou Group in planning their upcoming symposium on New Psychoactive Substances. In this position, Kranish provides research on prevention mechanisms and policies, helps to manage and compile participant information, and she is creating a video on New Psychoactive Substances. Her involvement extends beyond the walls of the Council of Europe: "I have been invited to, and will attend, the Pompidou Group's symposium next month in Venice, Italy, where I will get to meet with top policy makers and lawyers from more than a dozen different countries," noted Kranish.
Thomas Poston is a junior at Wake Forest University, but is spending the semester at SU Strasbourg. He, too, is interning at the Council of Europe, but in a different division. "As the Trainee in the Media and Internet Division of the Directorate General of Human Rights and Rule of Law, my work at the Council of Europe entails the promotion and preservation of the freedom of expression in all 47 of the organization's member states," said Poston. "My division's thematic focus encompasses all types of expression, but particular emphasis is placed on (a) the rights and freedoms of journalists and the press, and (b) privacy, social media safety, and Internet governance." Throughout his internship, Poston has assumed many responsibilities, such as attending committee meetings and parliamentary debates, creating "elevator briefings" of each event for his colleagues from all over the continent, and researching the current state of press and internet freedom in member states that are not also members of the European Union. These tasks will ultimately become part of the Secretary General's Annual Report, in which assessments are made of the member states' varying levels of freedom.
Along with receiving career-bolstering internship opportunities, SU Strasbourg students also benefit from attending special events at the Council of Europe. SU Communications Professor Giuseppe Zaffuto works in the Council's Communications Department, and his students have had the opportunity to attend a number of these events and report on them via social media. In October, students heard speeches by the French President, François Hollande, and the Turkish Minister of Foreign Affairs, Mevlut Cavusoglu. These opportunities have allowed them to learn more about the various issues that the Council's member states are facing, including the crisis in Syria, the migration crisis, and the recent coup attempt in Turkey. Students also attended a debate about conducting fair elections in the Council of Europe's member states and witnessed a Council-wide vote on implementing new policies.
Thanks to these opportunities at the Council of Europe, SU Strasbourg students are able to fully immerse themselves in European political culture and get a clearer sense of the complex workings of an institution that includes more than 40 member states, and in which the United States has observer's status.