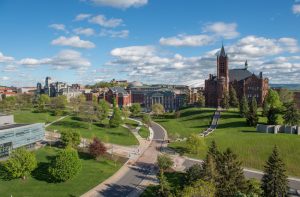 Welcome Exchange Students!
Thank you for your interest in studying at Syracuse University! We are a private research institution of 13 schools and colleges in Syracuse, New York, located one hour by plane from New York City and one hour by plane from Washington, D.C. Our diverse student body includes thousands of international degree students. Syracuse University has a long tradition of international education, with five overseas campus centers as well as domestic campus centers in New York City and Los Angeles for specific program majors.
---
Incoming Exchange Student Status
First, let's quickly review what it means to be an incoming exchange student: Syracuse University maintains exchange agreements with approximately 15 universities around the world – and if you're a student at one of those schools, you can come to SU as an exchange student.
Your first step is to work with the international office at your home university, as your nomination is required before Syracuse can consider you here. Once your nomination is forwarded to Syracuse University, you may complete the  Syracuse University Exchange Student Application Form. As an exchange student, you will pay no tuition fees to Syracuse University, however, there may be fees you pay to your home university, and you will need to pay other non-tuition fees. This is explained in our frequently asked questions about exchange programs.
---
Apply to Syracuse University as an Exchange Student
Visit our application page and get started! Questions? Contact Sarah Nebhut at Syracuse Abroad.
Applications will open on the following dates:
February 1 for fall applications
August 1 for spring applications
Nomination Due Dates:
March 1 for following or academic year
October 1 for following spring
Application Due Dates:
April 1 for following fall or academic year
November 1 for following spring semester
Applications will be reviewed, and students will be accepted after the application due date which is April 1 for the fall and November 1 in the spring. You will receive an acceptance letter from the Exchange Student Coordinator at that time.
Accepted applicants' names will be send to our International Center, after the due date, where your I-20 will be process and sent to you via email. You will receive a welcome letter and information about Syracuse University, myslice and your email account.
Before the semester starts, you will receive another email regarding orientation date, arrival date, Welcome Week, and semester start date.