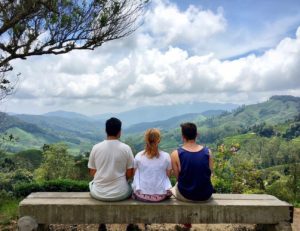 Accessibility and accommodations for students with disabilities vary significantly around the world. Syracuse Abroad embraces the opportunity to support all students by working closely with colleagues at the Office of Disability Services to create inclusive experiences, rich in the framework of global learning. Together we can support a successful experience abroad, which is reliant on upon student communication during their pre-travel planning.
Instructions on how to best communicate any disability related accommodations can be found by visiting our Disability Accommodations webpage.
Accessibility is an important consideration to be mindful of when deciding where to travel and study abroad. Be aware that unlike the United States, many countries do not legally require accommodations for persons with disabilities. Syracuse Abroad encourages you to learn about the cultural differences, including norms, stereotypes and colloquialisms, in your host country, city and every subsequent place you choose to explore. As always, if you have any questions, please don't hesitate to reach out to Syracuse Abroad, or to your Disability Services counselor.
Use these resources to get started:
Office of Disability Services: Syracuse University Office of Disability Services (ODS) seeks to promote equal access to educational opportunities for all students. Connect with a Disability Services counselor to discuss your plans to go abroad.
Mobility International: This resource provides accessibility guidance and country specific information for travelers with disabilities. Search by disability, destination, audience, etc. in order to gain a better understanding, read personal stories, and devise a strategy for your planned experience abroad.
Abroad with Disabilities: This website provides tools and information to plan and engage in a successful experience abroad. Links to external resources, including tips on requesting accommodations at the airport can be useful.
Travel.state.gov: Before you travel, enter a destination name to find information for mobility-impaired travelers in the Special Laws & Circumstances section. Additionally, find information about Service Animals, Assistive Equipment, and Medical Considerations.
---
Recommended Scholarships
The Diversity Network Summer Scholarship  awards two $1,000 scholarships for summer study offered by a Diversity Abroad partner organization. Applicants must have a minimum 2.75 GPA. Economically disadvantaged students, first-generation, students with disabilities, and ethnic and racially diverse students are strongly encouraged to apply.
The Diversity Abroad Overseas Ambassador Scholarship offers five $500 scholarships each semester to study abroad students. Economically disadvantaged students, first-generation, students with disabilities, and ethnic and racially diverse students are strongly encouraged to apply.
---
For more information about your host country or countries of interest, contact your International Program Advisor or our Student Services team. To learn more from your peers, we encourage you to reach out to Global Ambassadors. These are alum from various programs and locations that are willing to discuss their experiences with you and answer your questions!