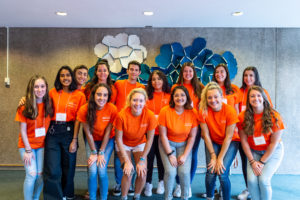 Global Ambassadors
The best way to understand what to expect when you are abroad is to talk to someone who has participated in the program. Search below for your program of interest and connect directly with your peers – our Global Ambassadors!
---
Learn more about our program alumni through their stories, experiences and reflections.
Take a trip down memory lane with Global Ambassadors as they reflect on their time abroad. Their stories share details about their time abroad, unique experiences, adjusting to new cultures and even study abroad tips!
"Originally, I was dead set on going to the Madrid program, I had friends in Spain, and I'd taken Spanish in high school. However, a political science professor persuaded me to look into the Strasbourg program because of its classes. After learning more about the program through abroad fairs, I was drawn to the idea of host families, its location towards the middle of Europe and learning a completely new language, culture, and history."

– Blake Moyer '22, Strasbourg Center
Read more about Blake's experience in France: Why Strasbourg was the right fit for me.