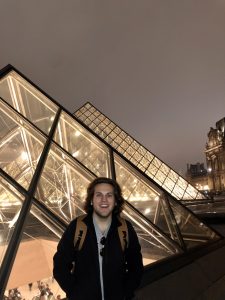 I'm Blake and I'm a triple major in political science, history, and citizenship and civic engagement (Class of '22). I studied abroad Strasbourg, France the second semester of my sophomore year of college, it was the most engaging and the most enjoyable three and half months of my college career (thanks to Miss Rona)! I've always wanted to travel the world since my Uncle shared his stories of traveling the world during his twenties. Syracuse Abroad's program is world-class and provided everything you could imagine and more!
Originally, I was dead set on going to the Madrid program, I had friends in Spain, and I'd taken Spanish in high school. However, a political science professor encouraged me to look into the Strasbourg program because of its classes. After learning more about the program through abroad fairs, I was drawn to the idea of host families, its location towards the middle of Europe and learning a completely new language, culture, and history.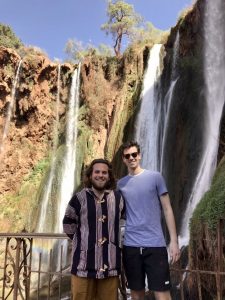 The Syracuse Strasbourg program itself features a signature seminar that takes you through several countries with your fellow abroad peers. It is a wonderful opportunity to get to know everyone and led to my entire group becoming close and friendly. I still talk to my friends from the program today!! Other courses at the Strasbourg Center took students to various parts of France, the Council of Europe, or places within Strasbourg. There are weekend programs that are free (included in the initial cost) around the Alsace area that the program offers. I highly recommend these programs, you will see a fantastic castle, eat incredible cheese fondue, and have exquisite cuisine. The staff is incredibly friendly and becomes part of your abroad family, if you need ANYTHING, don't hesitate to ask from them.
As far as actually living in Strasbourg, you are paired with a host family. The housing coordinator, Mick Hardenberg, does a wonderful job and I couldn't have been happier with my host family. I grew incredibly close with my host mother as she introduced me to her friends and family, took me to different cities within the area, and celebrated birthdays! I also had another abroad student from a Russian program with me. His name was Igor and he practically became a member of the abroad program by the time we had to go home.
Of course, there were also plenty of opportunities to travel on your own or with a few of your friends. I got to visit my friend who lives in Paris and works at Disneyland Paris. I went to Zurich, Switzerland with a large group from the program, (and they don't lie, Switzerland is crazy expensive)! For spring break, I traveled to Athens, Rome, and Marrakesh. Visiting all the different historical sites and even another continent, was truly an experience that is unrivaled by any other in my life.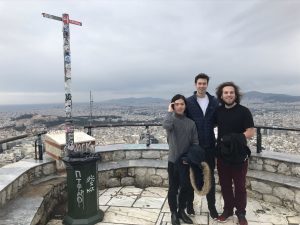 Overall, studying abroad is an opportunity that can never be replaced, it teaches you how to be a global citizen, approach life with more empathy, at times pushes you out of your comfort zone, establishes friends all over the world (use hostels!), and makes you a more curious individual! Just approach the experience with an open mind, the rest will follow.
Blake Moyer
Syracuse Strasbourg