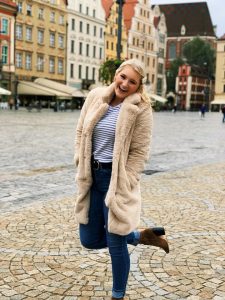 Name: April  Dvorak '22
Majors: International Relations
Semester abroad: Fall 2019
What was your most valuable experience abroad? The most valuable experience I had in Poland was interning at the Wroclawski Teatr Pantomimy im. Henryka Tomaszewskiego (Wroclaw Pantomime Theatre). At first, I was not confident in my skill set fitting the needs of theatre since I knew very little about the significance of the Wroclaw Pantomime Theatre. To my surprise, I immediately excelled at the research tasks given to me and began to learn more about the rich history of the theatre. As time passed, I gained such a passion for my work at the Wroclaw Pantomime Theatre and looked forward to my internship. My tasks began to expand beyond researching and international outreach. I was given the opportunity to meet the mayor of Wroclaw on behalf of the Pantomime Theatre, take intense artistic classes, and even speak to hundreds of people at the celebration of the theatre's founder. My internship was such a rewarding experience because I grew with each new challenge I tackled. The theatre provided me with opportunities I will cherish for a lifetime and the invitation to return to Poland and work there after graduation.
Contact: amdvorak@syr.edu
Topics I'm comfortable discussing: Staying in touch with friends & family, Adjusting to a foreign language, Allergies & dietary needs, Cultural Immersion, Culture shock / Homesickness, Disability resources, Financing study away, First time abroad, Fitting study abroad into your home campus experience, Health, safety, and support, LGBTQ+, Living with a host family, Meeting locals, Preparing for departure, Race & Ethnicity, Religious life, Selecting a program option
---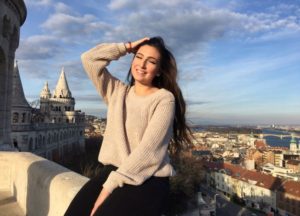 Name: Madison Bollart '21
Hometown: Amsterdam, NY
Major: International relations
Semester Abroad: Fall 2019 & Discovery Madrid Fall 2017
What did you wish you had known before studying abroad? Before I went abroad I wish I knew how real culture shock actually is and how to deal with it. Being in a giant city that speaks a language that is not your own, nonetheless surrounded by complete strangers is overwhelming and stressful. I didn't really know how to handle the transition from the honeymoon phase at first which ultimately led to me being a bit sad and homesick for a little while. Although I did overcome it, I wish I took the reality of culture shock more seriously so that I could have found better ways to cope and conquer it.
Contact: mtbollar@syr.edu
---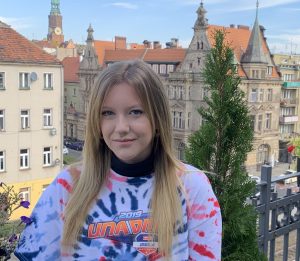 Name: Maryrose Dollard '21
Majors: Select Studies in Education
Semester abroad: Fall 2019
What was your most valuable experience abroad? Visiting Auschwitz concentration camp in Krakow, Poland was a life changing experience. It really made all of the history and information we were learning come to life.
Contact: mdollard@syr.edu
Topics I'm comfortable discussing: Staying in touch with friends & family, Adjusting to a foreign language, Allergies & dietary needs, Cultural Immersion, Culture shock / Homesickness, Financing study away, First time abroad, Health, safety, and support, Preparing for departure, Selecting a program option