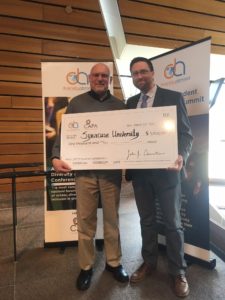 Dr. Louis Berends, the SU Abroad Director of Academic Programs, and Syracuse University College of Law professor Dr. Michael Schwartz were one of three winners of the Diversity Abroad Innovation Competition, held at the annual Diversity Abroad conference in Minneapolis on March 22.
Berends and Schwartz were among 10 finalists chosen to vie for the awards. The finalists presented their ideas and then were judged on the spot during the closing plenary session of the conference. Their presentation, "Diversifying the disability perspective: Exploring inclusive practices in Japan and the U.S.," proposed the creation of an academic faculty-led program in Japan for students of color and students with disabilities, two core populations that are traditionally underrepresented in study abroad. The proposal envisioned the recruitment of a racially diverse group of students, some with disabilities and some without, for a credit-bearing trip.
The implementation of the program would involve a national drive to recruit students of color and students with disabilities. For instance, Gallaudet University, Rochester Institute of Technology, and the California State University, Northridge, have racially diverse populations of students with disabilities, some who are deaf or hard of hearing. Accompanying the group to Japan would be a team of sign language interpreters experienced in international travel and customs. The goal of the program would be to compare the two nations' approach to disability law, policy, and practice, and to meet Japanese people with disabilities.
According to Berends, the prize money will go toward Professor Schwartz's travel to the three aforementioned schools to recruit students for the program. The program will be a part of the SU Abroad short-term program offerings in the 2017-18 academic year.