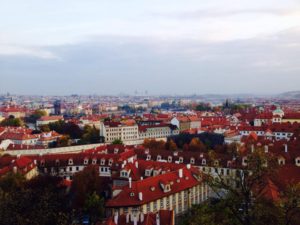 On Monday, September 25, Syracuse Abroad will host its first-ever Study Abroad Showcase in the Schine Student Center Atrium from 11 a.m. – 2 p.m.
Students worried about choosing a study abroad program that fits their major or minor requirements are invited to attend and talk to representatives from ten of Syracuse's schools & colleges*. School and college advisors will be paired with study abroad staff members and global ambassadors to highlight abroad programs that work well with specific majors and minors.
In addition to the seven Syracuse Abroad centers and 65 World Partner Programs, the showcase aims to highlight 2018 summer and short-term programs. Faculty members who are leading programs in 2018 will be available to answer specific questions about their courses.
New faculty-led programs in 2018 include a Mount Everest base camp trek, led by Professor Tom Brutsaert from the School of Education and Falk College Professor Rick Burton; a spring break program to Cuba focusing on Afro-Cuban dance, led by Professor Sydney Hutchinson in the College of Arts & Sciences; and a summer program based in Vancouver, Canada, led by Professor Dessa Bergen-Cico from the Falk College, which will focus on drug policy and harm reduction.
"We want to help SU students figure out which study abroad program is right for them," said Jennifer Horvath, Syracuse Abroad Marketing and Communications Manager. "With over 100 programs in 60 countries to choose from, we know it can be overwhelming for students who are unsure where to begin."
*Participating schools and colleges: The College of Arts and Sciences, The Maxwell School, the Newhouse School, the School of Education, Falk College of Sport and Human Dynamics, the College of Engineering and Computer Science, the School of Visual and Performing Arts, the Whitman School of Management, and the iSchool.
Syracuse Abroad Showcase
Monday, September 25
11 a.m. – 2 p.m.
Schine Student Center Atrium