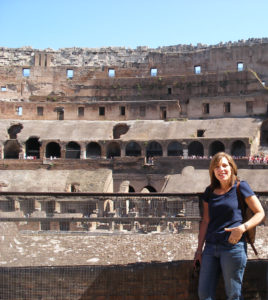 Theresa Barone is the first face you'll see when you walk into 106 Walnut Place, and she's probably the voice you'll hear on the phone if you call the Syracuse Abroad office. She began her work as the Syracuse Abroad Front Desk Coordinator in early March, where she coordinates the office's work-study students, processes forms and applications, and directs any and all inquiries coming into the office.
What has been your career path so far?
I was self-employed for 15 years. I owned a clothing store on Marshall Street. It was women's contemporary clothing and then we moved down to Amory Square. Then I took a gap to stay at home with my kids. I then took a position with the book store, worked in accounts payable and that's how I got here!
Did you study abroad?
No, but I lived abroad in London when my husband's job took us there. I loved traveling Europe, every weekend we went somewhere different.
What country have you always wanted to visit?
I always wanted to get to Greece, and I finally got there when we were living in London in 2009. The food was spectacular, and the water was so blue.
Why is language learning and cultural immersion important to you?
Probably because I lived abroad with two small kids and I saw what it did for them. They pick languages up so easily so I saw an immense growth in them.
What was your favorite traveling experience?
My favorite traveling story has to be when my family was in the Alps in Austria. My daughter was young and we turned away for a moment and she was climbing a snow bank next to an avalanche warning sign! She was fine, but it was definitely a crazy moment.