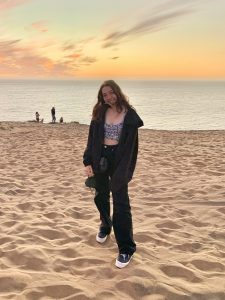 Hola!! I am Olivia Budelmann and I am pursuing degrees in Mathematics, Spanish, and Environment, Sustainability & Policy. My anticipated graduation date is May 2023. I chose to study abroad in Santiago, Chile during the spring 2022 semester. This program is longer than most of the other Syracuse Abroad programs, so as I'm writing this in June, I still have a month left of living in Santiago!
I selected the Santiago program because of the cultural immersion. Even though it was absolutely terrifying to think about living with a host family and taking all classes in Spanish, I knew it would help me allow me to better learn the language and culture of my host country. And I am so incredibly thankful that I chose this program! I absolutely love my host family – they have had over 20 host daughters in the past, and have treated each of them like they are actually part of the family, not just a student who is living with them.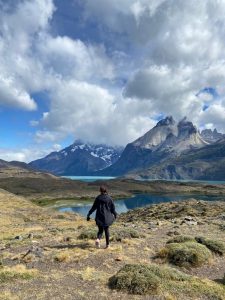 I have had the opportunity to spend time with both of my host brothers & their families, as well as siblings, cousins, and friends of my host parents. I truly feel as though I am a part of the Chilean family I have here, and I know that that will be the case "para siempre." When my host brother got married five years ago, 12 of his "gringa" sisters (previous host daughters of this family) flew to Santiago to attend the wedding. Some even brought their husbands and children to the wedding! I feel so thankful to have been welcomed into this family, and am excited to come back and visit for future familial events.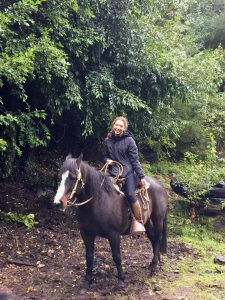 I also feel very closely connected with the program director, Mauricio, and the assistant director, Paula. They are two of the most incredible people I have ever met. It can be really difficult adjusting to living in another country, and it can feel very isolating. However, whenever I needed help or support or was just feeling down, Paula and Mauricio were always right there to help me in whatever way they could. So it was almost like I gained two families when I came to Chile: my host family of course, but also the program directors and the other students in the program.
As a group, in addition to exploring different sectors of Santiago, we also travelled to Patagonia, Valparaíso, and San Pedro de Atacama. In smaller groups, I also visited different parts of Chile such as Pucón and Concón, as well as Buenos Aires, Argentina. I feel so lucky to have been able to travel to all of these different regions, and Paula and Mauricio played such a large role in making that happen.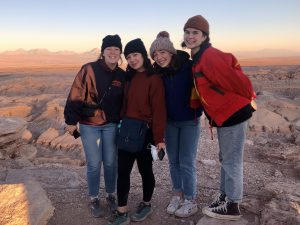 All of my classes are taught in Spanish, but only one of them is with Chilean students. It has to do with the geography of Asia and Latin America, and it is super interesting to learn about because I would not be able to take a class like it in the United States. We have to do group projects as well, which I was very nervous about at the beginning of the semester (how could I possibly do a project in Spanish with Chilean students?!) but now is something I feel completely comfortable doing, which is such an incredible feeling. It is so amazing to be able to witness yourself experience such a large amount of  personal growth. I have a similar situation with my internship as well. This semester I have been working with Chile Sustentable, which is a very serious and well-known organization. Before this semester, I would never have thought it possible to do a serious internship completely in Spanish, yet now it is something I am in the midst of doing. Qué bacán!!
I am not sure what my plans will be for after I graduate from Syracuse University, but after studying abroad in a Spanish-speaking country, I know that I want the Spanish language to always be a part of my life. I would love to return to Latin America to study, work, or simply exist in another country so that I can learn the culture of other Latin American countries and continue practicing my Spanish. During this semester abroad, I learned how to navigate a completely different country and culture, and although it was not always easy, I now have the confidence to continue taking risks and trying new things. But of course, I will be coming back to visit Santiago, which I now consider my second home.
Olivia Budelmann '23
Syracuse Santiago
Mathematics, Spanish, and Environment, Sustainability & Policy