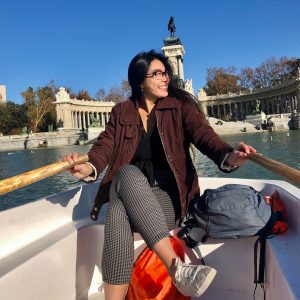 Growing up in a Vietnamese household showed me how valuable it is to know different languages. Knowing another language allows us to interact with more people and helps expand our knowledge on cultures/traditions other than our own. I began studying Spanish in high school and wanted to continue to develop my skills by pursuing a minor in college. I'm so thankful to have been able to spend four great months in Spain. I had the opportunity to travel to various cities in Spain from the coastline (Cabo de Palos) to the center (Madrid) and there's a piece of my heart in every city. Similar to how we encounter different accents, foods, and traditions in various parts of the U.S, Spain's different regions offer a variety of traditional foods, drinks, and traditions.
Signature Seminar:
Scuba, seas, and sardines! The signature seminar I attended was Marine Ecology. I wasn't knowledgeable on the topic of marine life and being environmentally friendly until after this seminar. Monica and Amelia, our two advisors, were so passionate about marine ecology. Not only that but we also got scuba certified. After our lectures, we would go on dives to learn about the marine life we discussed. It was a wonderful experience and if you love to swim, I highly suggest this seminar. During this seminar, we swam in the Mediterranean Sea, tried traditional gastronomy such as sardines, and even crossed the border to visit Morocco. An unforgettable experience in a beautiful environment. Also, don't forget to pick up after yourselves, the sea needs our help to stay the beautiful blue it is.
Academics:
Before actually arriving in Madrid, I decided I was going to take four Spanish courses. Although it was tough, it was the right decision. Through my Mujeres en España, Modern Spanish Art, De Madrid al Cielo, and Spanish grammar classes, I learned so much about the history of Spain. The topics discussed in class gave me opportunities to talk about them at home with my host mom. She was more than happy to explain concepts I didn't understand and we bonded over the works of art I saw at the different museums. Living with a host family was the best decision I've made and I still keep in contact with her today. As with any experience, you get out as much as you put in. The language barrier is hard and the host families know this. My host mom would correct me when I used the wrong words and at times I would describe a word I didn't know and she would then teach me.
Diversity and Inclusion: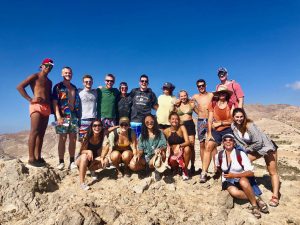 In terms of diversity, Spain is very diverse. The only problem that arose was when I would walk, people would shout at me "china." This is the word for Chinese in Spanish. Assuming someone's demographics occurs often around the world and people can't always tell different ethnicities apart, this occurs in Spain as well. My number one tip for this is not to get offended quickly, but to be patient with people and if you have time and want to, you can share your background to politely correct them. In terms of gender, there are still very traditional roles in a household in Spain. From my women in history class, I learned about the progression Spain has made. Cat calling would occur while we walked the streets, but I have never encountered anything worse than that. Remember to be respectful and strong in your words if you don't agree with someone's actions towards you and say "No."
Involvement:
I worked in the Office of Student Life abroad and it was super fun. Pilar and Horacio were the two employees I assisted and they were also great listeners. The Madrid staff is so kind and they really will help you with whatever you need. I participated in the MadWorld program which I definitely recommend. From day trips to Salamanca and Segovia to attending a bullfight, this program helps you learn more about the culture and traditions of madrilenos. Another opportunity I had was interning at CPM MassPublic, a Spanish communications agency in Madrid. There, my role was to write blogs and articles for its magazine Welcome to Madrid. My supervisor Yolanda was very helpful and very understanding. She was open to any ideas I had and helped me improve my writing. By the end of the internship, I was published in its Winter edition. Blogs and articles would range from gastronomy to fashion. My time there was extremely valuable.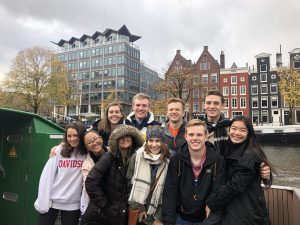 I often blink and wonder if my time abroad was real. How can someone grow so much and learn so much in a mere four months. I would go back to Spain in a heartbeat because of the great people I met. Don't be afraid to ask for help, don't be afraid to try new things, and don't be afraid to take on new adventures by yourself. Time abroad is so limited that we miss out on things we wanted to do. Make your own timetable, explore the different areas of Madrid and regions of Spain. The weekend trips to different countries are memorable and very fun, but learning about your host country is also important and worthy of your time. Being in Madrid opened my eyes to a whole new environment and showed me how each culture is unique. I realized my passion is to use communications to foster community. Although the world has billions of people on it, we can always connect with someone.
Michelle Truong, 2021
Syracuse Madrid Center
Public Relations and Marketing Management