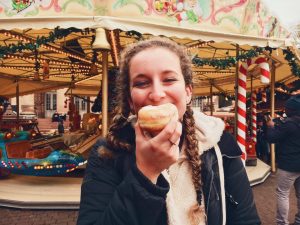 Bonjour! My name is Eva Kamman and I'm a junior here at Syracuse studying environmental engineering. I studied abroad in the fall of 2018 at the Syracuse Center in Strasbourg, France. I chose this program for two main reasons. The first is that my family is French so being able to live there made me feel much closer to those relatives. In fact, in a weird way, it kind of felt like going home. The second was that I was able to take classes both at the Syracuse Center and at l'Institut national des sciences appliquées de Strasbourg (one of the premier engineering schools in France). Taking classes at INSA allowed me to regularly be in the same building as French engineering students and occasionally work with them. In one class, we had a few lectures where each SU undergraduate was partnered with an INSA graduate student to solve problem sets. While I was abroad, I took statics, electrical engineering fundamentals, calculus III, French IV, and I had an internship for credit.
When I went abroad, I definitely didn't expect to hold an internship. However, the SU Center has a fantastic program that places interested students into positions around Strasbourg and I felt it was too good of an opportunity to pass up. I was matched with a research professor at INSA and worked with him for a few hours each week in his student office where I was able to collaborate with his other student researchers. My work was focused on standardized precipitation evapotranspiration indexes and developing a method for calculating potential evapotranspiration in different climatic regions around the world. Being able to work with my advisor in a completely different setting than what I am used to was beneficial to both my academic and professional growth.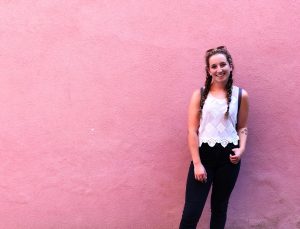 Though I've talked a lot about my academic experience so far, I am a strong believer that you shouldn't go abroad just for the academics. Europe's accessible transportation took me all around the continent – some notable places were Barcelona, Munich (for Oktoberfest!), and Greece. Each trip that I planned with my friends tested our organizational skills a little bit more. After all, I had always relied on my family to plan trips for me. Of course, there were the occasional flight cancellations or AirBnb mess ups, but we were always together and made the best out of whatever situation we were thrown in.
Studying abroad was probably the best decision I have made in my college career so far. I don't think that I would be as successful either personally, academically, or professionally as I am today had I not taken advantage of the SUAbroad program. If you have any questions, please don't hesitate to reach out to me! Merci beaucoup et bientôt.
Eva Kamman '21
Syracuse Strasbourg