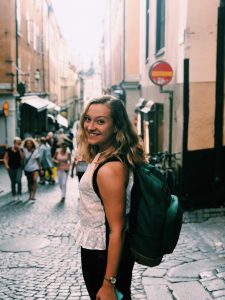 Hi! My name is Rachael Church and I studied abroad through a Syracuse Abroad World Partner program called DIS in Stockholm, Sweden during the Fall of 2018.
Though choosing a program seemed daunting at first because there were so many options, I discovered and became interested in DIS Stockholm because of the unmatched courses offered there. I am a Biology major with minors in Public Health and in Environment & Society, so finding programs with more than one or two courses that would fill the requirements I still needed was a challenge. In Stockholm, however, I didn't have to put my academic trajectory on hold to have an amazing experience. I took two classes that counted toward my major requirements: Translational Medicine (my Core Course) and Immunology. I also took Epidemiology and Medical Ethics as two courses to fill my Public Health elective requirement, and Scandinavian Crime Fiction to complete my liberal arts core requirement. The learning experience was incredibly hands-on and collaborative, with small class sizes and "study tours" around Stockholm to talk to experts in each field. Before studying abroad, I was considering pursuing Epidemiology after graduation, but was unsure if it was for me and wanted to learn more about the applications of Public Health and its intersection with my other interests. Studying with DIS allowed me to get an inside view of what my potential careers could be and make informed decisions to narrow down my prospective career options.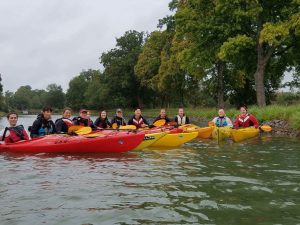 Living in Sweden is similar to the US in some ways, but the parts that stand out and make it unique are what make it such a fun experience. Everyone commutes (on the cleanest public transportation I have ever been on) or rides bikes to work instead of driving. The city parks are always full of joggers with their dogs and dads taking their babies for walks in strollers. The sun may set early (around 3pm in the middle of winter), but Swedes have adapted to this and know how to stay happy, healthy and active, and make the most of the sunlight that they have. The easiest way I found to immerse myself in the culture was to go to new cafes in the different parts of the city in the afternoons or during my breaks from class to do my homework and have fika (coffee and a dessert). I would also stop by one of the many museums with friends or take a walk through a park. DIS is also really helpful when it comes to getting involved. Through the program, I signed up for a kickboxing class which I took once per week with other Swedish and international university students. I also joined a yoga studio, which was easy for me to do because though it was taught in Swedish, the vast majority of Swedes also speak English, so I could get personalized feedback when I needed it. Speaking simple Swedish phrases is also pretty easy to pick up once you set your mind to it, and you can take a Swedish Language course at DIS as one of your classes too. Another way I got involved and immersed was by joining DIS's Outdoor Adventure Learning Community, for which a group of 7 DIS students (who all lived on the same floor of a student apartment building outside the city) would explore Stockholm every Tuesday evening. Throughout the course of the semester, we went on walks, took ferry rides, went bike riding, rock climbing, swimming, kayaking and ice skating, all of which were incredible experiences that I might not have had the opportunity to do otherwise. Since I lived in an apartment with other DIS students, I did not get the experience of living with a host family, although that is also an option. Since I still wanted to get the experience of being part of a Swedish family, I participated in DIS's Visiting Host Family program, where I was assigned to a family that I met up with once every couple of weeks for dinner. I also made friends with other students who did stay with host families, and we would go visit them every once and a while as well. If you are willing to put yourself out there, DIS gives you endless opportunities to immerse yourself in the Swedish culture.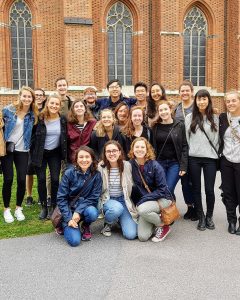 Of course, one of the biggest reasons people want to study abroad is to travel. Through my Core Course at DIS, I had the opportunity to take a trip to London for a week for a long study tour. I also traveled to lots of cities within Europe with the friends I made through DIS including Copenhagen, Bergen, Berlin, Amsterdam, Madrid, Zurich, Florence, and Venice on weekend trips and breaks throughout the semester. Though Stockholm is more distanced from the rest of Europe and it's not possible to just take a train everywhere, it is still more than feasible to travel and get the full European experience.
Studying abroad in Stockholm increased my sense of confidence in myself, taught me how to adjust new and unfamiliar situations, and introduced me to some of my lifelong friends. I was drawn to DIS through the offered coursework, but applied for the opportunity to study in a unique city without a ton of tourist traffic and with students from all over the US to better my ability to meet adventurous people. Though my time abroad has been over for a while now, I know I'm not done travelling and I am so grateful for the experiences I gained in Stockholm because they gave me the confidence I need to pursue other opportunities and live abroad in the future.
Rachael Church '20
DIS Stockholm, Fall 2018