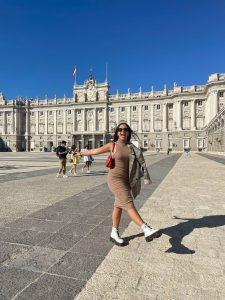 ¡Hola! I am Victoria Amado, a junior studying Policy Studies, Information Management & Technology, and Spanish Language, Literature & Culture. I will be graduating in the spring of 2023, and I had the pleasure of studying abroad in the fall 2021 semester in Madrid, Spain. To say it has changed my life would be the understatement of the century.
I knew I wanted to go abroad to Madrid from the moment I stepped foot in the city while visiting my older sister years ago, also studying abroad with Syracuse. I had gone home from that trip enchanted by the language, cuisine, and culture. Coming from living in a COVID world and having done little to no travel in two years, I knew junior year was my time to explore. What I couldn't decide was when to go to Madrid, fall or spring. Alongside my strong desire to go back to Madrid, was the dream I had since I was little to go to London. After a lot of deliberation, and pro/con lists, I decided that neither of these goals was going to be compromised, and instead I would go abroad for the entire year, first to Madrid and then to London. From there, it was an easy decision that fall 2021 would be my time in Madrid.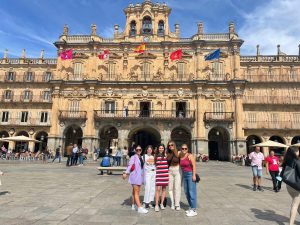 My classes abroad were some of the most rewarding work I have done. We got to experience everything we were learning in the classroom directly in the streets. All of the professors were so passionate about teaching us the ins and outs of Spanish life. One of my favorite courses was a Spanish course called De Madrid Al Cielo. We were reading and exploring Spanish literature, history, and society in the classroom, but the professor would include a wide range of places to visit, eat, and enjoy that was directly connected to what we were learning! Another one of my favorite courses was a history course called Arts of Spain, where we would analyze different artworks and architectural designs and then see these practices in art at different museums across the city!
While classes may be the focus of your time abroad, another thing that is nearly just as influential to the experience is travel! During my time in Madrid, we had to adhere to COVID protocols and were not allowed to leave continental Spain. Some thought this would hurt our traveling opportunities while abroad, I think they did just the opposite. During my time in Spain, I was able to explore the country and all of its glory. I visited Salamanca, el Escorial, Valencia, Cordoba, and my personal favorites Malaga, Barcelona, and Sevilla. From attending a soccer game in Malaga, to walking the streets of Barcelona, and to having my heart melt during a Flamenco show in Sevilla, traveling in Spain was nothing short of jaw-dropping.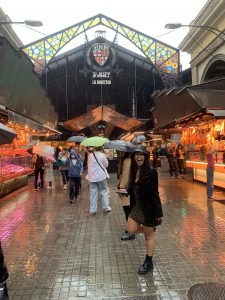 One of the things that are most important to me in life is dancing. While abroad, I knew I wanted to continue my training and learn new styles from the professionals in Madrid. Anxiously walking into a dance class in a new city was one of the scariest things I did abroad, but also the most rewarding. I ended up finding my home away from home, taking 2-3 classes a week from different Spanish choreographers, and loving every minute of it.
It was honestly one of the hardest things to say goodbye to because it had become such an important part of my abroad experience. But it wasn't the only thing I was sad to leave behind. My neighborhood, favorite stores, and cafes, professors, and staff at Syracuse abroad, my new Spanish friends, and the magic of Madrid were hard to leave. I hold my semester in Madrid very close to my heart and know it has made me the person I am today.
Victoria Amado'23
Syracuse Madrid '21