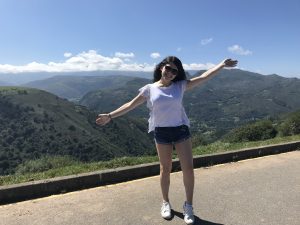 Hola! My name is Ariel Hylton and I recently graduated in the Class of 2020 at Syracuse University. I majored in Communication Sciences and Disorders and Spanish and studied abroad in Madrid in the Fall of 2018. I loved every second of abroad! I really wanted to be immersed in the culture and practice speaking and communicating with others in Spanish. I chose Spanish Identities for my seminar and loved exploring Northern Spain and a couple cities in Portugal and France. This seminar was carried out solely in Spanish and I gained so much from it. I also traveled to so many different countries. Being able to learn from locals and their cultures was incredible. But I was still looking for more during my abroad experience.
As a Jewish woman, I was worried about going abroad. I was so used to celebrating the High Holidays with my family, friends and peers in a place I'm very comfortable going to and wasn't sure if I'd ever find a similar community. However, I discovered KAHAL, an organization providing Jewish students with various Jewish experiences throughout the world.
Being invited into a new community may be scary and worrisome at first, but attending services for various Jewish holidays was the best decision I ever made. I attended services at a local synagogue in Madrid for Rosh Hashanah, Yom Kippur and Hanukkah. I met those who were also Jewish students studying abroad in Madrid, locals and individuals passionate about Judaism. In addition, the services were led in English and Spanish. Because I was fluent in Spanish, I was able to communicate with the other congregants and learn from them.
A local family also invited me into their home for a Hanukkah dinner. This was an experience and evening I will never forget. The family provided me with a delightful meal and included me in their own service. I truly felt at home. I remember going back to my host mom's apartment and telling her how much I enjoyed spending the evening with that family. My parents were also thrilled to hear that I connected with other Jews.
I also loved learning more about what it's like to practice Judaism in another country, especially in Spain. Toledo, a small city just outside of Madrid, is historically known for their Jewish community. I was able to visit Toledo during my time abroad, see various synagogues and discover how the Jewish people in this city practice Judaism.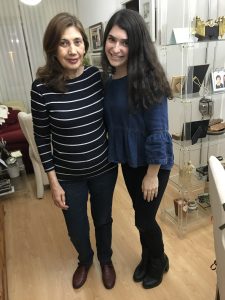 My host mom in Madrid was always so willing to talk to me about being Jewish in Madrid and Spain in general. During the days when I left to go to High Holiday services, my host mom showed interest in my religious experiences the moment I walked through the door. I was able to teach her about my religion and she then shared a little about her own. Even though my own parents weren't there to talk and spend time with me, my host mom always made me feel important as I celebrated these holidays in Madrid.
KAHAL and the experiences this organization provided me with truly enhanced my experience studying abroad in another country and city. I recommend KAHAL to any Jewish student planning on studying abroad. It really made me feel at home even when I was miles and plane rides away from my family and friends in the United States. Whether you're traveling to Madrid, Paris, Prague, Shanghai or Sydney, KAHAL will connect you to immersive experiences in your local community! Check out KAHAL's website for more information: https://kahalabroad.org
Ariel Hylton '20
Syracuse Madrid