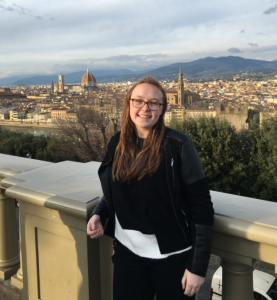 Hello! My name is Grace Landis and I am a senior at the University of Southern California, graduating in Spring 2021. I am double majoring in Psychology and The Classics, with a minor in Performance Science. I chose to go abroad with Syracuse Florence because I love Italy and the program has a variety of courses related to The Classics and art. I also have a familial connection with the program as my mom and aunt also studied abroad with Syracuse Florence! Living in Italy was the perfect opportunity to practice my Italian and to study some of the most beautiful pieces of art.
One of my favorite classes was 'Leonardo da Vinci'. The class was dedicated to his art, inventions, and life and it was an incredible experience. We went on a day trip to Milan for the class to see The Last Supper and other amazing paintings which was a once in a lifetime experience that I will never forget. A great part of the Syracuse Florence program is there are organized day and weekend trips around Italy. A few friends and I went on an olive oil tasting with the school in a small town south of Florence, and I also went to Rome and Fiesole with one of my classes. These organized trips are a great way to make friends with other students, especially if you are coming in as a non-Syracuse student!
On the weekends I was able to visit other cities in Italy, such as Verona, Venice, Pisa and Bologna. Traveling within Italy is very easy as there are options for trains, buses, flying, or renting a car! I also visited Monaco, Vienna, Amsterdam, Paris and London while abroad. Studying abroad is a great opportunity for visiting different countries, but it is also important to stay in your own country and city to get to know the culture. I loved walking around Florence on a sunny day to find a small cafe or museum and just wander around for a few hours.
Florence is a very easy city to get around by bus, taxi or just by walking. Villa Rossa, where classes are held, is only a short walk from the city center, so my friends and I would go get gelato or an aperitivo after classes.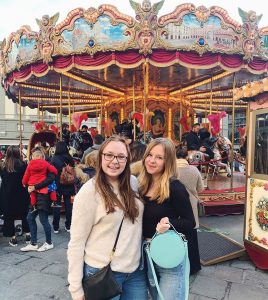 Unfortunately, due to Covid-19 my study abroad experience was cut short, but it showed me how important it is to make as many memories as possible while abroad because you never know what could happen. Florence is one of my favorite places in the world and I can't wait to go back and visit my host family again. My study abroad experience showed me that I truly love traveling and I love Europe so I plan to go back as soon as I can and hopefully I will be able to live there in the future.
Studying abroad is an incredible opportunity that shapes how you see the world and I am so grateful for all of the memories I made and people I met while in Florence. Ciao!
Grace Landis '21
University of Southern California
Syracuse Florence