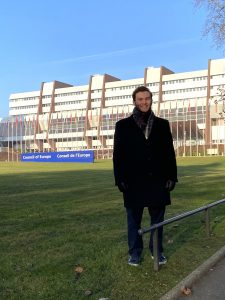 Bonjour and Hallo!  I'm Ben Shultz and I spent my final semester of graduate school abroad at the Syracuse Strasbourg Center, and just graduated this spring (2022).
As a dual-degree M.A. in International Relations and Master of Public Administration student at the Maxwell School of Citizenship and Public Affairs, Strasbourg presented an unmatched opportunity for me to explore the European policy space in a hands-on manner.  I took one graduate course at the Syracuse Strasbourg Center and undertook an internship at the Council of Europe International Cooperation Group on Addiction and Drugs (Pompidou Group).  My experience studying abroad was life-changing and opened many doors for me in personal, academic and professional contexts.
What intrigued me most about Strasbourg was its international, cosmopolitan nature.  Situated on the Franco-German border in the Alsace region, Strasbourg is one of the four European capitals, home to the Council of Europe, the European Parliament and the European Court of Human Rights.  It is also one of the oldest and most beautiful cities in Europe, and it certainly lived up to the hype.
I lived with a local host family, which was tremendously helpful from integrating in both a cultural and linguistic perspective.  I arrived in Strasbourg speaking almost no French and left being able to navigate fully in daily life—from checking into an AirBnB, taking a train, or buying a pain au chocolat from the bakery.  Additionally, living in Strasbourg was useful for practicing my German.  I was conversational before arriving in Alsace, but found plenty of ways to improve, including taking the tram across the border to Kehl, Baden-Württemberg and speaking in German with my colleagues at the Council of Europe.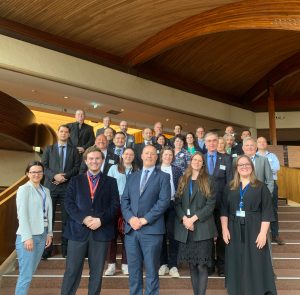 For Americans, the chance to intern at any of the European institutions is incredibly limited.  Syracuse University's partnership with the Council of Europe enabled me to gain valuable experience working 'on the inside', so to speak.  My broad focus at the Maxwell School has been cyber and tech policy, and at the Pompidou Group I was given the chance to explore this focus further.
At the Council, I was assigned to a longer-term project for the Expert Group on Drugs Online that involved researching the status of illicit substance sales and trafficking, as well as money laundering, via online and mobile video games and chat rooms.  These platforms represent a gap in the existing European drug and addiction policy, and I was asked to present about my research and potential policy recommendations at the Expert Group's 2022 Annual Meeting.  More than 30 senior members of law enforcement agencies across Europe, from Ireland—to Turkey—to Finland, attended the meeting.  It was incredibly rewarding to hear presentations from these leaders about their experiences and research on a variety of issues, and I was equally proud to present my own research into emerging threats via online gaming platforms.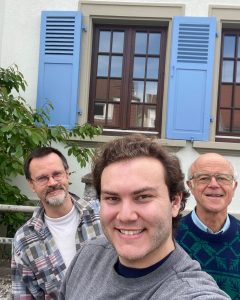 Having been back in the U.S. for less than a month, I'm pleased to say I'll be starting a new role with Deloitte Global Public Sector as a consultant.  I'll be conducting disinformation and cyber threat analysis for public clients, and I can directly link my work at the Pompidou Group to this new job.  Not only was my time in Europe something to converse about with my soon-to-be colleagues and supervisors, but they found my experience of working on an emerging cyber policy issue across the Atlantic valuable, in terms of the insights I was able to glean from the European policymaking process that might help improve U.S. cyber policy.  As well, given the broad global nature of public policy, the language skills I picked up and sharpened in Strasbourg may be useful for me at Deloitte.
In total, my time in Strasbourg was simply phenomenal and I am so grateful for SU and the Maxwell School for helping me organize this semester abroad.  It was a perfect way to conclude my time as a graduate student and directly set the stage for a quick transition into the professional world.  I hope to be back in Strasbourg very soon, this time as a tourist!
Benjamin Shultz '22
M.A. in International Relations / M.P.A. Candidate
Maxwell School of Citizenship and Public Affairs