Hello – my name is Kara Mueller and I studied abroad in Copenhagen, Denmark in fall 2021 with World Partner program DIS Copenhagen. I'm graduating in 2023, majoring in Human Development and Family Science. Here are some questions and answers about life in Denmark: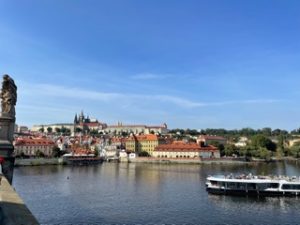 Why did you choose this program?
My major was the main component that led me to choose the Copenhagen program. Human Development and Family Science is a super small major so there were not many programs that adhered specifically to HDFS, so I looked to World Partner to find which programs best fit my major. Copenhagen had a Child Development and Diversity program and I thought that fit perfectly with what I wanted to study.
What were some interesting courses you took abroad?
Child Development and Diversity in Education in Scandinavia: This was my core course which meant that this is where most of my credits were going toward. Every core course had two trips, one in another part of Denmark, and one in another country that fit our field of study. Having these core courses allowed us to get close with our fellow classmates which was a really cool aspect of the program.
Child Development and Diversity in Education in Scandinavia Practicum: This class was an extension of my core course, but it was a placement for every student at a Danish school. We got to rank our preferences for what age group we would want to work with and had the options of infants, day care age, elementary age, or middle school age. I chose middle school because I want to work with adolescents in the future and I was able to work with 8th and 9th graders once a week in the countryside of Copnhagen. This was an amazing experience and a great way to get to know a very different part of Denmark since our commute was about an hour.
Danish Language: This class was a Danish language and culture class. The language barrier was not bad at all because almost every Dane knows English, but it was still cool to be able to learn some Danish terms. My favorite part about this class was learning about the Danish entertainment industry. We read some Danish fairy tales and watched Danish movies and learned about how their culture is portrayed through their media.
Positive Organizational Psychology: This course was all about psychology in the workplace. We learned about all different characteristics of work life that affect the personality of someone's career. Balancing these characteristics and making well-being a priority helps work to be so much more pleasant.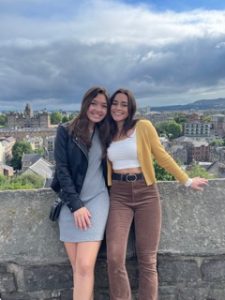 What's one of the best experiences you had?
I met some of my best friends through this program. I loved the idea of going on a program by myself and meeting new people from different universities, and that is exactly what happened. It is such a great dynamic because we can now visit each other at our schools and meet each other's friends. It is definitely strange adjusting back to school life that doesn't involve them because we became so close, but I am so happy to have met them and be able to travel the world with them. Traveling and learning a new culture together is such an amazing way to get close.
Did you travel within or outside of Denmark during the semester?
We had time for field trips every Wednesday which was a great opportunity for immersion and building knowledge about different aspects of our course content. My class went on a 3 day trip to Odense, Denmark, and a 6 day trip to Finland. We had meals together and were able to spend a lot of time as a class and learn a lot about each other. Every class did a 3 day trip to another part of Denmark, and a 6 day trip to another country, so everyone had the same amount of time to travel with their course.
What was your living situation like? How was the experience?
I lived in a residential community which involved two floors of people and about 15 people per floor. Each floor had a shared kitchen, two common rooms, 2 bathrooms with showers and 3 bathrooms without. In my individual room, I had two roommates from two different schools. Everyone was spread out across the city and there were other living options like a host family, or in a Kollegium which involved local students as well as American students. I loved my living situation and all the shared spaces worked out so much better than I expected them to. It was a great way to meet people and work on living with others.
After college, I am definitely going to emphasize traveling, which I may not have planned on doing if it wasn't for studying abroad. I would love to work abroad for a little while, or at least for an international company that allows me to travel for at least the first few years. There is so much of the world to see and it was so helpful to learn about the way different countries function and how it works for them.
Kara Mueller '23
DIS Copenhagen