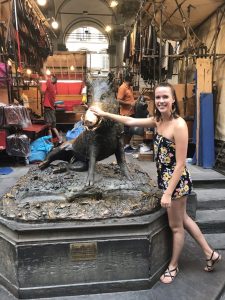 Hi! I'm Shannon and I'm a senior duel majoring in Sociology and Public Relations. I went abroad to Florence in the fall of my junior year and it was by far the best semester of my college career (and probably the best three and a half months of my life!). Ever since I was little, I've been in love with the idea of traveling the world. So, when it came time to choose a college, a top-tier study abroad program was number one on my list of requirements. I can say will full confidence that Syracuse was the right choice for exactly that!
Because I've always loved traveling, and have always dreamt of study abroad, trying to choose from all the diverse abroad programs offered at Syracuse seemed like an impossible decision for me. I started attending the abroad fairs and talking to my academic advisers about my plans to go abroad the second I got to campus, but when junior year rolled around and it was time to make a decision I still felt overwhelmed. I was torn between the London program because there are some classes offered at the London center that could count toward my Newhouse major, and the Florence program because the opportunity to experience the culture, art, and history of Italy really interested me.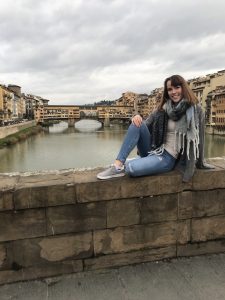 Obviously, I ended up choosing the Florence program, and it's the best decision I ever made! The language barrier, cultural differences, and chance to live with a host family are some of the aspects of my semester abroad that most challenged me; however, I know that those are also the things that taught me the most about myself, and helped me grow as a person. The language difference and host family experience specifically were aspects of the Florence program that initially scared me and made me seriously consider choosing the London program instead. But, looking back, I wish I could have told myself not to be worried about those things because they'd end up being some of the best parts of my abroad experience!
Being worried about living in a foreign country where you don't speak the language and living with a family you've never met is perfectly reasonable, and it's something that almost every student is nervous about before they go abroad. But seriously, take it from an abroad alum, don't let that fear choose your abroad program for you! You will have an absolutely amazing experience and you'll look back and laugh at yourself for being so stressed over those things. I'm SO happy I chose to study in Florence, and I know if I had let my fear of the language barrier and living with a host family dictate my experience, I never would have learned or grown as much during my time abroad as I did. At the end of the day, every single abroad program offered at Syracuse is an amazing opportunity to expand your horizons, experience a new culture, and challenge yourself to try new things. You will have a once-in-a-lifetime experience regardless of where you go, so choose the program that speaks to your heart and just take the leap! I promise you won't regret it.
Shannon Bozman '20
Florence Center, Fall 2018