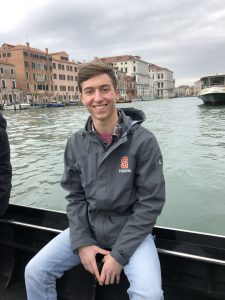 Ciao, my name is John Mazza! I am a junior civil engineering major and studied abroad in Florence in the spring of 2020. The beginning of my abroad experience was incredible because I participated in the Sustainability on Trial Signature Seminar. While on the Seminar, I was able to travel to Norway, Finland and Sweden while getting credit for the class as well. While I was in those countries, I was able to mush huskies, visit a reindeer farm and snowshoe up a glacier! I made so many memories and met so many people on the seminar and I will cherish these moments for the rest of my life.
After the seminar was finished, I began the semester in Florence. When I first settled in with my roommate and host family, they were incredibly welcoming to us. My host family was one of the best experiences that I had in Italy. Although they did not speak a lot of English, we were still able to communicate very well and they were a very nice couple. We ate dinner together every night and the meals were like events (the food was absolutely delicious). I still keep in contact with my host family to this day and I am so glad that I was able to meet them. In addition to my host family, I was able to meet so many people as a result of studying abroad. Many of the people that I met were from all over the world and most of them were students, but I was introduced to such a diverse background of people.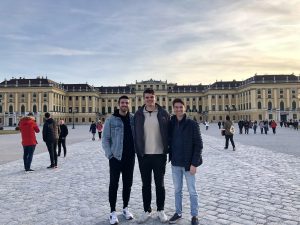 I chose the Florence program because I knew that I wanted to go abroad to Italy and I was able to take my engineering classes there while keeping my same expected graduation date. Studying engineering at the Florence Center  was valuable because I was introduced to a new perspective on engineering courses. There were slight variations in the way we learned engineering concepts which I am grateful for being able to learn in this way. I truly felt like a gained much more knowledge beyond my engineering courses as well.
In addition, I knew that I wanted to go to Italy because I am Italian in heritage and I wanted to spend more time there to truly see the culture which I was able to do in my time there. Many advisors and staff in the Florence center were very helpful when I told them my situation and major so everything worked out perfectly and my questions were never left unanswered. I also knew that studying in a central region of Europe would allow me the experience to travel to many other countries. While I was abroad, I spent time in 9 countries but a few of the highlights were my ski trip to Switzerland and a weekend in Dublin. I skied in Zermatt which was the mountain that my dad skied at during his study abroad program years ago. I also spent a weekend in Dublin and took a day trip to see the cliffs of Moher. These are two of the favorite trips that I have taken in my life and I will remember them forever.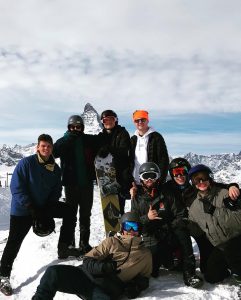 Overall, looking back on my time abroad I can truly say that I had a life changing experience. I was able to gain a new perspective on my culture and the way that I live my life. Seeing how engineering was taught in another country was also very interesting and a valuable skill that not all engineers are exposed to. I want to carry everything that I learned abroad with me and I plan on returning to Europe very soon because it is truly an incredible place. I still have many places to visit on my bucket list so I think that I will be back very soon. I am also deciding on going abroad to get an international MBA after my undergraduate degree is complete so that I can see more of Europe and travel to places that I have never seen before. Arrivederci!
John Mazza '22
Civil Engineering
Florence Center