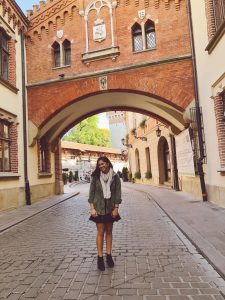 Hi all! I'm Caroline, a senior at Colgate University where I major in Religion and minor in Economics. In the fall of 2019, I was fortunate enough to participate in Syracuse Abroad's Exploring Central Europe semester program. The focus of this program was history, memory, and identity. We studied Central Europe through these lenses, looking at its early history through now with a special focus on the Holocaust and the Soviet regime. As a non-Syracuse student, I was initially nervous about joining a group of mostly Syracuse classmates; however, I found that before even arriving at our destination, after 18 hours and 3 airports, I felt like I had known my new friends for months.
We began our three-month-long adventure with the Signature Seminar. After landing in Budapest, we spent three to four days each in Budapest, Vienna, Bratislava, and Prague. These two weeks were an incredible learning experience: in lieu of a classroom, we used museums, monuments, memorials, tours, and true immersion to learn about each place's history and culture. Travelling by bus, exchanging currencies, and picking up on greetings combined with our in-class conversations – which almost always carried into dinner table discussions – to create an immeasurable connection with and knowledge of each place.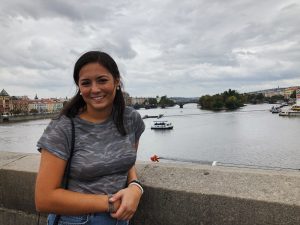 We then settled into Wroclaw, Poland, our home for the next ten weeks. Now would be a good time to mention the amazing faculty who led this trip. Our professors, coordinators, and all those involved along the way were so enthusiastic about introducing us to the wonder that is Central Europe. On top of that, they showed true care for our general wellbeing and did not hesitate to make this known. Once we got to Wroclaw, we met our other professors who would be teaching our classes at the University. They, too, were eager to teach us about all of the aspects of Polish history and culture about which they were so passionate. I gained a far deeper appreciation for Wroclaw, for Poland, and for Central Europe from our professors and faculty than I ever would have without their education and guidance.
An extension of the two-week signature seminar brought us to weekends in Warsaw, Krakow, and Berlin where we continued to dig deep into each location's history. I have a particularly long-lasting impression of our day touring Auschwitz-Birkenau during the weekend in Krakow. It was here that so much of our studies culminated into an overwhelmingly emotional realization of being in the place where such horror occurred. This is one extreme example of the hands-on experiences we had in these cities; after spending so much time delving into certain subjects like the Warsaw Uprisings or the Berlin Wall, it was even more eye-opening and educational to physically be in the places and spaces where history happened.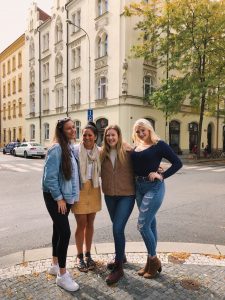 My semester abroad left me with countless memories, lessons, and reflections. I gained an independence I had previously thought impossible; some of my best memories are from simply strolling through Wroclaw and seeing where I'd end up. My favorite places I ended up, for that matter, were Cathedral Island (or Ostrow Tumski), Kolekwojo, and Vinyl Cafe. I was able to enjoy trips outside of Wroclaw on the signature seminar and on my own to Nice, Barcelona, Oslo, and Dresden, which I loved, but I also learned that there is nothing quite like feeling at home in a new place. I truly felt as though I belonged in Wroclaw after just a few weeks of studying in cafes, exploring the Market Square, and navigating the metro with my classmates. Wroclaw is an amazing city with plenty to offer, particularly once the Christmas Markets open up and the smell of mulled wine, waffles, and kielbasa fills the air. I will forever be thankful for the semester I spent there and the wonderful people I befriended during that time.
Caroline Simon '20, Colgate University
Exploring Central Europe, Fall 2019