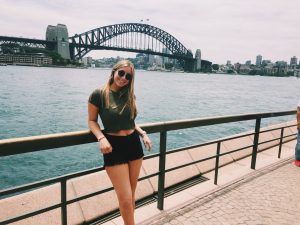 I knew that I wanted to study abroad in Sydney, Australia before I knew where I wanted to go to college. I love to travel, am an adventure-seeker, and had heard nothing but amazing things about the city from people who had studied there in years prior. This is where I was going and nothing could change that – not where my friends were going, not where my academic advisor advised me to go, and not the fact that I would be across the world with a 16-hour time change from my home. On January 1, 2020, I got off the plane in Sydney, Australia and never looked back. After close to three months of experiencing pure happiness, I truly understood why people say to "go with your gut."
As a Broadcast and Digital Journalism student in Newhouse, I knew that Sydney was not a place where I could take any classes required for my major. However, instead of letting this be an obstacle, I just figured out a way to make it work. I met with my advisor several times to plan out my schedule for every semester, in order to account for all the credits needed for my May 2021 graduation. I took some of my major requirements ahead of time, and planned which courses I would take as a senior, post-abroad. Newhouse also requires students to take a number of Arts and Science electives, so rather than taking these on campus, I saved them for abroad. Doing so not only allowed me to find a way to study in Sydney, but I also had the opportunity to take courses about topics that I would never have the chance to learn about elsewhere. For instance, in my "Indigenous Australia" course, I learned about the Indigenous community in Australia, their culture, and the struggles they have faced as a minority group. My class also went on a field trip led by a member of the Indigenous community, giving us the opportunity to learn in an out-of-classroom setting from someone who could share his own personal experiences. To me, this type of learning is priceless and allows me to have a broad knowledge of the world beyond what I learn in the classrooms at Syracuse.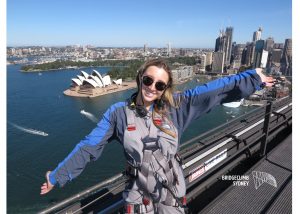 Before I left for Sydney, I created a personal bucket list of activities I wanted to participate in outside of school. Unfortunately, the program ended early due to COVID-19, so I could not complete my entire list, but I am proud to have fit as much as I could have into the time that I had. At the top of my list was none other than skydiving. If you ask my mom, she will tell you that "kids go abroad to Australia to skydive." She is not totally wrong. As I briefly considered other cities to study in, I didn't feel that any other place had as many options for me to be my adventurous self. I wanted to go surfing, I wanted to see exotic animals, and I wanted to climb bridges, so Sydney was really my only option. My parents begged me not to skydive, but I couldn't be stopped – I was living out my adventure.
I feel fortunate to have had the opportunity to travel to Thailand, Vietnam, and Singapore during my time abroad. Ironically, I did so in February amidst the beginning of the Coronavirus outbreak. While in Thailand I had the chance to ride an elephant, go inside a tiger cage, and see many famous temples. In Vietnam I tasted traditional street food, cruised along Ha Long Bay, and saw sights of the Vietnam War. In Singapore I explored the famous Gardens by the Bay, overlooked the entire city from the rooftop of the Marina Bay Sands hotel, and tried the chicken satay from the same food market as the characters in Crazy Rich Asians. Thanks to study abroad, I was able to travel to these amazing places and immerse myself into various different cultures alongside my friends.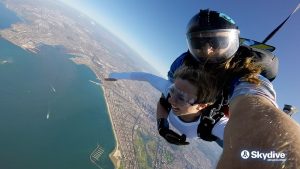 Studying abroad in Sydney, Australia helped to shape me as in individual. One of the reasons I chose to attend Syracuse University is because it is only a four-hour drive away from my hometown. When I was applying to schools, I simply had no interest in being a plane ride away from my family. Yet, I chose the city with the farthest plane ride to study abroad in. With a 16-hour time difference, there were only a few hours of the day during which my parents and I would be awake at the same time. I realized that I couldn't call to say hi or text them a question at any given moment like I did before; instead I had to find one or two times a day where we could FaceTime and catch up. Living in a new country is a challenge, let alone as a student. However, doing so allowed me to grow as a person. I became more independent, responsible, and outgoing. Study abroad was one of the best experiences of my life for many reasons and I would do it all over again tomorrow.
Amanda Albert '21
World Partner program, UNSW