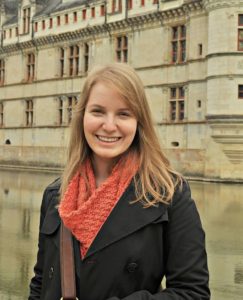 Joelle Orecki isn't new to the Syracuse Abroad staff – she has been the front desk coordinator since late 2016. But she recently moved into a new position as the admissions counselor for the Syracuse London and Strasbourg centers, where she'll coordinate the admissions and pre-departure process for about 300 students each semester!
Did you study abroad? If so, where and what inspired you to go?
I studied in Paris in 2014, through the SUNY Oswego program. I was a French major at SUNY Geneseo, so I wanted to use my major while abroad.
What country have you always wanted to visit?
Australia! My sister studied abroad there.
Why is language learning and cultural immersion important to you?
It's all about perspective. If you can immerse yourself in a culture, you can see how people from around the world think and act. I think it's especially important in today's day and age which is moving towards globalization.
What was your favorite traveling experience?
I was on a train from Cannes to Monaco and a very nice old man was telling me about the book he was reading in French and I could understand him! And respond in French! This was the last week of my abroad experience, had it been my first week I wouldn't have been able to understand him.
What language have you always wanted to learn and why?
Spanish. I mostly know the food words and so many people speak it, so I'd definitely like to learn. Also Irish is fascinating, but dying out so I don't have any plans to learn it, I just think it's interesting.
What is the best story you've heard from a returning student?
A boy who studied abroad in London went hiking in the Lake District as an activity to represent different countries and groups. The hike separated the groups into Londoners, Americans, and refugees. He said he learned so much about the refugee crisis and how we can work together to solve it.
Do you have any advice for students about to go abroad?
Take advantage of your city while you're there! Explore your city, don't just go to different countries every weekend.
Joelle Orecki is a graduate of SUNY Geneseo and the current London and Strasbourg admissions counselor.