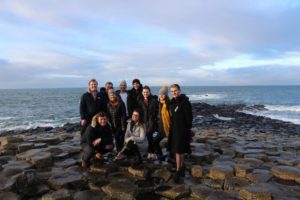 In January of 2019, students enrolled in our Syracuse London Center embarked on journey like no other. Before beginning their semester abroad in London, a group of students participated in an intensive nine-day Signature Seminar throughout Ireland.
As part of this Seminar, Borders in Flux: Identities and Conflict in Ireland, students traveled to Dublin, Belfast and Derry/Londonderry and discovered how Ireland's past, and present, have a direct connection to today's politics. Students had the opportunity to explore and evaluate the relationship between politics and religion in Ireland, what constructs a 'national identity', and how Ireland's violent past impacts the present day.
In each of the destinations, students engaged in hands on, field learning activities such as walking tours of the city, visits to iconic sites and interactions with local activists. To complete their trip, students visited the World Heritage Site of Giant's Causeway, one of Ireland's most beautiful natural landmarks. During each of their experiences, students had the opportunity to reflect on how past remains visibly present in Ireland's landscapes and buildings, and how these shifting borders help to understand, question, and reproduce conflicts of identity.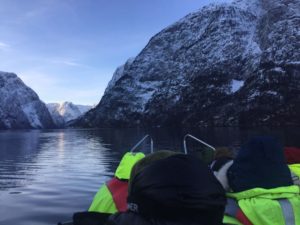 The Seminar was led by Dr. Maggie Scull, a modern historian whose work explores religious institutions, secularization, political violence, sectarianism, and peace. As an Irish Research Council Postdoctoral Fellow at the National University of Ireland, Galway, Dr. Scull focuses on the Northern Ireland Troubles and the role of society, religion, and politics in daily lives as well as international relations.
On August 25th, Dr. Scull will once again lead a group of Syracuse London Center students on this journey through Ireland before their semester abroad begins.