SyracuseAbroad@Bird will host a Grand Opening and Open House event on Thursday, September 19.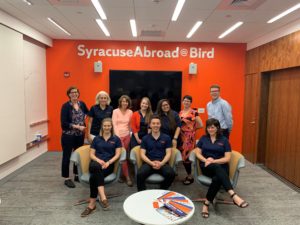 SyracuseAbroad@Bird, located at Bird Library in room 002, is a new space for students to explore study abroad opportunities in a convenient location – with no appointment needed! The new satellite office gives students the opportunity to meet candidly with Syracuse Abroad staff on their schedule and learn more about programs of interest, the application process, and much more.
All students, faculty and staff are invited to participate in the Grand Opening event, beginning at 3pm on Thursday, Sept. 19. The event will include Opening Remarks from Vice Chancellor and Provost Michele Wheatly, an Open House and a chance to meet with Syracuse Abroad staff. Plus – sample international treats and grab some Syracuse Abroad swag!
Read more about the event: SyracuseAbroad@Bird Open House and Grand Opening to Be Held Sept. 19
SyracuseAbroad@Bird Grand Opening | Sept. 19, 3-5pm | Bird Library, room 002