Syracuse University has announced its 12 University Scholars for the 2019- 2020 academic year and more than half have participated in Syracuse Abroad programs during their collegiate career. The University Scholar award is the highest undergraduate honor the University bestows and is based on academic achievement, independent research and creative work, and innovation in students' chosen field. Several students attended Syracuse Abroad Centers, including London and Florence Centers, as well as one of our World Partner programs in Australia.
The impact of Syracuse Abroad is reflected through: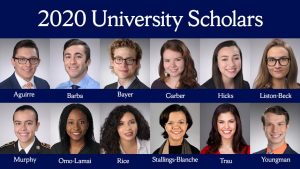 Nicole Stallings-Blanche (London, Spring 2019)
Morgan Trau (London, Spring 2019)
Margaret Garber (Discovery Florence, Fall 2016)
Natasha Liston-Beck (Architecture in Florence, Fall 2018)
Nicholas Barba (Hong Kong, Fall 2018)
Natalia Rice (Madrid, Spring 2019)
Bethany Murphy (World Partner – U. New South Wales, Spring 2019)
Becca Farnum, Community Outreach Advocate at Syracuse London, speaks about her interactions with Nicole and Morgan last spring in London. Nicole participated in the Design program and Morgan participated in the Syracuse London Lockerbie exchange.
"It was a pleasure to have Nicole and Morgan at the London Center in Spring 2019. Nicole participated in our special Design Program, making use of London's rich cultural sector. During her semester abroad, Morgan travelled to Lockerbie with London staff to tour Pan Am Flight 103 sites. She met with first responders and taught a lesson on journalism to local Scottish pupils."

"Syracuse London is also thrilled to see Bethany Murphy on this list, who will be travelling to the UK this autumn as a 2020 Marshall Scholar. Bethany served as a speaker for our "Gender & Science" Symposium in November 2020, Skyping into Imperial College London to talk about women in STEM."
Amy Kleine, Assistant Director for Health and Wellness at Syracuse Florence, remembers Margaret as a 1st year student who participated in the Syracuse Abroad Discovery program where students can start their university career abroad.
"Margaret was all things we hope for in a study abroad student. She was a stellar student, who actively sought out opportunities for cultural immersion and was a leader among her Discovery Florence group. Kind, compassionate and full of life, Margaret, even as a first year student, showed her potential for great success in her academic career."
Jessica Volpe, Assistant Director for Student Life at Syracuse Florence, reflects on her time with Natasha during her architecture program.
"My interaction with Natasha was very limited, but I can say that unlike many architecture students, she had requested to live in a homestay as opposed to an apartment. It think it says a lot about her character and her openness to learn about a new culture, particularly given the increased intensity of her program. From what I remember she also got along very well with her host family – a great success, I would say!"
View all 2020 Syracuse University Scholars here: https://news.syr.edu/blog/2020/04/01/syracuse-university-scholars-announced/