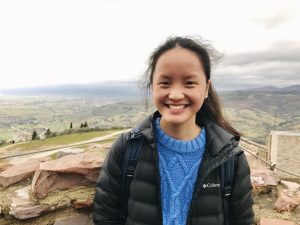 Nicole Llewellyn '21 attended the Global Student Leadership Summit Conference hosted by Diversity Abroad in an entirely virtual setting in August of 2020. The conference is intended for students of diverse background who studied abroad to meet, connect and reflect on their experiences. Through hands-on sessions, critical dialog and breakout sessions, students had the opportunity to strengthen their leadership skills, meet professionals in the field and embrace diversity through a global lens.
Nicole, a Syracuse Abroad Global Ambassador, attended our Florence Center Engineering program in spring of 2019. She majors in Chemical Engineering and Neuroscience and truly valued her time in Florence. She applied to attend the GSLS and was accepted to attend and represent Syracuse Abroad as our student ambassador.
Hear what she had to say about her conference experience:
Despite the Global Student Leadership Summit (GSLS) being online this year, I believe I not only gained invaluable insight from a diverse group of students and presenters but connected with them through our unique experiences as well. In a matter of three days, we went from strangers to friends, united in how our personal identity shaped our study abroad experience. With in-depth conversations about personal and leadership identity and professional development sessions, I experienced growth as an individual while learning how global experiences can connect people in many ways and open further opportunities abroad.

The first day of GSLS began with a warm welcome from Joelle Tolifero, one of the members of the planning committee from Diversity Abroad, giving all twenty of us participants an overview of the day. Throughout the day, I listened to speakers Jacquis Waters, a member of the planning committee from Columbia University, Cheyenne Boyce, Director of Program Development at the Confucius Center, and Will Baggett, author of bestselling book, "The Blueprint for a Successful Career". During Jacquis' session, I was challenged to think critically about my personal identity and what role our identity played while abroad. I not only learned the difference between social and personal identity but how we must break this cycle of socialization of norms by examining our biases, self-educating, and challenging and disrupting. Given our current political and social climate, I considered what I learned in this session to be incredibly valuable and relevant. Cheyenne also focused on identity, but how it plays a crucial role in many conflicts. When core characteristics of your identity are threatened, conflicts may arise and damage relationships between individuals and groups. Yet I learned that determining common interests between two parties is the key to finding creative solutions. Finally, Will spoke about how we can build our professional career, emphasizing the importance of emotional intelligence and executive image. So much of our success in the workplace stems from what we can bring using our unique perspective and how we present ourselves both in person and on social media.

On the second day of the conference, Malcolm Glenn, Director of Public Affairs at Better.com and former employee at Google and Uber Technologies, spoke about his unconventional career path and how inspiration drove him to take on the jobs he has had and has now. I was struck by how passionately he spoke to us, reiterating that we should pursue what inspires and engages us, and we need to continuously advocate for ourselves. He left us with a very important and powerful statement: "Your worth is not defined by your first role – by any role – you have." I attended a second seminar with Lily Lopez-McGee, the Director of the Pickering Fellowship Program, who spoke with us about pursuing an international career after graduation. Many opportunities exist to help us achieve our goal to continue life abroad such as fellowships, volunteering, teaching English, internships, and graduate school. Although she spoke of the Peace Corps, Princeton in Africa/Asia/Latin America, and Fulbright, those of which I have heard of before, it was very helpful to hear her perspective and ask specific questions. Using the SMART goals method, I also learned how I can feasibly attain my goals, whatever they may be, by making them specific, measurable, actionable, relevant, and time-oriented.

The last day of GSLS consisted primarily of networking with professionals who had experience working abroad or in government institutions including Fulbright, Peace Corps, and the Bureau of International Affairs. I truly enjoyed the opportunity to speak and ask questions one on one to these accomplished individuals. I learned that many continue to use the skills they learned abroad in their current position, and they gained more confidence by going abroad.

Overall, my experience at GSLS was extremely fulfilling and gave me the time to reflect more in depth about my time abroad. It was an opportunity that I never received before to speak with a like-minded cohort about how my study abroad helped me grow and how I can use what I learned to be a more effective leader and enact change within my community. I am incredibly appreciative of the opportunities this conference afforded me: connecting with people from around the world through open dialogue and listening to a diverse group of speakers in the academic and professional world. GSLS helped me learn more about both my identity and what I hope to achieve professionally, academically, and personally in the future.
-Nicole Llewellyn '21
Learn more about the Global Student Leadership Summit